Cataloochee Sky
2 Bedroom(s) | 1.5 Bathroom(s) | Sleeps 5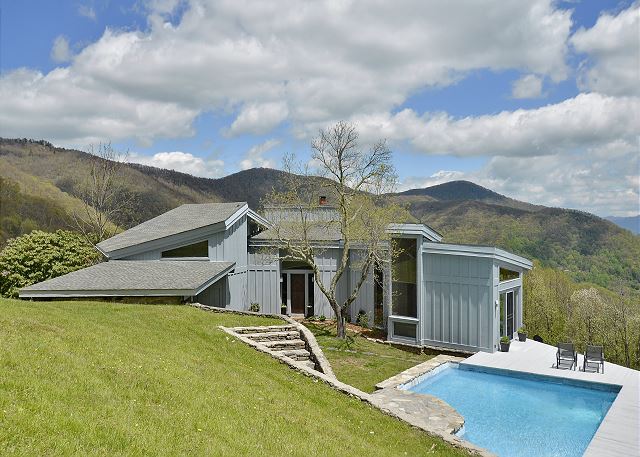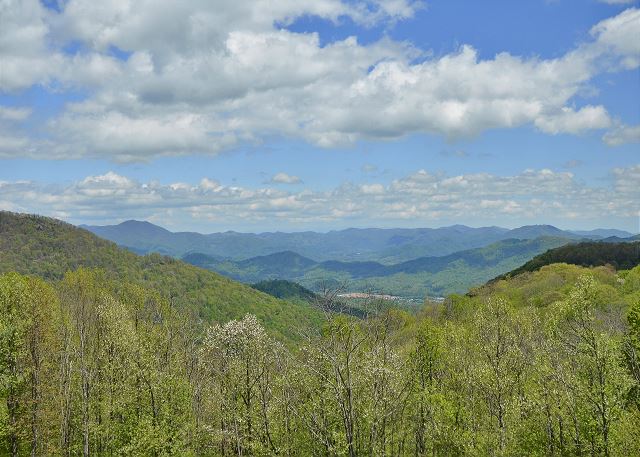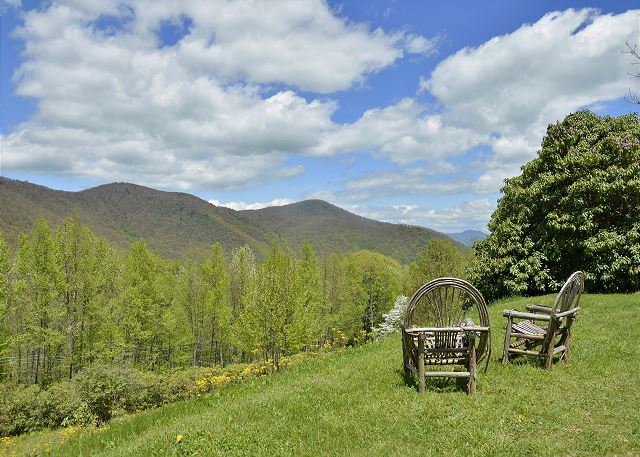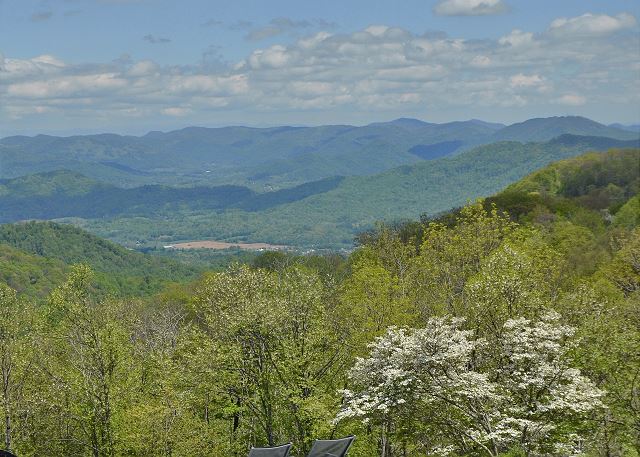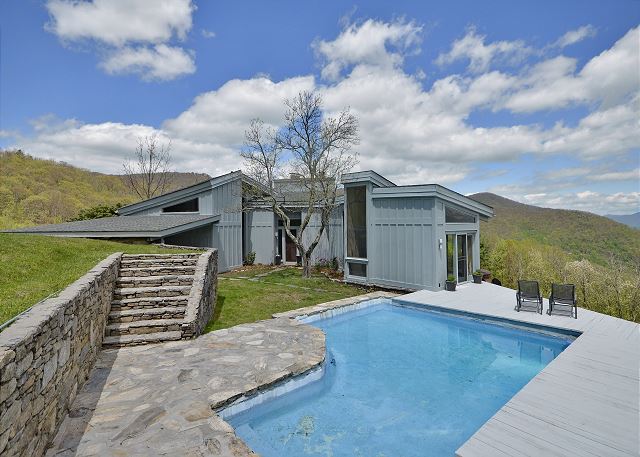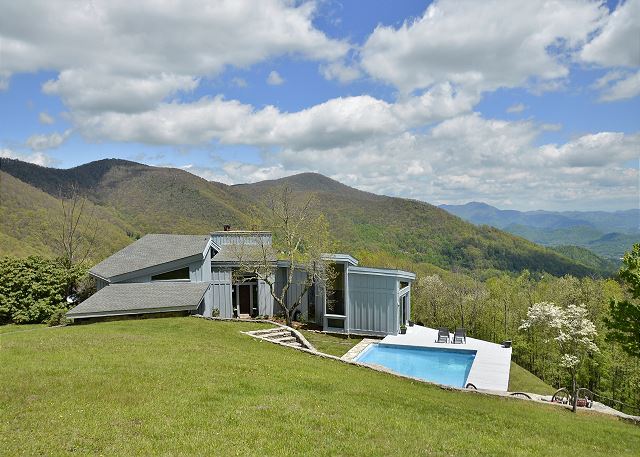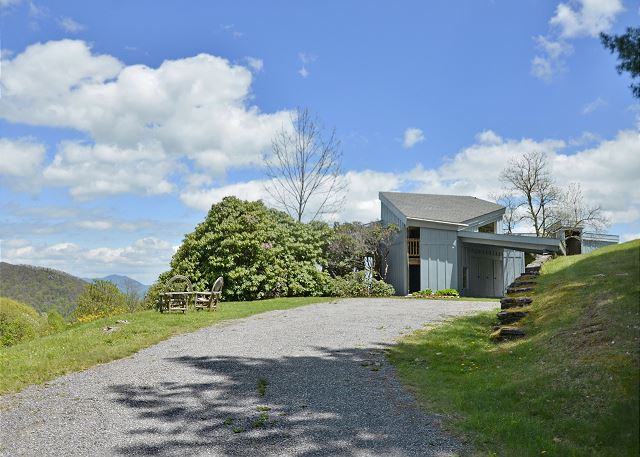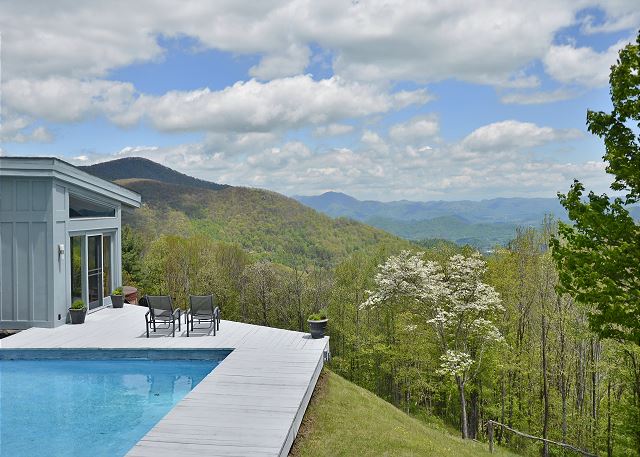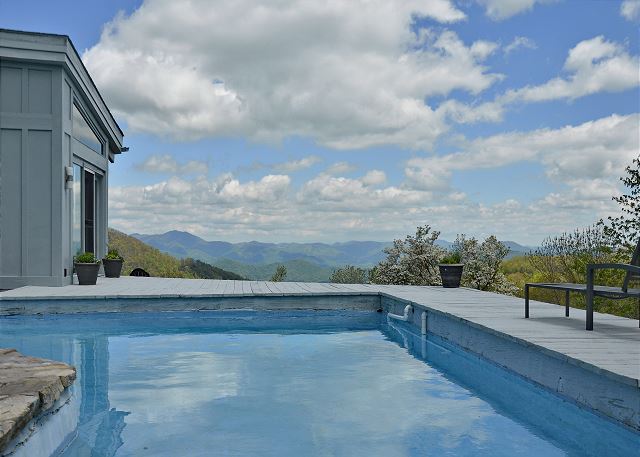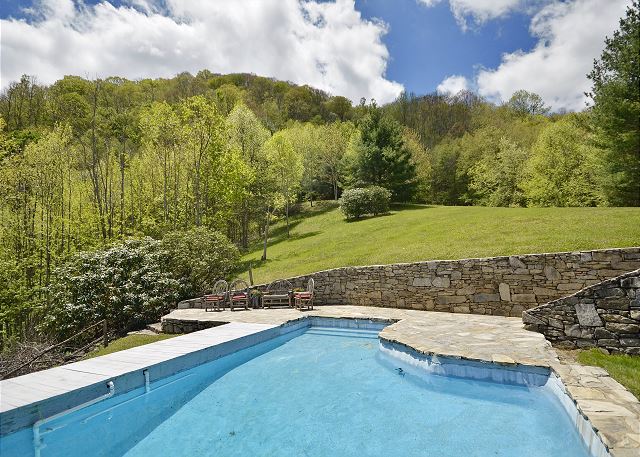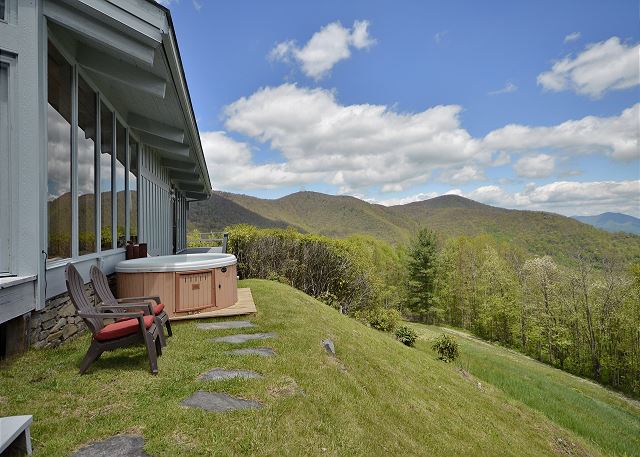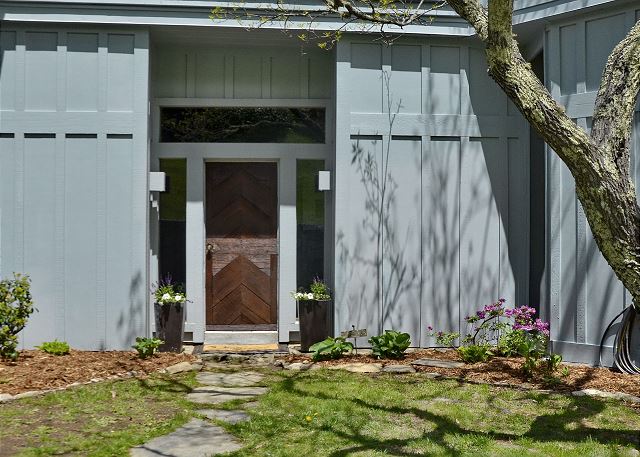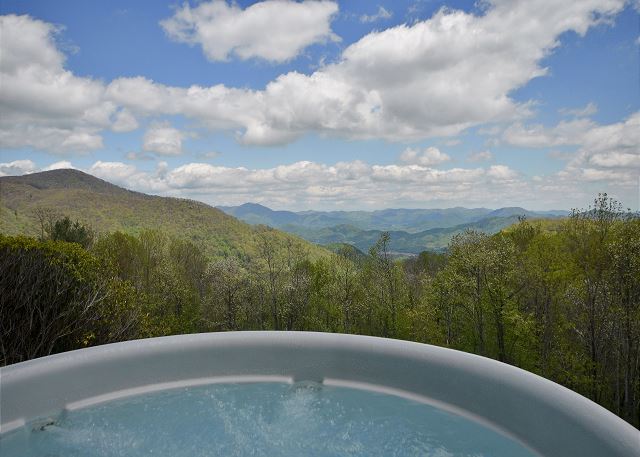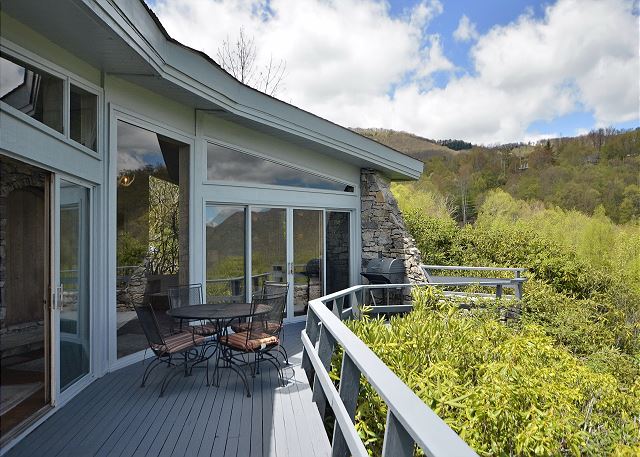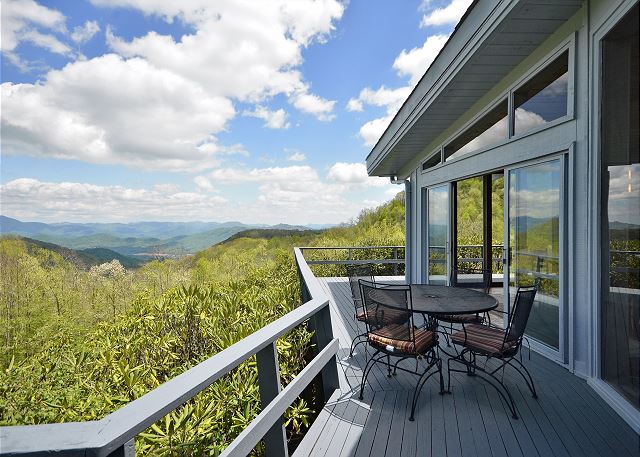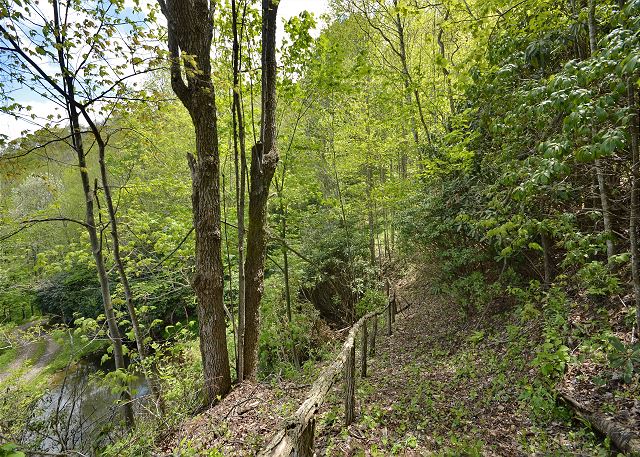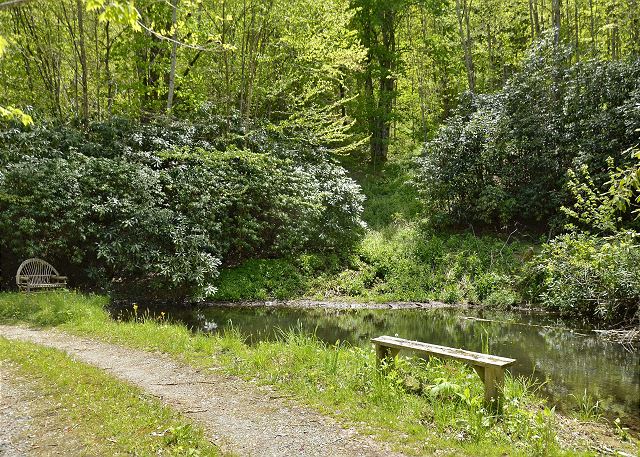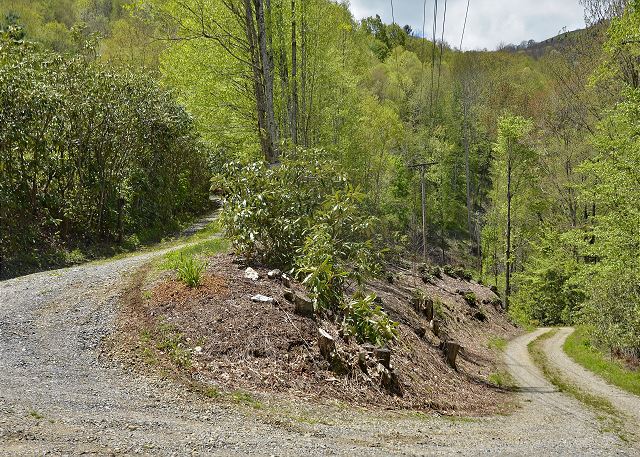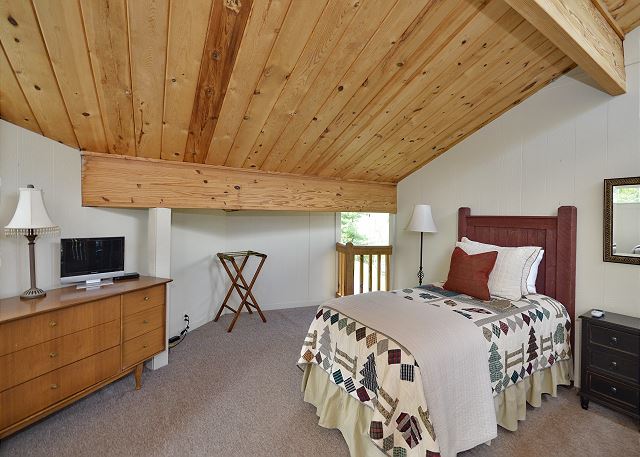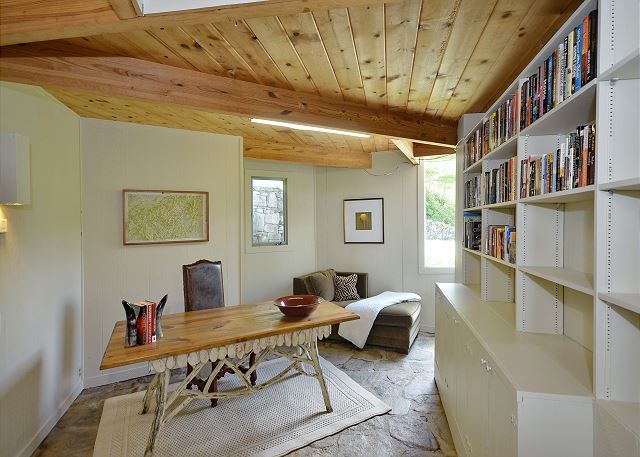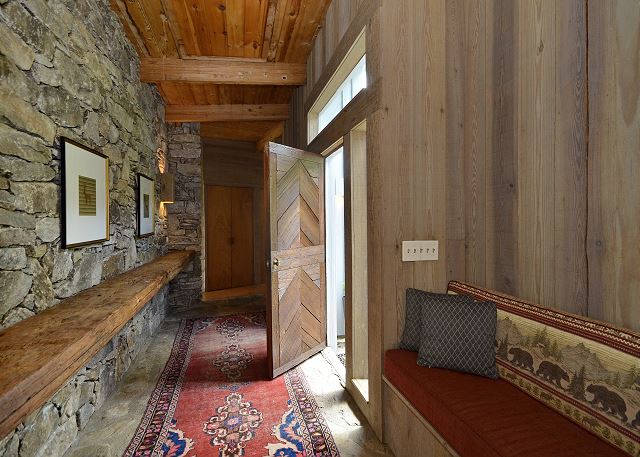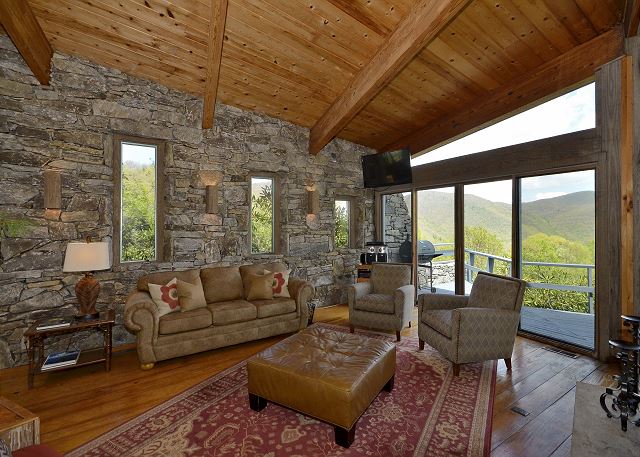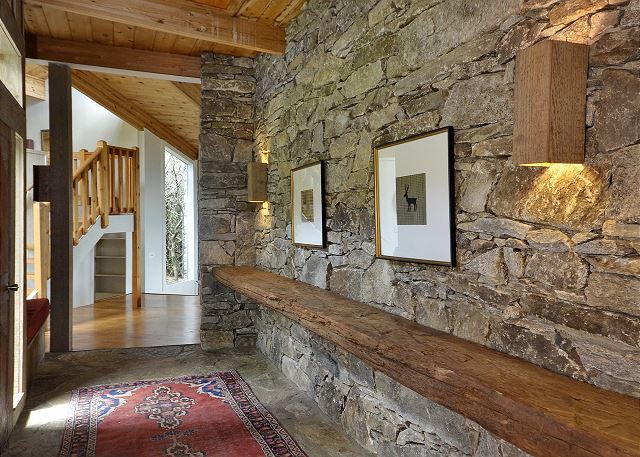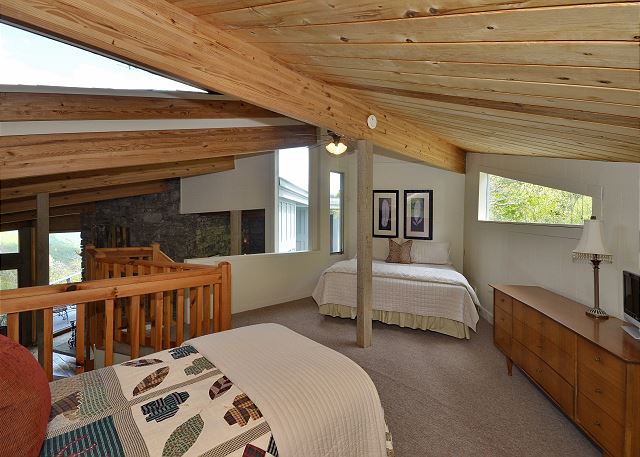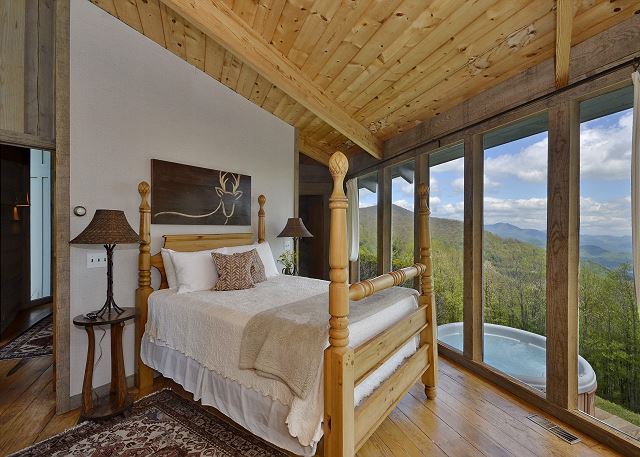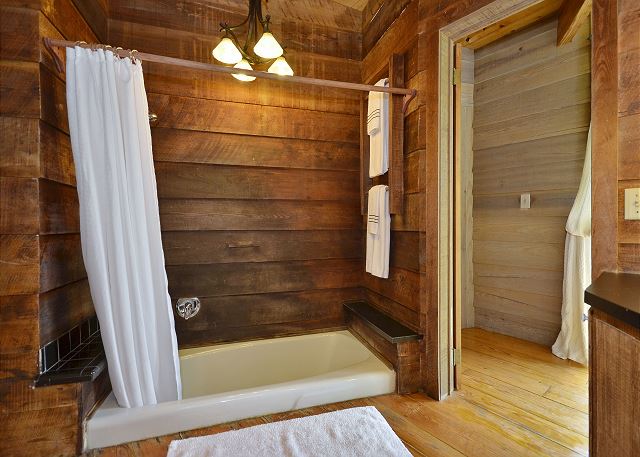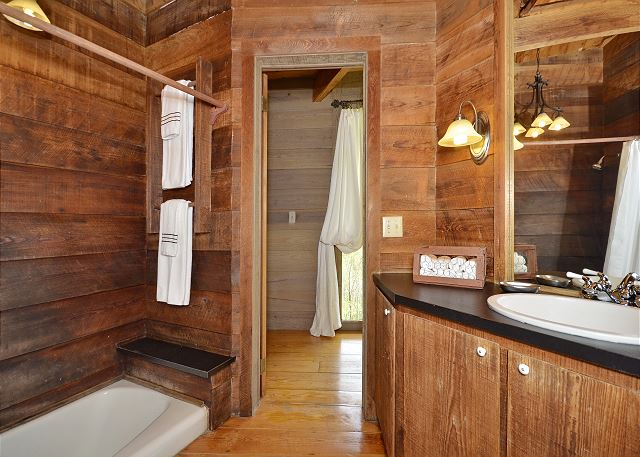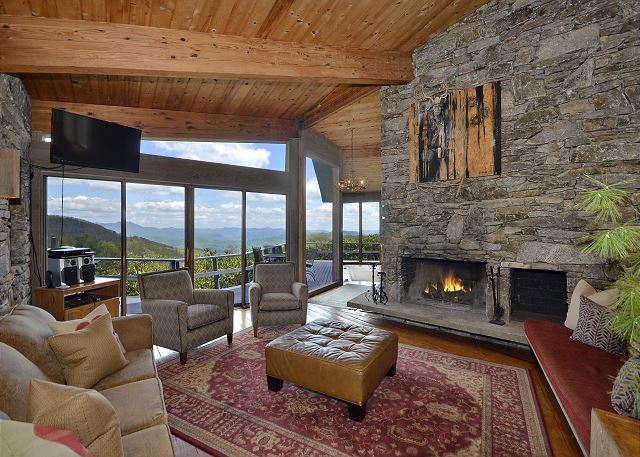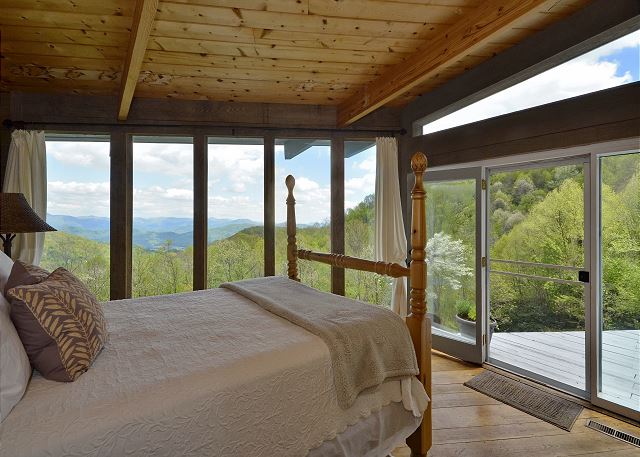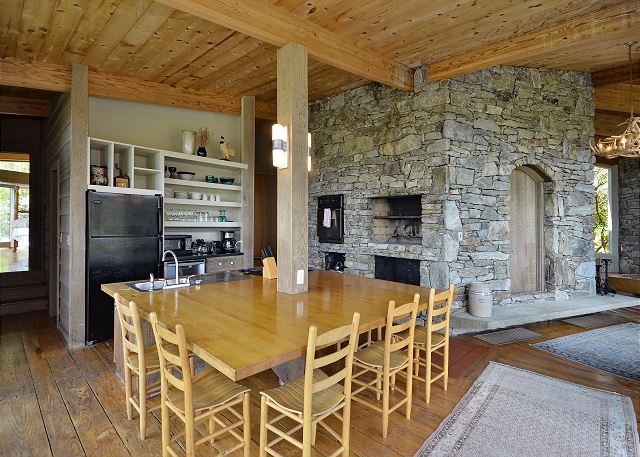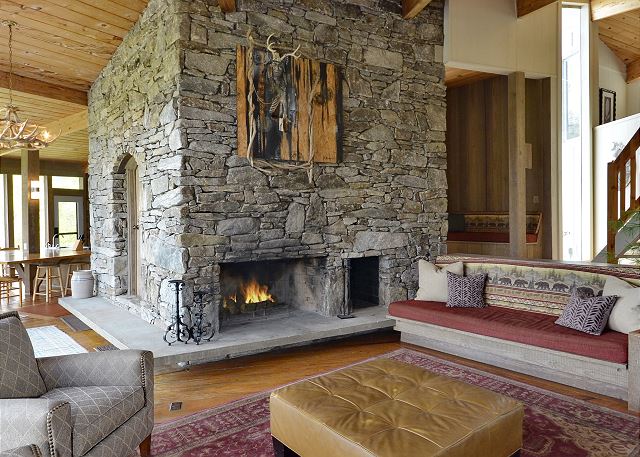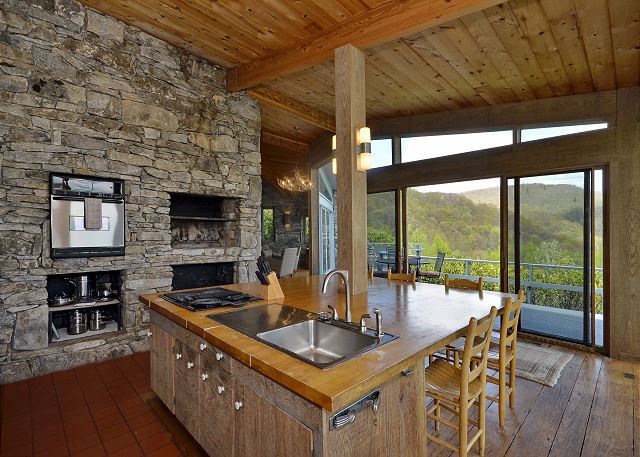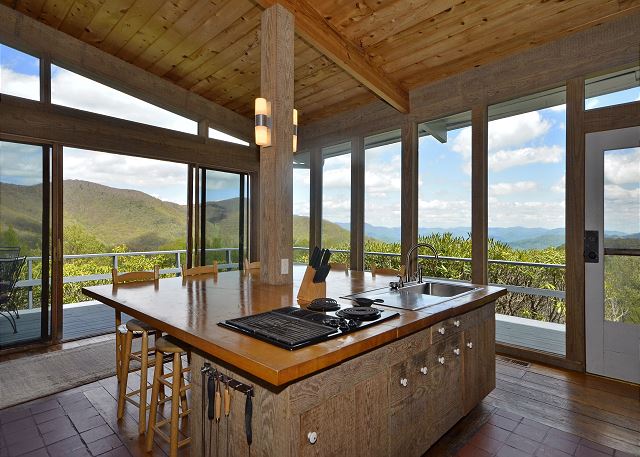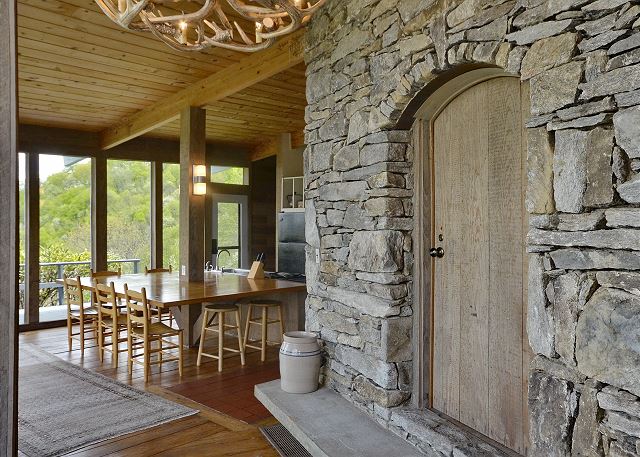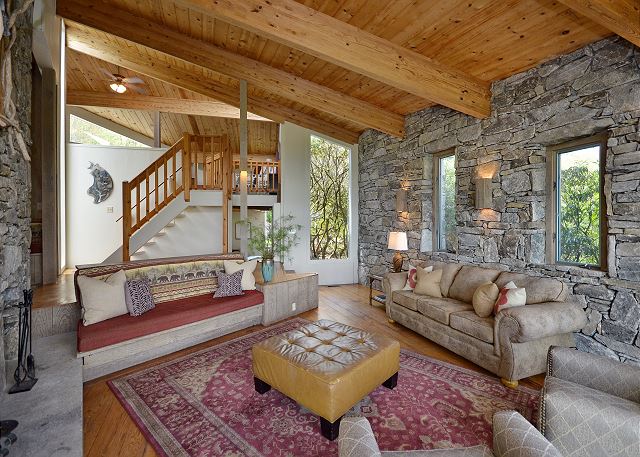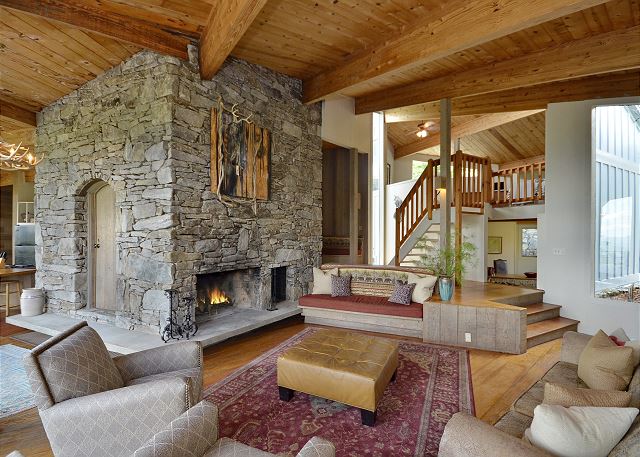 Previous
Next
This RUSTIC retreat is a wonderful escape from modern amenities and will allow you to get back to nature in a very private, magnificent mountain setting. 5000 ft elevation with 360 degree views of the Smoky Mountains. Ample hiking trails, easily accessible to Smoky Mountain National Park. After a day of hiking, relax in the hot tub or refresh in the private pool. The home is very rustic and does not include modern amenities - no air conditioning.



SPECIAL NOTE: due to the high elevation and design of the home (lots of glass), it is not suitable for small children or the elderly. The grounds include a nature trail, accompanied by a hand made rail fence, that leads to the private fish pond. The road to the house is gravel but in good condition. Natural beauty and rustic architecture have been carefully carried throughout the grounds in order to create a magnificent, SECLUDED mountain top setting. Two stone fireplaces will keep you warm and toasty during the cool fall evenings. Unique, rustic retreat designed by Norwegian architect, Bernardo Rostad. Be prepared to see LOTS of wildlife.

Cancellation Policy:

If you need to cancel for any reason and have not purchased our travel insurance plan:

• You will receive a refund of your rental fee (either deposit or full payment) less a reservation fee of $107.00 IF we are able to re-rent the period booked.

• There is no refund of any monies paid if we are not able to re-rent the period booked.

• We highly recommend purchasing insurance to cover cancellation and read the exclusion clauses thoroughly. Travel Cancellation and Protection Insurance is sold by Premier Vacation Rentals and is designed to protect you in the event it becomes necessary for you to cancel your reservation. Ask your booking agent for more details.

Instructions for Check-In/Check-Out

• You must check-in at our office at 2787 Soco Rd. in Maggie Valley. We are located in Eagles Plaza near Snappy's Pizza.

• Check in times will begin at 4:00 pm, however, this is not guaranteed. We work very hard to accommodate this check in time, but additional cleaning and inspection may be required for the rental homes, especially during peak and holiday seasons. You are welcome to call the office before your arrival to see if your vacation rental is ready for occupancy.

• During business hours, your check-in packet will be in our office. If you arrive after business hours, your packet will be in the RED drop box located just outside our office door. This packet includes directions to the home, keys, an after-hours emergency number, local trash locations, and directions to various grocery stores.

• Check out is 10:00 am and all keys need to be returned to our office or placed in the locked section of the RED drop box.

Items you will need to bring with you

(owners do not supply these items, however, if they are in the home, you are welcome to use)

• all paper products (toilet paper, napkins, paper plates, paper towels)

• trash bags, tin foil, baggies, coffee filters

• dish soap, laundry soap, hand soap, bath products

• All homes are furnished with bed and bath linens, pots & pans, and dishes. The homes also have washer and dryers for your use.

• If you are wanting to have firewood delivered, please call our office atand we will give you a contact person for that.

• Please be aware that weather and road conditions can change drastically in the mountains during the winter, even if there is no snow, roads can still become icy and dangerous (this includes steps and driveways) Please plan accordingly and drive safely.



Utility outages (power, cable, internet) are out of our control and we will make every effort for a quick resolve. There are no adjustment or refunds due to utility outages.



NON-DISCLOSURE OF PETS WILL RESULT IN IMMEDIATE EVICTION AND NO REFUND



Thank you for your booking and we look forward to seeing you!!
Amenities

Clothes Dryer:
Fireplace:
Heating:
Linens Provided:
Towels Provided:
Washing Machine:
Mountain View:
Rural:
Secluded:
Ceiling Fans:
Satellite/Cable TV:
Refrigerator:
Coffee Maker:
Microwave:
Toaster:
Cookware:
Dishes and Utensils:
Stove/Oven:
Combination Tub/Shower:
Toilet:
Satellite TV:
Deck:
Hot Tub:
Private Pool:
Charcoal grill:
Inside Homes NON-Smoking:
Non-Pet Friendly Home:
Basketball Court:
Cycling:
Fly Fishing/Freshwater Fishing:
Golf:
Hiking:
Mountain Biking:
Mountain Climbing:
Skiing/tubing:
White Water Rafting:
The North Carolina Arboretum:
Autumn Foliage-BlueRidge Parkway:
Churches:
Festivals:
NationalForest in North Carolina:
Museums:
Recreation Center:
Theme Parks:
Water Falls:
Winery Tours:
Golf Courses:
Antiquing:
Bird Watching:
Gambling Casinos:
Horseback Riding:
Outlet Shopping:
Photography:
Scenic Drives:
Sight Seeing:
Walking:
Guest Reviews of
cataloochee sky
Waynesville , NC
Magical
Absolutely gorgeous, cool design, comfortable, would love to come back. Thank you for sharing this beautiful home and property!
5 out of 5 stars
Manager Response:
Awesome! We are pleased to hear you had a nice time while visiting Beautiful Cataloochee Sky!! We hope to see you soon. Merry Christmas! Premier Staff!
Dream house
Review by
Shawn R.
If this was ever for sale I'd buy it to live in.
5 out of 5 stars
Manager Response:
Awesome!! Yes Beautiful Cataloochee Sky is everyone's favorite!!! We are pleased you had a nice time while staying in The Beautiful Smokies! Hope to see you soon. Premier Staff!
NOTHING BUT EXHILERATING, FABULOUS & SPLENDID!!!!
Review by
John A.
We have stayed at Cataloochee Sky every year for at least 7 years now and every time, we can't wait to get there, and we hate to leave!! The accommodations are quite comfortable and the esthetics BEAUTIFUL! We LOVE going there! It's our HAPPY PLACE!
5 out of 5 stars
Manager Response:
Awesome!!! We have to agree with you on this for sure.... Cataloochee Sky is BEAUTIFUL!! We look forward to seeing ya'll every year. Have a nice winter. Premier Staff!
Cataloochee Sky
The view was amazing! It was awesome to arrive and find the rental clean and ready for guests.
4 out of 5 stars
Manager Response:
Awesome!! We are pleased to know you enjoyed your stay and found the home clean and ready for your arrival! We look forward to seeing you soon in Beautiful Maggie Valley! Premier Staff!
We, had a wonderful say at Chataloochee Sky.
The house is almost as the website shows. Everything is as seen except the bathroom, the site shows an older tub and shower. When we arrived the owner had remodeled and put in a modern tiled shower. Great move! Even though it rained every day, we still had wonderful views and the quiet and privacy was perfect.
5 out of 5 stars
Manager Response:
Awesome! We are excited to hear you had a nice time even with rain... I have to agree Cataloochee Sky has SPECTACULAR Views!!! Hope to see you soon in the beautiful smokies! The Premier Staff!
The best views possible
Review by
chris b.
Great home! The architecture is amazing, as is the view. Nice cool temps even in July. Nothing but peace and privacy. An incredible experience.
5 out of 5 stars
Manager Response:
We are happy to know that you enjoyed Cataloochee Sky! Yes we agree the views are Amazing!! Have a nice day! The Premier Staff!
5 star views from a 3 ish star property...
Review by
Ashley T.
The views and location are simply stunning but the house needs some work! Simple things like lights not working, fly screens that don't freely move, a bed thats seen better days and a roof that leaked when it rained. Also the pool was very disappointing, in poor condition and needs attention. It would have been good to have a welcome pack explaining the necessary, not least how to top-up the pool. We were also disappointed with the wifi, a portable MyFI unit, the signal was dreadful. Having said all of that we forgave all of the issues on account of the views and location - Simply stunning and well described, as a rustic retreat!
4 out of 5 stars
Loved it
Review by
Klevis H.
Me and my fiance had blass over there. Amazing view. Definitely became our favorite spot. We will be back for sure!! Thank you
5 out of 5 stars
Breath Taking Views!
Very steep drive to get to the house but it's well worth it! Lots of wildlife to see, Bears and Turkey,
5 out of 5 stars
Book Your Stay!
Select your arrival and departure dates below to reserve this unit.


October 2023

| S | M | T | W | T | F | S |
| --- | --- | --- | --- | --- | --- | --- |
| 01 | 02 | 03 | 04 | 05 | 06 | 07 |
| 08 | 09 | 10 | 11 | 12 | 13 | 14 |
| 15 | 16 | 17 | 18 | 19 | 20 | 21 |
| 22 | 23 | 24 | 25 | 26 | 27 | 28 |
| 29 | 30 | 31 | | | | |
November 2023

| S | M | T | W | T | F | S |
| --- | --- | --- | --- | --- | --- | --- |
| | | | 01 | 02 | 03 | 04 |
| 05 | 06 | 07 | 08 | 09 | 10 | 11 |
| 12 | 13 | 14 | 15 | 16 | 17 | 18 |
| 19 | 20 | 21 | 22 | 23 | 24 | 25 |
| 26 | 27 | 28 | 29 | 30 | | |
December 2023

| S | M | T | W | T | F | S |
| --- | --- | --- | --- | --- | --- | --- |
| | | | | | 01 | 02 |
| 03 | 04 | 05 | 06 | 07 | 08 | 09 |
| 10 | 11 | 12 | 13 | 14 | 15 | 16 |
| 17 | 18 | 19 | 20 | 21 | 22 | 23 |
| 24 | 25 | 26 | 27 | 28 | 29 | 30 |
| 31 | | | | | | |
January 2024

| S | M | T | W | T | F | S |
| --- | --- | --- | --- | --- | --- | --- |
| | 01 | 02 | 03 | 04 | 05 | 06 |
| 07 | 08 | 09 | 10 | 11 | 12 | 13 |
| 14 | 15 | 16 | 17 | 18 | 19 | 20 |
| 21 | 22 | 23 | 24 | 25 | 26 | 27 |
| 28 | 29 | 30 | 31 | | | |
February 2024

| S | M | T | W | T | F | S |
| --- | --- | --- | --- | --- | --- | --- |
| | | | | 01 | 02 | 03 |
| 04 | 05 | 06 | 07 | 08 | 09 | 10 |
| 11 | 12 | 13 | 14 | 15 | 16 | 17 |
| 18 | 19 | 20 | 21 | 22 | 23 | 24 |
| 25 | 26 | 27 | 28 | 29 | | |
March 2024

| S | M | T | W | T | F | S |
| --- | --- | --- | --- | --- | --- | --- |
| | | | | | 01 | 02 |
| 03 | 04 | 05 | 06 | 07 | 08 | 09 |
| 10 | 11 | 12 | 13 | 14 | 15 | 16 |
| 17 | 18 | 19 | 20 | 21 | 22 | 23 |
| 24 | 25 | 26 | 27 | 28 | 29 | 30 |
| 31 | | | | | | |
April 2024

| S | M | T | W | T | F | S |
| --- | --- | --- | --- | --- | --- | --- |
| | 01 | 02 | 03 | 04 | 05 | 06 |
| 07 | 08 | 09 | 10 | 11 | 12 | 13 |
| 14 | 15 | 16 | 17 | 18 | 19 | 20 |
| 21 | 22 | 23 | 24 | 25 | 26 | 27 |
| 28 | 29 | 30 | | | | |
May 2024

| S | M | T | W | T | F | S |
| --- | --- | --- | --- | --- | --- | --- |
| | | | 01 | 02 | 03 | 04 |
| 05 | 06 | 07 | 08 | 09 | 10 | 11 |
| 12 | 13 | 14 | 15 | 16 | 17 | 18 |
| 19 | 20 | 21 | 22 | 23 | 24 | 25 |
| 26 | 27 | 28 | 29 | 30 | 31 | |
June 2024

| S | M | T | W | T | F | S |
| --- | --- | --- | --- | --- | --- | --- |
| | | | | | | 01 |
| 02 | 03 | 04 | 05 | 06 | 07 | 08 |
| 09 | 10 | 11 | 12 | 13 | 14 | 15 |
| 16 | 17 | 18 | 19 | 20 | 21 | 22 |
| 23 | 24 | 25 | 26 | 27 | 28 | 29 |
| 30 | | | | | | |
July 2024

| S | M | T | W | T | F | S |
| --- | --- | --- | --- | --- | --- | --- |
| | 01 | 02 | 03 | 04 | 05 | 06 |
| 07 | 08 | 09 | 10 | 11 | 12 | 13 |
| 14 | 15 | 16 | 17 | 18 | 19 | 20 |
| 21 | 22 | 23 | 24 | 25 | 26 | 27 |
| 28 | 29 | 30 | 31 | | | |
August 2024

| S | M | T | W | T | F | S |
| --- | --- | --- | --- | --- | --- | --- |
| | | | | 01 | 02 | 03 |
| 04 | 05 | 06 | 07 | 08 | 09 | 10 |
| 11 | 12 | 13 | 14 | 15 | 16 | 17 |
| 18 | 19 | 20 | 21 | 22 | 23 | 24 |
| 25 | 26 | 27 | 28 | 29 | 30 | 31 |
September 2024

| S | M | T | W | T | F | S |
| --- | --- | --- | --- | --- | --- | --- |
| 01 | 02 | 03 | 04 | 05 | 06 | 07 |
| 08 | 09 | 10 | 11 | 12 | 13 | 14 |
| 15 | 16 | 17 | 18 | 19 | 20 | 21 |
| 22 | 23 | 24 | 25 | 26 | 27 | 28 |
| 29 | 30 | | | | | |
October 2024

| S | M | T | W | T | F | S |
| --- | --- | --- | --- | --- | --- | --- |
| | | 01 | 02 | 03 | 04 | 05 |
| 06 | 07 | 08 | 09 | 10 | 11 | 12 |
| 13 | 14 | 15 | 16 | 17 | 18 | 19 |
| 20 | 21 | 22 | 23 | 24 | 25 | 26 |
| 27 | 28 | 29 | 30 | 31 | | |
November 2024

| S | M | T | W | T | F | S |
| --- | --- | --- | --- | --- | --- | --- |
| | | | | | 01 | 02 |
| 03 | 04 | 05 | 06 | 07 | 08 | 09 |
| 10 | 11 | 12 | 13 | 14 | 15 | 16 |
| 17 | 18 | 19 | 20 | 21 | 22 | 23 |
| 24 | 25 | 26 | 27 | 28 | 29 | 30 |
December 2024

| S | M | T | W | T | F | S |
| --- | --- | --- | --- | --- | --- | --- |
| 01 | 02 | 03 | 04 | 05 | 06 | 07 |
| 08 | 09 | 10 | 11 | 12 | 13 | 14 |
| 15 | 16 | 17 | 18 | 19 | 20 | 21 |
| 22 | 23 | 24 | 25 | 26 | 27 | 28 |
| 29 | 30 | 31 | | | | |
January 2025

| S | M | T | W | T | F | S |
| --- | --- | --- | --- | --- | --- | --- |
| | | | 01 | 02 | 03 | 04 |
| 05 | 06 | 07 | 08 | 09 | 10 | 11 |
| 12 | 13 | 14 | 15 | 16 | 17 | 18 |
| 19 | 20 | 21 | 22 | 23 | 24 | 25 |
| 26 | 27 | 28 | 29 | 30 | 31 | |
February 2025

| S | M | T | W | T | F | S |
| --- | --- | --- | --- | --- | --- | --- |
| | | | | | | 01 |
| 02 | 03 | 04 | 05 | 06 | 07 | 08 |
| 09 | 10 | 11 | 12 | 13 | 14 | 15 |
| 16 | 17 | 18 | 19 | 20 | 21 | 22 |
| 23 | 24 | 25 | 26 | 27 | 28 | |
March 2025

| S | M | T | W | T | F | S |
| --- | --- | --- | --- | --- | --- | --- |
| | | | | | | 01 |
| 02 | 03 | 04 | 05 | 06 | 07 | 08 |
| 09 | 10 | 11 | 12 | 13 | 14 | 15 |
| 16 | 17 | 18 | 19 | 20 | 21 | 22 |
| 23 | 24 | 25 | 26 | 27 | 28 | 29 |
| 30 | 31 | | | | | |
April 2025

| S | M | T | W | T | F | S |
| --- | --- | --- | --- | --- | --- | --- |
| | | 01 | 02 | 03 | 04 | 05 |
| 06 | 07 | 08 | 09 | 10 | 11 | 12 |
| 13 | 14 | 15 | 16 | 17 | 18 | 19 |
| 20 | 21 | 22 | 23 | 24 | 25 | 26 |
| 27 | 28 | 29 | 30 | | | |
May 2025

| S | M | T | W | T | F | S |
| --- | --- | --- | --- | --- | --- | --- |
| | | | | 01 | 02 | 03 |
| 04 | 05 | 06 | 07 | 08 | 09 | 10 |
| 11 | 12 | 13 | 14 | 15 | 16 | 17 |
| 18 | 19 | 20 | 21 | 22 | 23 | 24 |
| 25 | 26 | 27 | 28 | 29 | 30 | 31 |
June 2025

| S | M | T | W | T | F | S |
| --- | --- | --- | --- | --- | --- | --- |
| 01 | 02 | 03 | 04 | 05 | 06 | 07 |
| 08 | 09 | 10 | 11 | 12 | 13 | 14 |
| 15 | 16 | 17 | 18 | 19 | 20 | 21 |
| 22 | 23 | 24 | 25 | 26 | 27 | 28 |
| 29 | 30 | | | | | |
July 2025

| S | M | T | W | T | F | S |
| --- | --- | --- | --- | --- | --- | --- |
| | | 01 | 02 | 03 | 04 | 05 |
| 06 | 07 | 08 | 09 | 10 | 11 | 12 |
| 13 | 14 | 15 | 16 | 17 | 18 | 19 |
| 20 | 21 | 22 | 23 | 24 | 25 | 26 |
| 27 | 28 | 29 | 30 | 31 | | |
August 2025

| S | M | T | W | T | F | S |
| --- | --- | --- | --- | --- | --- | --- |
| | | | | | 01 | 02 |
| 03 | 04 | 05 | 06 | 07 | 08 | 09 |
| 10 | 11 | 12 | 13 | 14 | 15 | 16 |
| 17 | 18 | 19 | 20 | 21 | 22 | 23 |
| 24 | 25 | 26 | 27 | 28 | 29 | 30 |
| 31 | | | | | | |
September 2025

| S | M | T | W | T | F | S |
| --- | --- | --- | --- | --- | --- | --- |
| | 01 | 02 | 03 | 04 | 05 | 06 |
| 07 | 08 | 09 | 10 | 11 | 12 | 13 |
| 14 | 15 | 16 | 17 | 18 | 19 | 20 |
| 21 | 22 | 23 | 24 | 25 | 26 | 27 |
| 28 | 29 | 30 | | | | |
October 2025

| S | M | T | W | T | F | S |
| --- | --- | --- | --- | --- | --- | --- |
| | | | 01 | 02 | 03 | 04 |
| 05 | 06 | 07 | 08 | 09 | 10 | 11 |
| 12 | 13 | 14 | 15 | 16 | 17 | 18 |
| 19 | 20 | 21 | 22 | 23 | 24 | 25 |
| 26 | 27 | 28 | 29 | 30 | 31 | |
November 2025

| S | M | T | W | T | F | S |
| --- | --- | --- | --- | --- | --- | --- |
| | | | | | | 01 |
| 02 | 03 | 04 | 05 | 06 | 07 | 08 |
| 09 | 10 | 11 | 12 | 13 | 14 | 15 |
| 16 | 17 | 18 | 19 | 20 | 21 | 22 |
| 23 | 24 | 25 | 26 | 27 | 28 | 29 |
| 30 | | | | | | |
December 2025

| S | M | T | W | T | F | S |
| --- | --- | --- | --- | --- | --- | --- |
| | 01 | 02 | 03 | 04 | 05 | 06 |
| 07 | 08 | 09 | 10 | 11 | 12 | 13 |
| 14 | 15 | 16 | 17 | 18 | 19 | 20 |
| 21 | 22 | 23 | 24 | 25 | 26 | 27 |
| 28 | 29 | 30 | 31 | | | |
January 2026

| S | M | T | W | T | F | S |
| --- | --- | --- | --- | --- | --- | --- |
| | | | | 01 | 02 | 03 |
| 04 | 05 | 06 | 07 | 08 | 09 | 10 |
| 11 | 12 | 13 | 14 | 15 | 16 | 17 |
| 18 | 19 | 20 | 21 | 22 | 23 | 24 |
| 25 | 26 | 27 | 28 | 29 | 30 | 31 |
February 2026

| S | M | T | W | T | F | S |
| --- | --- | --- | --- | --- | --- | --- |
| 01 | 02 | 03 | 04 | 05 | 06 | 07 |
| 08 | 09 | 10 | 11 | 12 | 13 | 14 |
| 15 | 16 | 17 | 18 | 19 | 20 | 21 |
| 22 | 23 | 24 | 25 | 26 | 27 | 28 |
March 2026

| S | M | T | W | T | F | S |
| --- | --- | --- | --- | --- | --- | --- |
| 01 | 02 | 03 | 04 | 05 | 06 | 07 |
| 08 | 09 | 10 | 11 | 12 | 13 | 14 |
| 15 | 16 | 17 | 18 | 19 | 20 | 21 |
| 22 | 23 | 24 | 25 | 26 | 27 | 28 |
| 29 | 30 | 31 | | | | |
April 2026

| S | M | T | W | T | F | S |
| --- | --- | --- | --- | --- | --- | --- |
| | | | 01 | 02 | 03 | 04 |
| 05 | 06 | 07 | 08 | 09 | 10 | 11 |
| 12 | 13 | 14 | 15 | 16 | 17 | 18 |
| 19 | 20 | 21 | 22 | 23 | 24 | 25 |
| 26 | 27 | 28 | 29 | 30 | | |
May 2026

| S | M | T | W | T | F | S |
| --- | --- | --- | --- | --- | --- | --- |
| | | | | | 01 | 02 |
| 03 | 04 | 05 | 06 | 07 | 08 | 09 |
| 10 | 11 | 12 | 13 | 14 | 15 | 16 |
| 17 | 18 | 19 | 20 | 21 | 22 | 23 |
| 24 | 25 | 26 | 27 | 28 | 29 | 30 |
| 31 | | | | | | |
June 2026

| S | M | T | W | T | F | S |
| --- | --- | --- | --- | --- | --- | --- |
| | 01 | 02 | 03 | 04 | 05 | 06 |
| 07 | 08 | 09 | 10 | 11 | 12 | 13 |
| 14 | 15 | 16 | 17 | 18 | 19 | 20 |
| 21 | 22 | 23 | 24 | 25 | 26 | 27 |
| 28 | 29 | 30 | | | | |
July 2026

| S | M | T | W | T | F | S |
| --- | --- | --- | --- | --- | --- | --- |
| | | | 01 | 02 | 03 | 04 |
| 05 | 06 | 07 | 08 | 09 | 10 | 11 |
| 12 | 13 | 14 | 15 | 16 | 17 | 18 |
| 19 | 20 | 21 | 22 | 23 | 24 | 25 |
| 26 | 27 | 28 | 29 | 30 | 31 | |
August 2026

| S | M | T | W | T | F | S |
| --- | --- | --- | --- | --- | --- | --- |
| | | | | | | 01 |
| 02 | 03 | 04 | 05 | 06 | 07 | 08 |
| 09 | 10 | 11 | 12 | 13 | 14 | 15 |
| 16 | 17 | 18 | 19 | 20 | 21 | 22 |
| 23 | 24 | 25 | 26 | 27 | 28 | 29 |
| 30 | 31 | | | | | |
September 2026

| S | M | T | W | T | F | S |
| --- | --- | --- | --- | --- | --- | --- |
| | | 01 | 02 | 03 | 04 | 05 |
| 06 | 07 | 08 | 09 | 10 | 11 | 12 |
| 13 | 14 | 15 | 16 | 17 | 18 | 19 |
| 20 | 21 | 22 | 23 | 24 | 25 | 26 |
| 27 | 28 | 29 | 30 | | | |
October 2026

| S | M | T | W | T | F | S |
| --- | --- | --- | --- | --- | --- | --- |
| | | | | 01 | 02 | 03 |
| 04 | 05 | 06 | 07 | 08 | 09 | 10 |
| 11 | 12 | 13 | 14 | 15 | 16 | 17 |
| 18 | 19 | 20 | 21 | 22 | 23 | 24 |
| 25 | 26 | 27 | 28 | 29 | 30 | 31 |
Available
Unavailable
Check-In Only
Check-Out Only
Previous
Next