Cabin and Corral
3 Bedroom(s) | 2.5 Bathroom(s) | Sleeps 8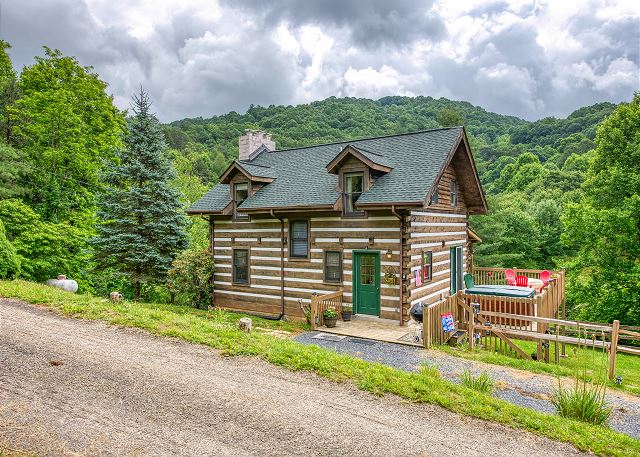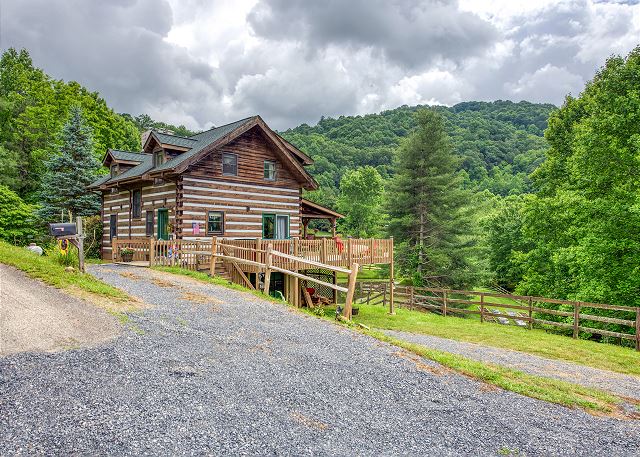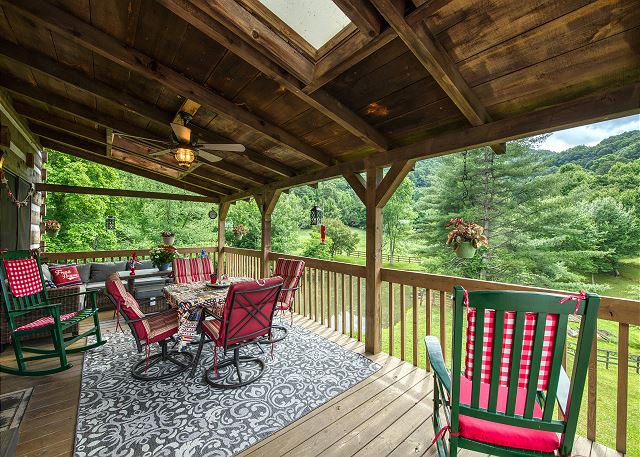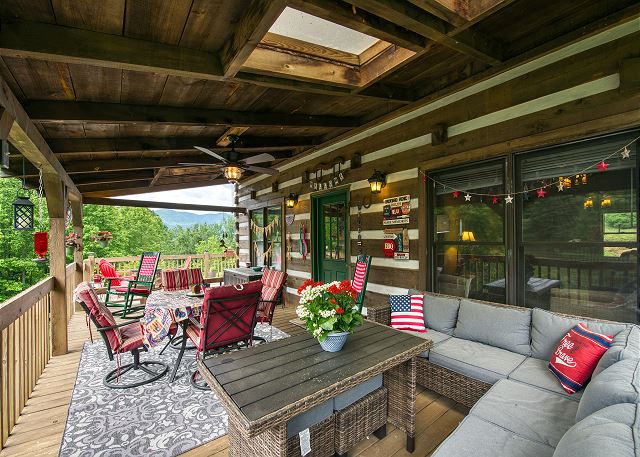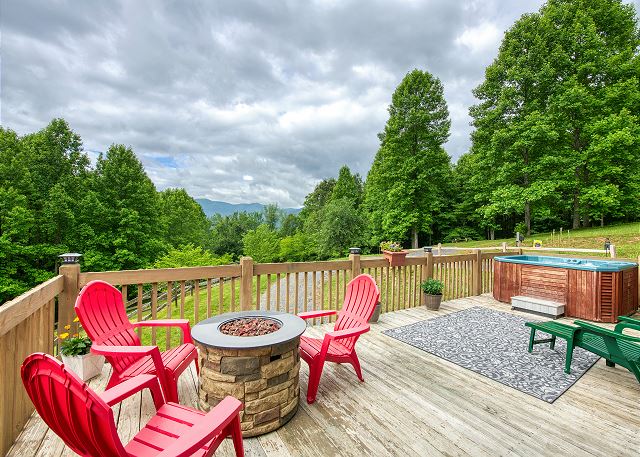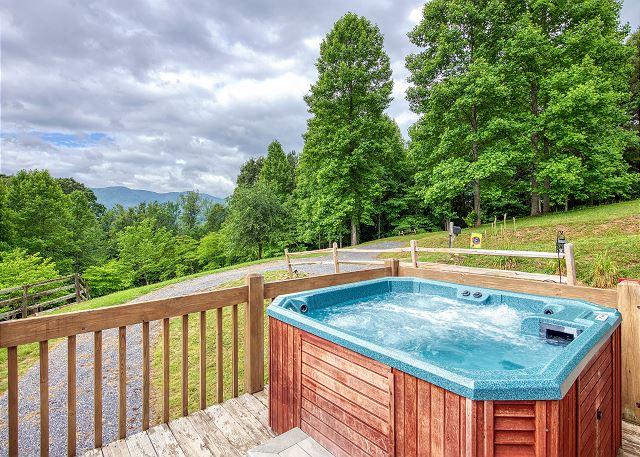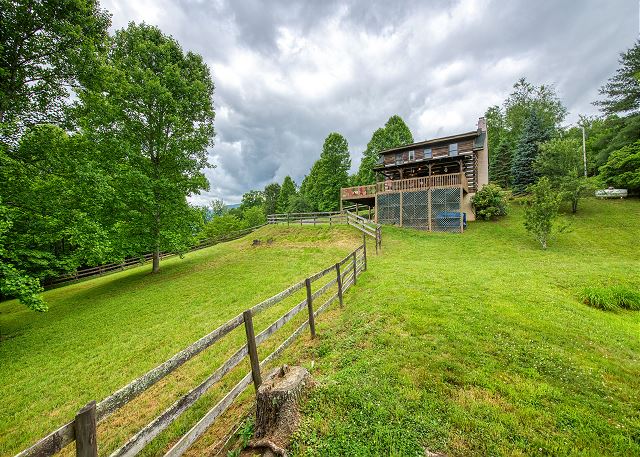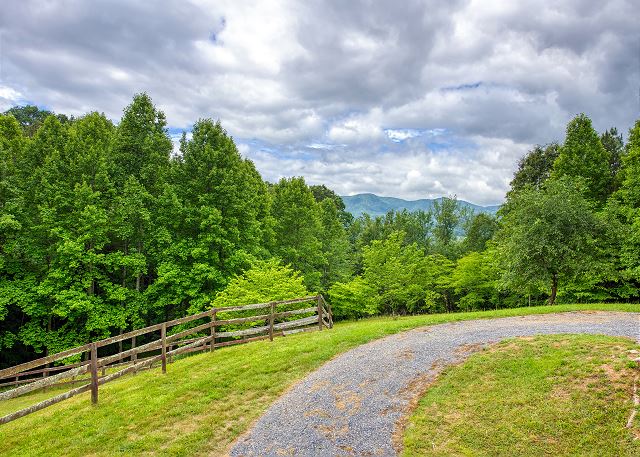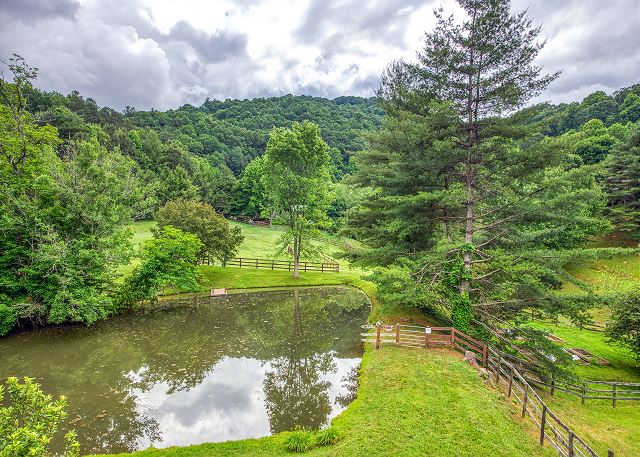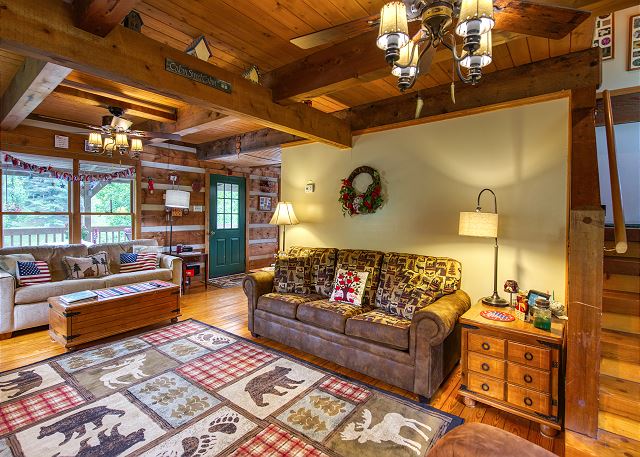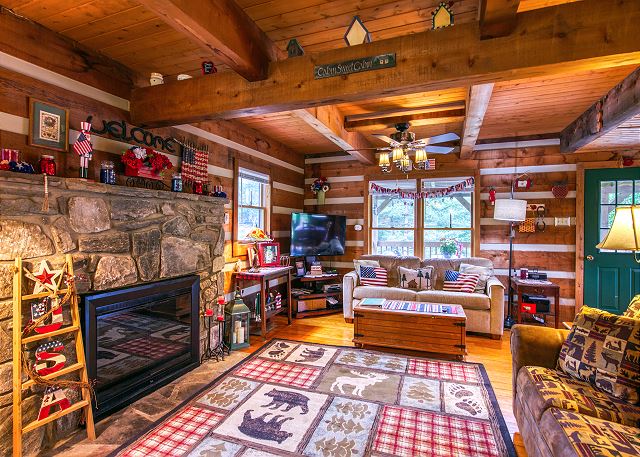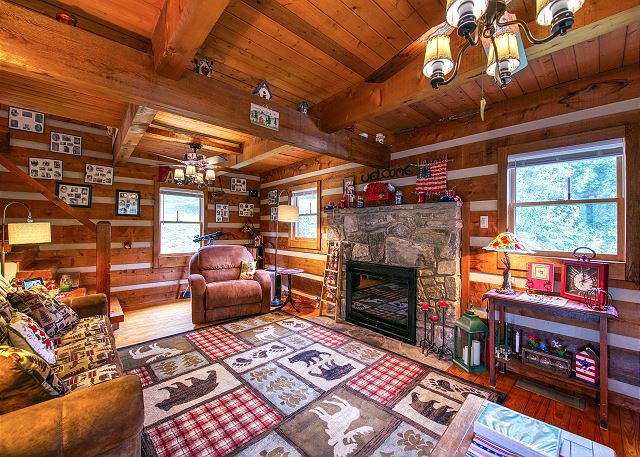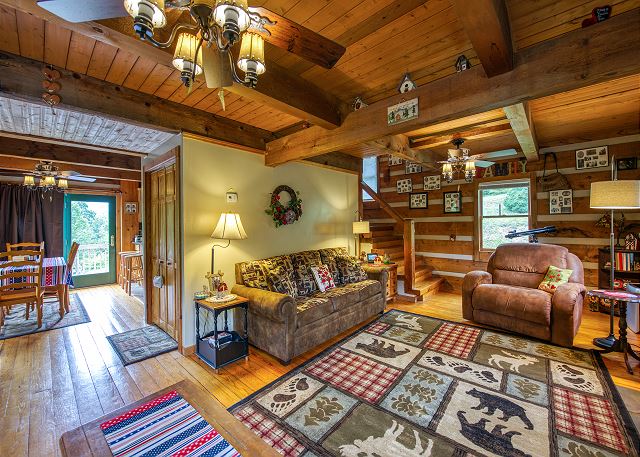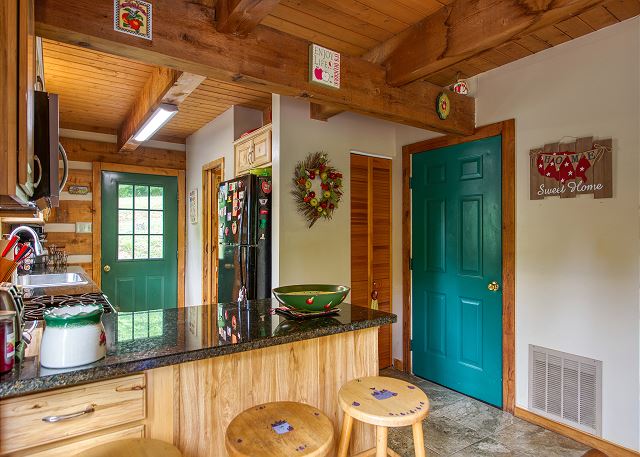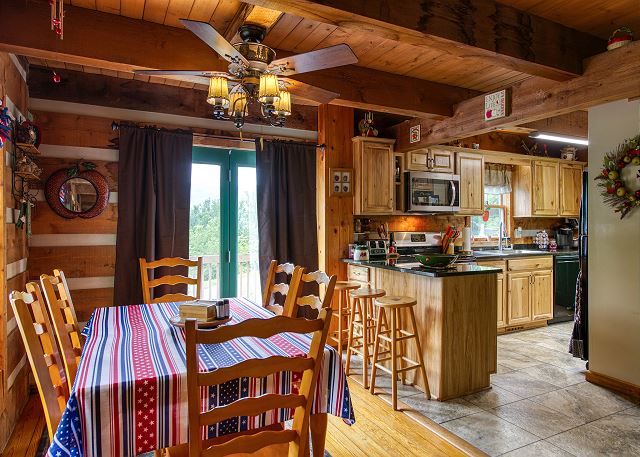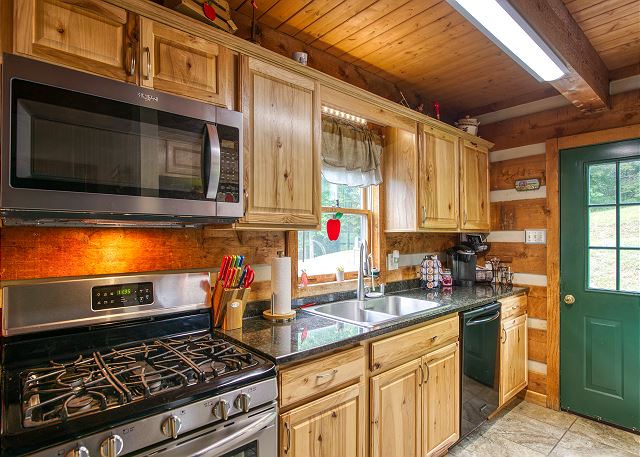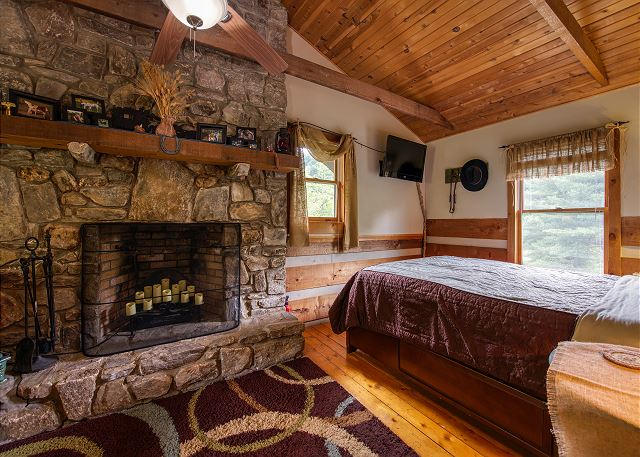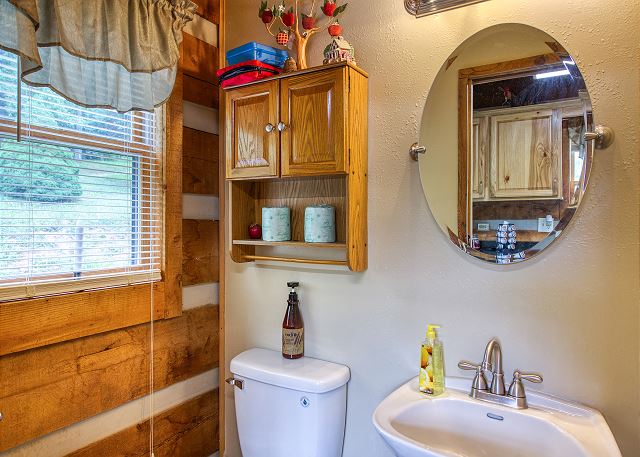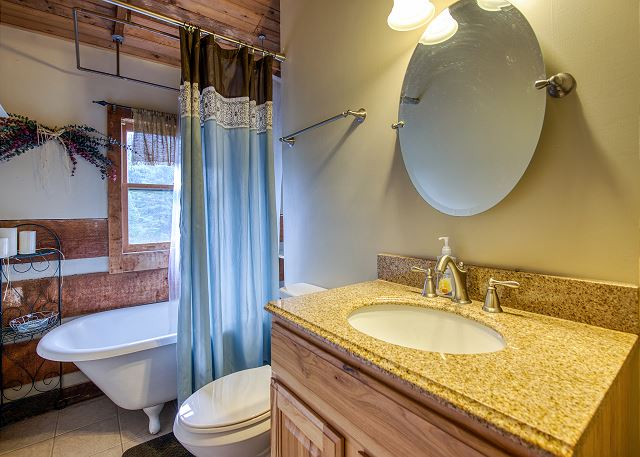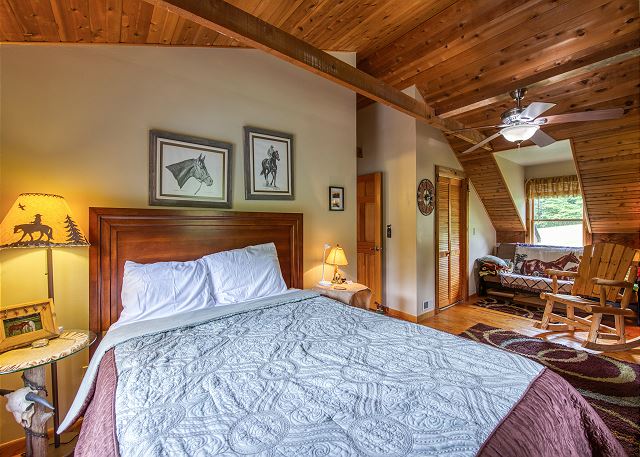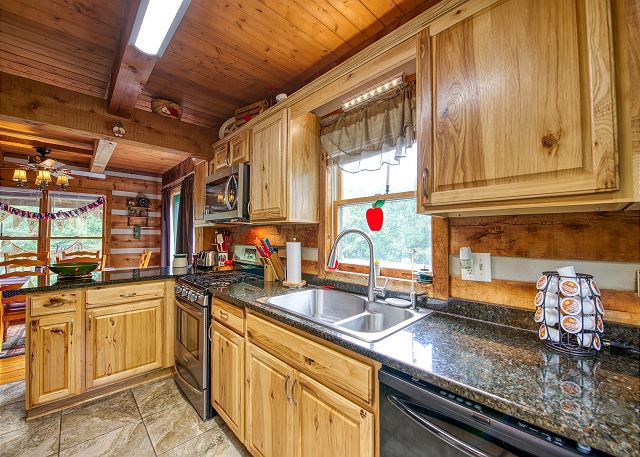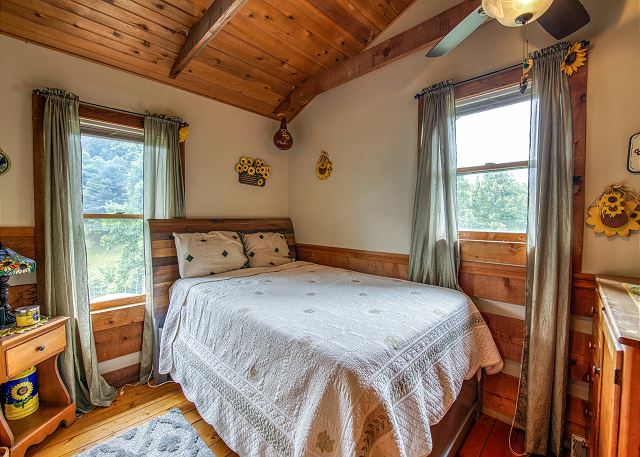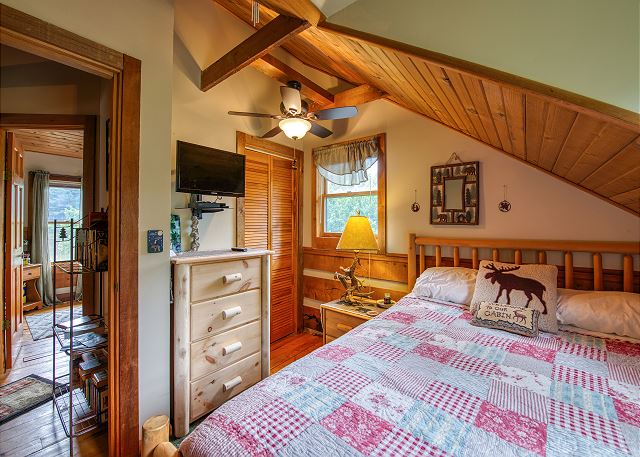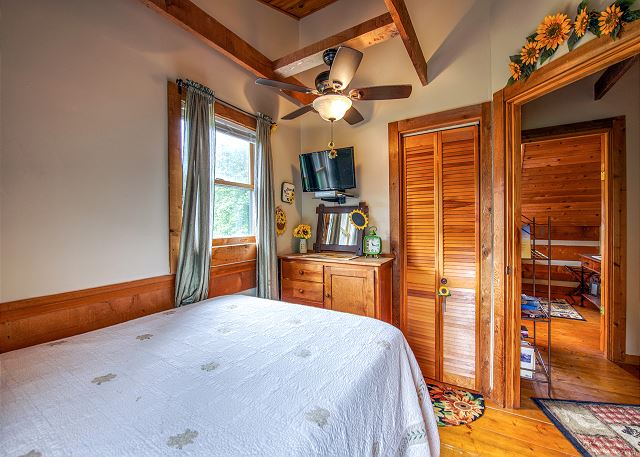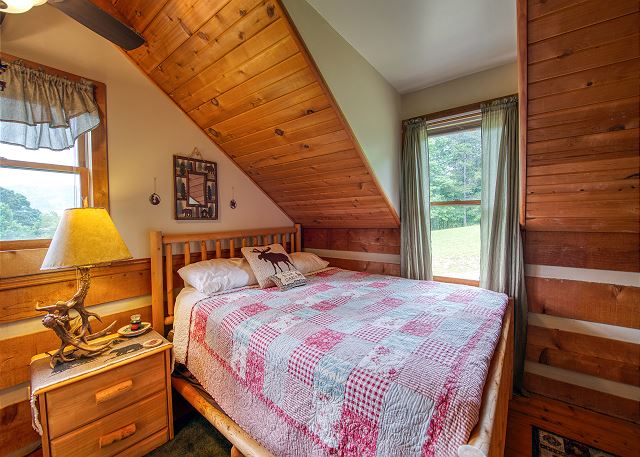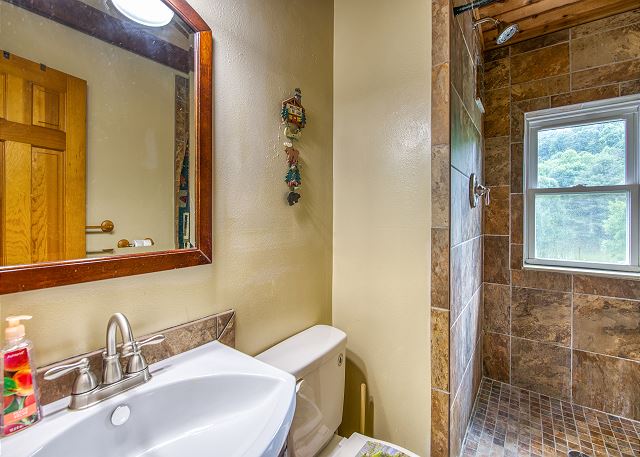 Previous
Next
Located in the Great Smoky Mountains this 3 bedroom 2-1/2 bath cabin offers all the amenities you need and many more.

Situated on 4 acres overlooking a stream and pond on one side and a great long-range view on the other side. Enjoy an evening on the covered porch or relaxing in the hot tub. Inside the master bedroom features a queen size bed with country western theme. The moose bedroom features a double extra long bed while the Sunflower bedroom features a double bed. The living room makes a great place to enjoy a great movie by the gas fireplace.

Being centrally located with easy access makes for just a short trip to Cherokee, Waynesville, Asheville or a ride on the Blue Ridge Parkway. Let us help make your mountain memories!

Cancellation Policy:

Travelers who cancel a reservation 60 days or more prior to arrival date will receive a 100% refund of rent minus the reservation fee of $100.00

Travelers who cancel a reservation between 31 and 59 days prior to arrival date will receive a 50% refund of rent minus the reservation fee of $100.00

Travelers who cancel within 30 days of arrival will only receive a refund if the property is re-booked for the same dates, minus the reservation fee of $100.00

• We highly recommend purchasing insurance to cover cancellation and read the exclusion clauses thoroughly. Travel Cancellation and Protection Insurance is sold by Premier Vacation Rentals and is designed to protect you in the event it becomes necessary for you to cancel your reservation. Ask your booking agent for more details.

Instructions for Check-In/Check-Out

• You must check-in at our office at 2787 Soco Rd. in Maggie Valley. We are located in Eagles Plaza near Snappy's Pizza.

• Check in times will begin at 4:00 pm, however, this is not guaranteed. We work very hard to accommodate this check in time, but additional cleaning and inspection may be required for the rental homes, especially during peak and holiday seasons. You are welcome to call the office before your arrival to see if your vacation rental is ready for occupancy.

• During business hours, your check-in packet will be in our office. If you arrive after business hours, your packet will be in the RED drop box located just outside our office door. This packet includes directions to the home, keys, an after-hours emergency number, local trash locations, and directions to various grocery stores.

• Check out is 10:00 am and all keys need to be returned to our office or placed in the locked section of the RED drop box.

Items you will need to bring with you

(owners do not supply these items, however, if they are in the home, you are welcome to use)

• all paper products (toilet paper, napkins, paper plates, paper towels)

• trash bags, tin foil, baggies, coffee filters

• dish soap, laundry soap, hand soap, bath products

• All homes are furnished with bed and bath linens, pots & pans, and dishes. The homes also have washer and dryers for your use.

• If you are wanting to have firewood delivered, please call our office and we will give you a contact person for that.

• Please be aware that weather and road conditions can change drastically in the mountains during the winter, even if there is no snow, roads can still become icy and dangerous (this includes steps and driveways) Please plan accordingly and drive safely.

Utility outages (power, cable, internet) are out of our control and we will make every effort for a quick resolve. There are no adjustment or refunds due to utility outages.

NON-DISCLOSURE OF PETS WILL RESULT IN IMMEDIATE EVICTION AND NO REFUND

Thank you for your booking and we look forward to seeing you!!
Amenities

combination tub/shower:
double:
queen:
sleep sofa /futon:
toilet:
twin/ single:
arboretum:
autumn foliage:
caves:
churches:
cinemas:
coin laundry:
festivals:
forests:
library:
museums:
pond:
recreation center:
restaurants:
theme parks:
waterfalls:
winery tours:
zoo:
Dining:
Books:
Satellite / Cable:
Television:
Toys:
Air Conditioning:
Clothes Dryer:
Fireplace:
Heating:
Internet:
Iron & Board:
Linens Provided:
Living Room:
Towels Provided:
Washing Machine:
Wifi:
Free Wifi:
Coffee Maker:
Dishes & Utensils:
Dishwasher:
Kitchen:
Microwave:
Oven:
Refrigerator:
Stove:
Toaster:
antiquing:
bird watching:
gambling casinos:
horseback riding:
outlet shopping:
photography:
scenic drives:
sight seeing:
walking:
fitness center:
groceries:
hospital:
laundromat:
massage therapist:
medical services:
Mountain View:
Rural:
Deck / Patio:
Outdoor Grill:
Hot Tub:
fishing:
fly fishing:
freshwater fishing:
golf:
hiking:
mountain biking:
mountain climbing:
skiing:
whitewater rafting:
children welcome:
non smoking only:
pets considered:
flexible:
necessary:
Adventure:
Budget:
Family:
Tourist Attractions:
Mountain View:
Rural:
Water View or Creek:
Central Air:
Ceiling Fans:
High Speed Internet:
Satellite/Cable TV:
Gas Logs:
Refrigerator:
Coffee Maker:
Ice Maker:
Microwave:
Toaster:
Cookware:
Dishes and Utensils:
Dishwasher:
Stove/Oven:
Combination Tub/Shower:
Toilet:
Shower:
Cable TV:
Deck:
Hot Tub:
Small Fish Pond:
Charcoal grill:
Motorcycle Friendly:
Children Welcome:
Inside Homes NON-Smoking:
Pet Friendly Home:
Basketball Court:
Cycling:
Fly Fishing/Freshwater Fishing:
Golf:
Hiking:
Mountain Biking:
Mountain Climbing:
Skiing/tubing:
White Water Rafting:
The North Carolina Arboretum:
Autumn Foliage-BlueRidge Parkway:
Churches:
Festivals:
NationalForest in North Carolina:
Museums:
Recreation Center:
Theme Parks:
Water Falls:
Winery Tours:
Golf Courses:
Antiquing:
Bird Watching:
Gambling Casinos:
Horseback Riding:
Outlet Shopping:
Photography:
Scenic Drives:
Sight Seeing:
Walking:
Guest Reviews of
cabin and corral
Waynesville , NC
Home away from home.
Love everything about our trips to Cabin and Corral. The pond is an added bonus to keep my husband busy and very happy. We are definitely repeat guest.
5 out of 5 stars
Manager Response:
Great! We are pleased to hear you all had a nice time. We look forward to your next visit to The Smokies! Premier Staff!
Great vacation
Review by
Brian T.
What a great place to stay out alone with great views and no one to bother you.
5 out of 5 stars
Manager Response:
We are pleased you had a nice time while staying at Cabin and Corral!!! We look forward to seeing you again on your next Smokie Mountain Getaway!!! Premier Staff!
Much needed time with family and friends
Review by
Mark M.
The house was very well furnished and top notch fixtures and facilities. The basement bathroom upgrade was a surprise
5 out of 5 stars
Manager Response:
Awesome! We are pleased you found the home comfortable for your stay:) We look forward to seeing you soon on your next Smokey Mountain Getaway! Premier Staff!
Peaceful Beautiful Mountain Getaway
Review by
Melissa B.
We had a wonderful time here at Cabin and Corral!!! The sunrise was just amazing and the sunset was beautiful! Had a great view of the mountains! Cabin was clean, beautiful, and cozy!! Inside the cabin was very decorative in Christmas theme!! Overall we had the best time!!! We have decided that every year in the same month we will try booking this cabin.
5 out of 5 stars
Wonderful cabin!!
Review by
Amber L.
This is the cutest cabin ever! Staying here truly made our trip special. It's located in such a pretty area surrounded by farms and old barns and beautiful woods. The cabin itself was so inviting and comfortable. There was lots of space, more then expected with two pullout couches and an extra futon in addition to the three beds. I was so in love with all the cute and thoughtful decorations throughout the house and the patio furniture was incredible. The hot tub was clean and relaxing. The whole property was well taken care of and just had a happiness about it. I hope we can stay here again someday! The only downsides were poor WiFi, and the smell of the skunk living under the front porch.
5 out of 5 stars
Such a great time!
Review by
Margaret R.
We had such a great stay, the cabin was very clean and well kept with some gorgeous views!
5 out of 5 stars
Back Porch Living
The home is very well stocked. The beds were comfortable. While at the house, we spent a lot of time just sitting on the porch. The pond was nice! Caught some good size fish that we released back! The yard is a great size! All bedrooms were upstairs. Would be nice if there were one downstairs for anyone that may have trouble going up & down them. The washing machine took some getting used to. The hot tub was relaxing but the fire pit was out of propane or didn't work. Overall it was a nice place. Comfortable & relaxing!
4 out of 5 stars
Loving life
We had a wonderful stay! This was our second year staying here and we will definitely be back.
5 out of 5 stars
Wonderful time with family.
Review by
Mark M.
This is the 3rd year renting here. We have not been disappointed. The staff was professional and flexible with my schedule. Very pleased with the property and my interaction. 5⭐s
5 out of 5 stars
Cabin & Corral, wonderful escape
Review by
sean m.
Overall a very pleasant experience. The cabin was clean and well maintained. Also, very well stocked with every kitchen implement one could ever need. The porch was a wonderful spot to sit and read, have dinner, listen to the storms roll through.
4 out of 5 stars
Well stocked, clean and cozy with a nice view.
This cabin has everything you need for a week stay. The view was beautiful and we enjoyed seeing all the wildlife. The pond had some nice sized fish to catch and release, my teenage brother spent all day everyday outside, he loved it. You can park upstairs or below if you are unable to take stairs so this was nice for my guest with a hurt knee. The owners really have everything you could need here and the kitchen is super stocked with cute fiestaware. We thoroughly enjoyed our stay and would recommend to anyone.
5 out of 5 stars
Cabin and Corral
Review by
Brenda B.
Awesome!!!
5 out of 5 stars
Book Your Stay!
Select your arrival and departure dates below to reserve this unit.


October 2023

| S | M | T | W | T | F | S |
| --- | --- | --- | --- | --- | --- | --- |
| 01 | 02 | 03 | 04 | 05 | 06 | 07 |
| 08 | 09 | 10 | 11 | 12 | 13 | 14 |
| 15 | 16 | 17 | 18 | 19 | 20 | 21 |
| 22 | 23 | 24 | 25 | 26 | 27 | 28 |
| 29 | 30 | 31 | | | | |
November 2023

| S | M | T | W | T | F | S |
| --- | --- | --- | --- | --- | --- | --- |
| | | | 01 | 02 | 03 | 04 |
| 05 | 06 | 07 | 08 | 09 | 10 | 11 |
| 12 | 13 | 14 | 15 | 16 | 17 | 18 |
| 19 | 20 | 21 | 22 | 23 | 24 | 25 |
| 26 | 27 | 28 | 29 | 30 | | |
December 2023

| S | M | T | W | T | F | S |
| --- | --- | --- | --- | --- | --- | --- |
| | | | | | 01 | 02 |
| 03 | 04 | 05 | 06 | 07 | 08 | 09 |
| 10 | 11 | 12 | 13 | 14 | 15 | 16 |
| 17 | 18 | 19 | 20 | 21 | 22 | 23 |
| 24 | 25 | 26 | 27 | 28 | 29 | 30 |
| 31 | | | | | | |
January 2024

| S | M | T | W | T | F | S |
| --- | --- | --- | --- | --- | --- | --- |
| | 01 | 02 | 03 | 04 | 05 | 06 |
| 07 | 08 | 09 | 10 | 11 | 12 | 13 |
| 14 | 15 | 16 | 17 | 18 | 19 | 20 |
| 21 | 22 | 23 | 24 | 25 | 26 | 27 |
| 28 | 29 | 30 | 31 | | | |
February 2024

| S | M | T | W | T | F | S |
| --- | --- | --- | --- | --- | --- | --- |
| | | | | 01 | 02 | 03 |
| 04 | 05 | 06 | 07 | 08 | 09 | 10 |
| 11 | 12 | 13 | 14 | 15 | 16 | 17 |
| 18 | 19 | 20 | 21 | 22 | 23 | 24 |
| 25 | 26 | 27 | 28 | 29 | | |
March 2024

| S | M | T | W | T | F | S |
| --- | --- | --- | --- | --- | --- | --- |
| | | | | | 01 | 02 |
| 03 | 04 | 05 | 06 | 07 | 08 | 09 |
| 10 | 11 | 12 | 13 | 14 | 15 | 16 |
| 17 | 18 | 19 | 20 | 21 | 22 | 23 |
| 24 | 25 | 26 | 27 | 28 | 29 | 30 |
| 31 | | | | | | |
April 2024

| S | M | T | W | T | F | S |
| --- | --- | --- | --- | --- | --- | --- |
| | 01 | 02 | 03 | 04 | 05 | 06 |
| 07 | 08 | 09 | 10 | 11 | 12 | 13 |
| 14 | 15 | 16 | 17 | 18 | 19 | 20 |
| 21 | 22 | 23 | 24 | 25 | 26 | 27 |
| 28 | 29 | 30 | | | | |
May 2024

| S | M | T | W | T | F | S |
| --- | --- | --- | --- | --- | --- | --- |
| | | | 01 | 02 | 03 | 04 |
| 05 | 06 | 07 | 08 | 09 | 10 | 11 |
| 12 | 13 | 14 | 15 | 16 | 17 | 18 |
| 19 | 20 | 21 | 22 | 23 | 24 | 25 |
| 26 | 27 | 28 | 29 | 30 | 31 | |
June 2024

| S | M | T | W | T | F | S |
| --- | --- | --- | --- | --- | --- | --- |
| | | | | | | 01 |
| 02 | 03 | 04 | 05 | 06 | 07 | 08 |
| 09 | 10 | 11 | 12 | 13 | 14 | 15 |
| 16 | 17 | 18 | 19 | 20 | 21 | 22 |
| 23 | 24 | 25 | 26 | 27 | 28 | 29 |
| 30 | | | | | | |
July 2024

| S | M | T | W | T | F | S |
| --- | --- | --- | --- | --- | --- | --- |
| | 01 | 02 | 03 | 04 | 05 | 06 |
| 07 | 08 | 09 | 10 | 11 | 12 | 13 |
| 14 | 15 | 16 | 17 | 18 | 19 | 20 |
| 21 | 22 | 23 | 24 | 25 | 26 | 27 |
| 28 | 29 | 30 | 31 | | | |
August 2024

| S | M | T | W | T | F | S |
| --- | --- | --- | --- | --- | --- | --- |
| | | | | 01 | 02 | 03 |
| 04 | 05 | 06 | 07 | 08 | 09 | 10 |
| 11 | 12 | 13 | 14 | 15 | 16 | 17 |
| 18 | 19 | 20 | 21 | 22 | 23 | 24 |
| 25 | 26 | 27 | 28 | 29 | 30 | 31 |
September 2024

| S | M | T | W | T | F | S |
| --- | --- | --- | --- | --- | --- | --- |
| 01 | 02 | 03 | 04 | 05 | 06 | 07 |
| 08 | 09 | 10 | 11 | 12 | 13 | 14 |
| 15 | 16 | 17 | 18 | 19 | 20 | 21 |
| 22 | 23 | 24 | 25 | 26 | 27 | 28 |
| 29 | 30 | | | | | |
October 2024

| S | M | T | W | T | F | S |
| --- | --- | --- | --- | --- | --- | --- |
| | | 01 | 02 | 03 | 04 | 05 |
| 06 | 07 | 08 | 09 | 10 | 11 | 12 |
| 13 | 14 | 15 | 16 | 17 | 18 | 19 |
| 20 | 21 | 22 | 23 | 24 | 25 | 26 |
| 27 | 28 | 29 | 30 | 31 | | |
November 2024

| S | M | T | W | T | F | S |
| --- | --- | --- | --- | --- | --- | --- |
| | | | | | 01 | 02 |
| 03 | 04 | 05 | 06 | 07 | 08 | 09 |
| 10 | 11 | 12 | 13 | 14 | 15 | 16 |
| 17 | 18 | 19 | 20 | 21 | 22 | 23 |
| 24 | 25 | 26 | 27 | 28 | 29 | 30 |
December 2024

| S | M | T | W | T | F | S |
| --- | --- | --- | --- | --- | --- | --- |
| 01 | 02 | 03 | 04 | 05 | 06 | 07 |
| 08 | 09 | 10 | 11 | 12 | 13 | 14 |
| 15 | 16 | 17 | 18 | 19 | 20 | 21 |
| 22 | 23 | 24 | 25 | 26 | 27 | 28 |
| 29 | 30 | 31 | | | | |
January 2025

| S | M | T | W | T | F | S |
| --- | --- | --- | --- | --- | --- | --- |
| | | | 01 | 02 | 03 | 04 |
| 05 | 06 | 07 | 08 | 09 | 10 | 11 |
| 12 | 13 | 14 | 15 | 16 | 17 | 18 |
| 19 | 20 | 21 | 22 | 23 | 24 | 25 |
| 26 | 27 | 28 | 29 | 30 | 31 | |
February 2025

| S | M | T | W | T | F | S |
| --- | --- | --- | --- | --- | --- | --- |
| | | | | | | 01 |
| 02 | 03 | 04 | 05 | 06 | 07 | 08 |
| 09 | 10 | 11 | 12 | 13 | 14 | 15 |
| 16 | 17 | 18 | 19 | 20 | 21 | 22 |
| 23 | 24 | 25 | 26 | 27 | 28 | |
March 2025

| S | M | T | W | T | F | S |
| --- | --- | --- | --- | --- | --- | --- |
| | | | | | | 01 |
| 02 | 03 | 04 | 05 | 06 | 07 | 08 |
| 09 | 10 | 11 | 12 | 13 | 14 | 15 |
| 16 | 17 | 18 | 19 | 20 | 21 | 22 |
| 23 | 24 | 25 | 26 | 27 | 28 | 29 |
| 30 | 31 | | | | | |
April 2025

| S | M | T | W | T | F | S |
| --- | --- | --- | --- | --- | --- | --- |
| | | 01 | 02 | 03 | 04 | 05 |
| 06 | 07 | 08 | 09 | 10 | 11 | 12 |
| 13 | 14 | 15 | 16 | 17 | 18 | 19 |
| 20 | 21 | 22 | 23 | 24 | 25 | 26 |
| 27 | 28 | 29 | 30 | | | |
May 2025

| S | M | T | W | T | F | S |
| --- | --- | --- | --- | --- | --- | --- |
| | | | | 01 | 02 | 03 |
| 04 | 05 | 06 | 07 | 08 | 09 | 10 |
| 11 | 12 | 13 | 14 | 15 | 16 | 17 |
| 18 | 19 | 20 | 21 | 22 | 23 | 24 |
| 25 | 26 | 27 | 28 | 29 | 30 | 31 |
June 2025

| S | M | T | W | T | F | S |
| --- | --- | --- | --- | --- | --- | --- |
| 01 | 02 | 03 | 04 | 05 | 06 | 07 |
| 08 | 09 | 10 | 11 | 12 | 13 | 14 |
| 15 | 16 | 17 | 18 | 19 | 20 | 21 |
| 22 | 23 | 24 | 25 | 26 | 27 | 28 |
| 29 | 30 | | | | | |
July 2025

| S | M | T | W | T | F | S |
| --- | --- | --- | --- | --- | --- | --- |
| | | 01 | 02 | 03 | 04 | 05 |
| 06 | 07 | 08 | 09 | 10 | 11 | 12 |
| 13 | 14 | 15 | 16 | 17 | 18 | 19 |
| 20 | 21 | 22 | 23 | 24 | 25 | 26 |
| 27 | 28 | 29 | 30 | 31 | | |
August 2025

| S | M | T | W | T | F | S |
| --- | --- | --- | --- | --- | --- | --- |
| | | | | | 01 | 02 |
| 03 | 04 | 05 | 06 | 07 | 08 | 09 |
| 10 | 11 | 12 | 13 | 14 | 15 | 16 |
| 17 | 18 | 19 | 20 | 21 | 22 | 23 |
| 24 | 25 | 26 | 27 | 28 | 29 | 30 |
| 31 | | | | | | |
September 2025

| S | M | T | W | T | F | S |
| --- | --- | --- | --- | --- | --- | --- |
| | 01 | 02 | 03 | 04 | 05 | 06 |
| 07 | 08 | 09 | 10 | 11 | 12 | 13 |
| 14 | 15 | 16 | 17 | 18 | 19 | 20 |
| 21 | 22 | 23 | 24 | 25 | 26 | 27 |
| 28 | 29 | 30 | | | | |
October 2025

| S | M | T | W | T | F | S |
| --- | --- | --- | --- | --- | --- | --- |
| | | | 01 | 02 | 03 | 04 |
| 05 | 06 | 07 | 08 | 09 | 10 | 11 |
| 12 | 13 | 14 | 15 | 16 | 17 | 18 |
| 19 | 20 | 21 | 22 | 23 | 24 | 25 |
| 26 | 27 | 28 | 29 | 30 | 31 | |
November 2025

| S | M | T | W | T | F | S |
| --- | --- | --- | --- | --- | --- | --- |
| | | | | | | 01 |
| 02 | 03 | 04 | 05 | 06 | 07 | 08 |
| 09 | 10 | 11 | 12 | 13 | 14 | 15 |
| 16 | 17 | 18 | 19 | 20 | 21 | 22 |
| 23 | 24 | 25 | 26 | 27 | 28 | 29 |
| 30 | | | | | | |
December 2025

| S | M | T | W | T | F | S |
| --- | --- | --- | --- | --- | --- | --- |
| | 01 | 02 | 03 | 04 | 05 | 06 |
| 07 | 08 | 09 | 10 | 11 | 12 | 13 |
| 14 | 15 | 16 | 17 | 18 | 19 | 20 |
| 21 | 22 | 23 | 24 | 25 | 26 | 27 |
| 28 | 29 | 30 | 31 | | | |
January 2026

| S | M | T | W | T | F | S |
| --- | --- | --- | --- | --- | --- | --- |
| | | | | 01 | 02 | 03 |
| 04 | 05 | 06 | 07 | 08 | 09 | 10 |
| 11 | 12 | 13 | 14 | 15 | 16 | 17 |
| 18 | 19 | 20 | 21 | 22 | 23 | 24 |
| 25 | 26 | 27 | 28 | 29 | 30 | 31 |
February 2026

| S | M | T | W | T | F | S |
| --- | --- | --- | --- | --- | --- | --- |
| 01 | 02 | 03 | 04 | 05 | 06 | 07 |
| 08 | 09 | 10 | 11 | 12 | 13 | 14 |
| 15 | 16 | 17 | 18 | 19 | 20 | 21 |
| 22 | 23 | 24 | 25 | 26 | 27 | 28 |
March 2026

| S | M | T | W | T | F | S |
| --- | --- | --- | --- | --- | --- | --- |
| 01 | 02 | 03 | 04 | 05 | 06 | 07 |
| 08 | 09 | 10 | 11 | 12 | 13 | 14 |
| 15 | 16 | 17 | 18 | 19 | 20 | 21 |
| 22 | 23 | 24 | 25 | 26 | 27 | 28 |
| 29 | 30 | 31 | | | | |
April 2026

| S | M | T | W | T | F | S |
| --- | --- | --- | --- | --- | --- | --- |
| | | | 01 | 02 | 03 | 04 |
| 05 | 06 | 07 | 08 | 09 | 10 | 11 |
| 12 | 13 | 14 | 15 | 16 | 17 | 18 |
| 19 | 20 | 21 | 22 | 23 | 24 | 25 |
| 26 | 27 | 28 | 29 | 30 | | |
May 2026

| S | M | T | W | T | F | S |
| --- | --- | --- | --- | --- | --- | --- |
| | | | | | 01 | 02 |
| 03 | 04 | 05 | 06 | 07 | 08 | 09 |
| 10 | 11 | 12 | 13 | 14 | 15 | 16 |
| 17 | 18 | 19 | 20 | 21 | 22 | 23 |
| 24 | 25 | 26 | 27 | 28 | 29 | 30 |
| 31 | | | | | | |
June 2026

| S | M | T | W | T | F | S |
| --- | --- | --- | --- | --- | --- | --- |
| | 01 | 02 | 03 | 04 | 05 | 06 |
| 07 | 08 | 09 | 10 | 11 | 12 | 13 |
| 14 | 15 | 16 | 17 | 18 | 19 | 20 |
| 21 | 22 | 23 | 24 | 25 | 26 | 27 |
| 28 | 29 | 30 | | | | |
July 2026

| S | M | T | W | T | F | S |
| --- | --- | --- | --- | --- | --- | --- |
| | | | 01 | 02 | 03 | 04 |
| 05 | 06 | 07 | 08 | 09 | 10 | 11 |
| 12 | 13 | 14 | 15 | 16 | 17 | 18 |
| 19 | 20 | 21 | 22 | 23 | 24 | 25 |
| 26 | 27 | 28 | 29 | 30 | 31 | |
August 2026

| S | M | T | W | T | F | S |
| --- | --- | --- | --- | --- | --- | --- |
| | | | | | | 01 |
| 02 | 03 | 04 | 05 | 06 | 07 | 08 |
| 09 | 10 | 11 | 12 | 13 | 14 | 15 |
| 16 | 17 | 18 | 19 | 20 | 21 | 22 |
| 23 | 24 | 25 | 26 | 27 | 28 | 29 |
| 30 | 31 | | | | | |
September 2026

| S | M | T | W | T | F | S |
| --- | --- | --- | --- | --- | --- | --- |
| | | 01 | 02 | 03 | 04 | 05 |
| 06 | 07 | 08 | 09 | 10 | 11 | 12 |
| 13 | 14 | 15 | 16 | 17 | 18 | 19 |
| 20 | 21 | 22 | 23 | 24 | 25 | 26 |
| 27 | 28 | 29 | 30 | | | |
October 2026

| S | M | T | W | T | F | S |
| --- | --- | --- | --- | --- | --- | --- |
| | | | | 01 | 02 | 03 |
| 04 | 05 | 06 | 07 | 08 | 09 | 10 |
| 11 | 12 | 13 | 14 | 15 | 16 | 17 |
| 18 | 19 | 20 | 21 | 22 | 23 | 24 |
| 25 | 26 | 27 | 28 | 29 | 30 | 31 |
Available
Unavailable
Check-In Only
Check-Out Only
Previous
Next