Wolf Lodge
4 Bedroom(s) | 3 Bathroom(s) | Sleeps 12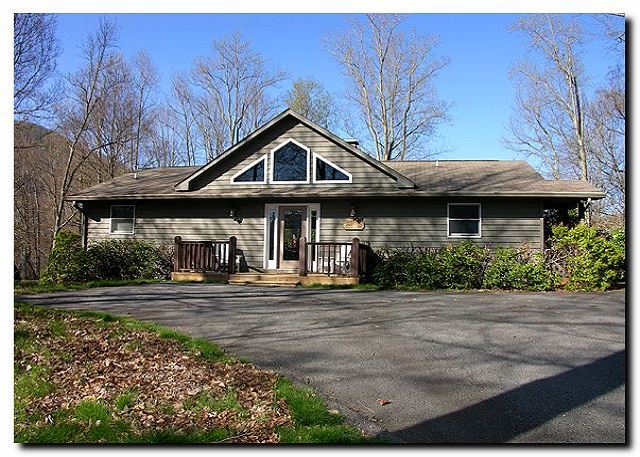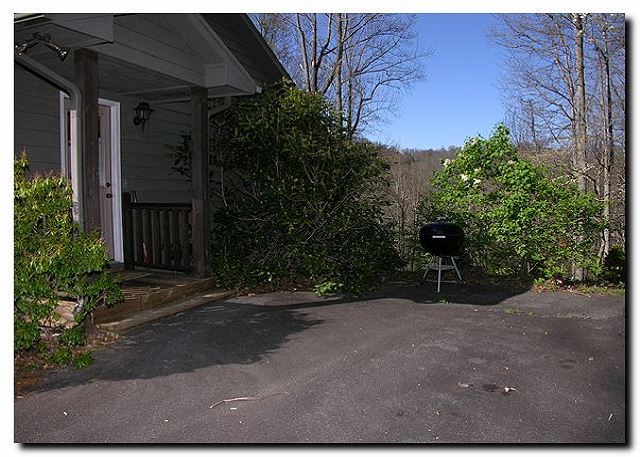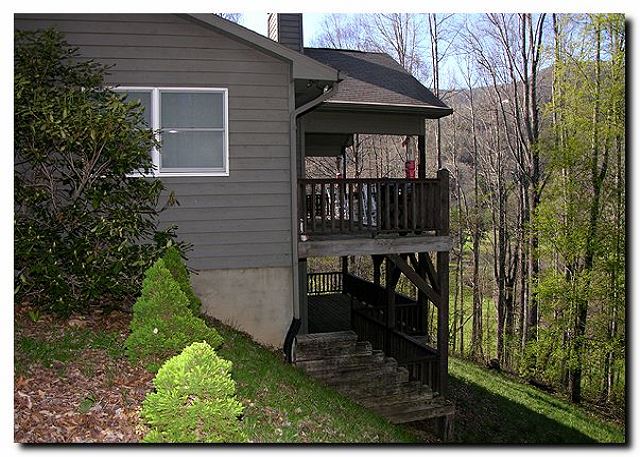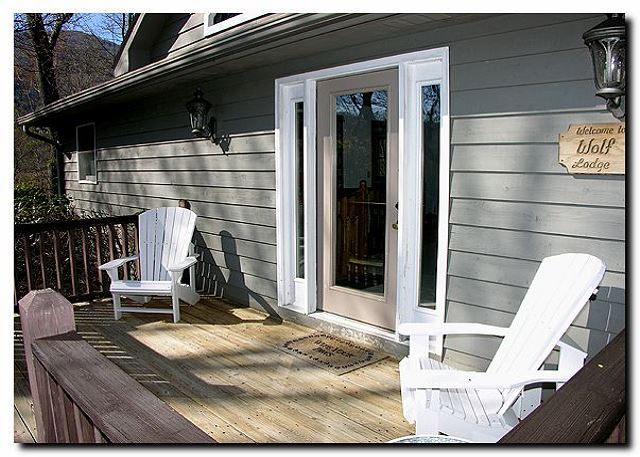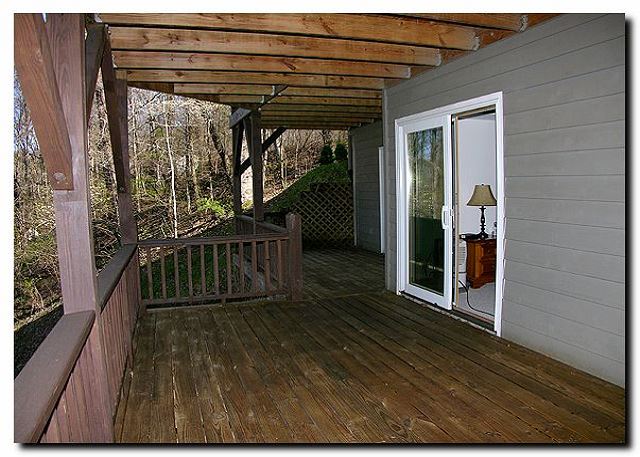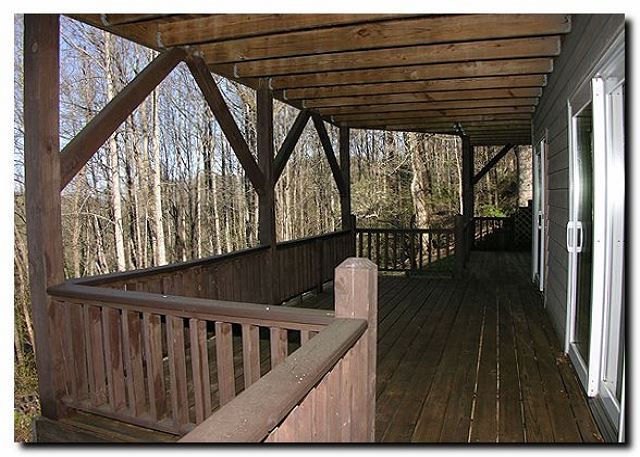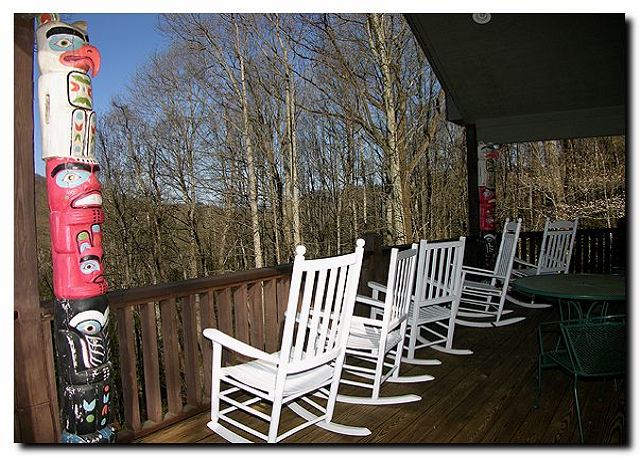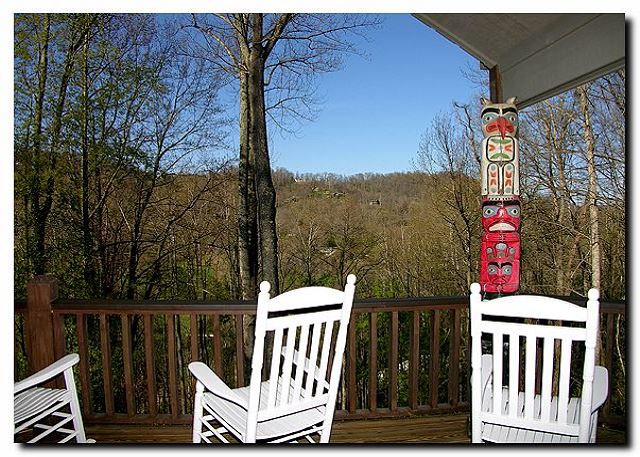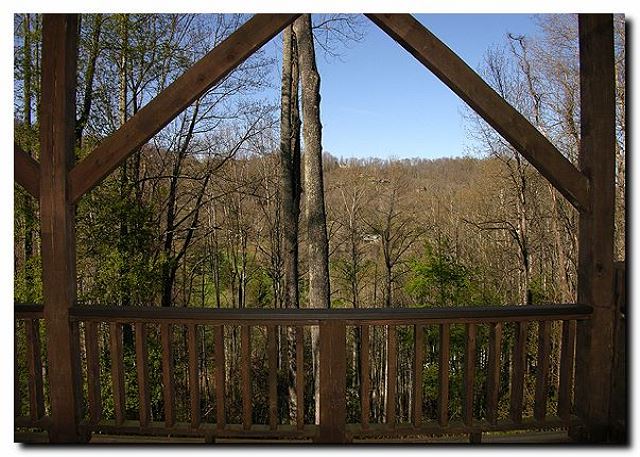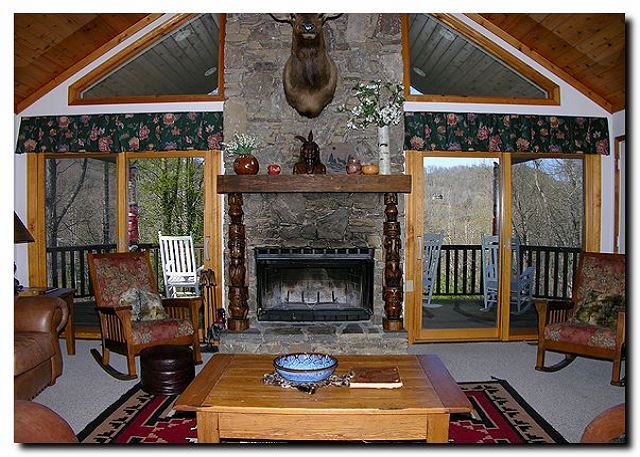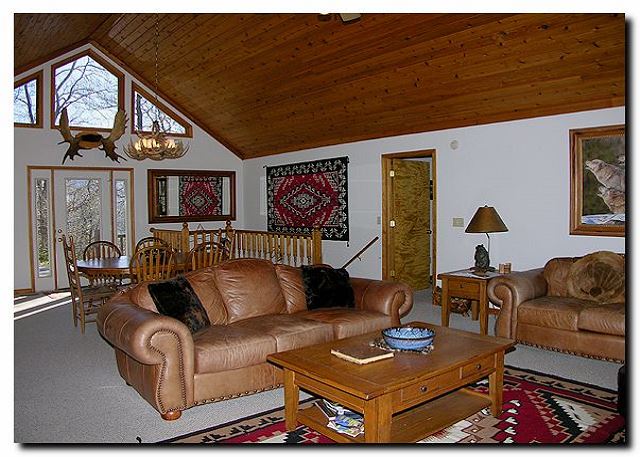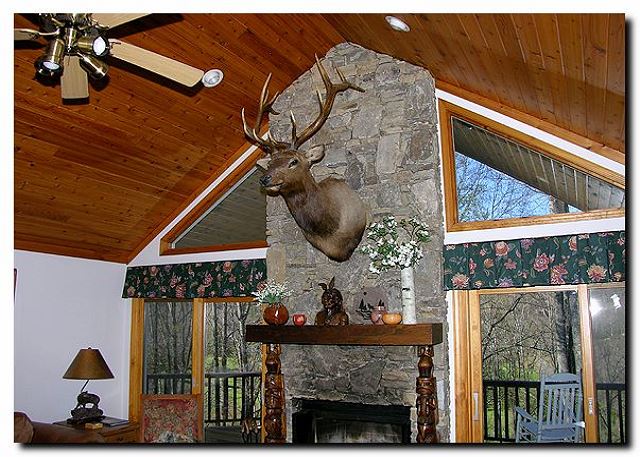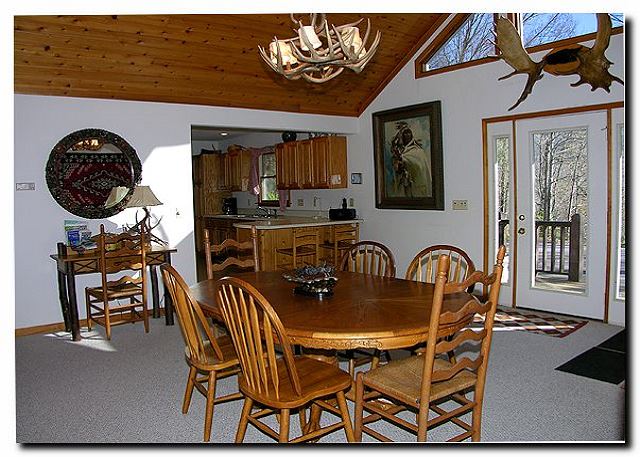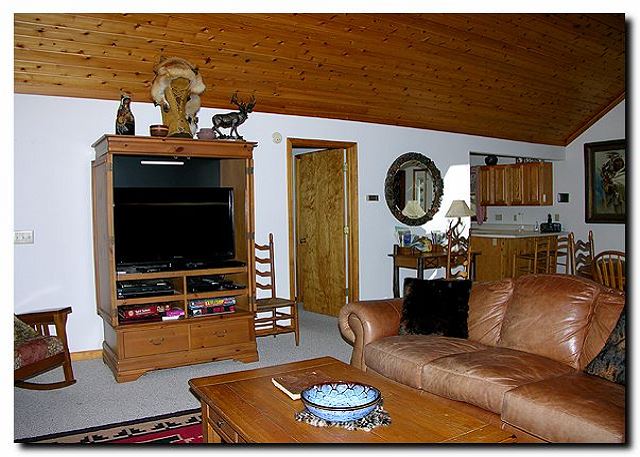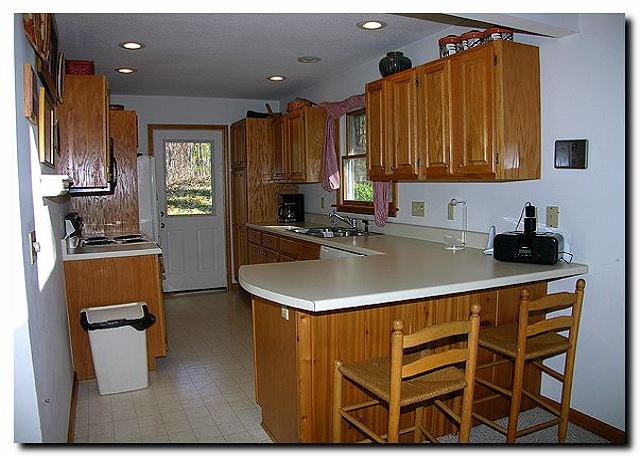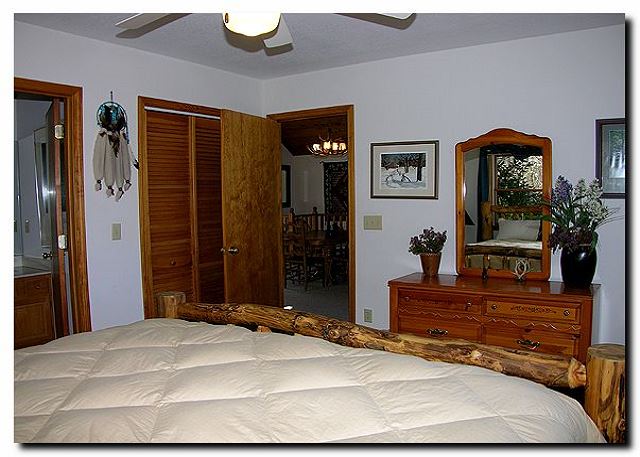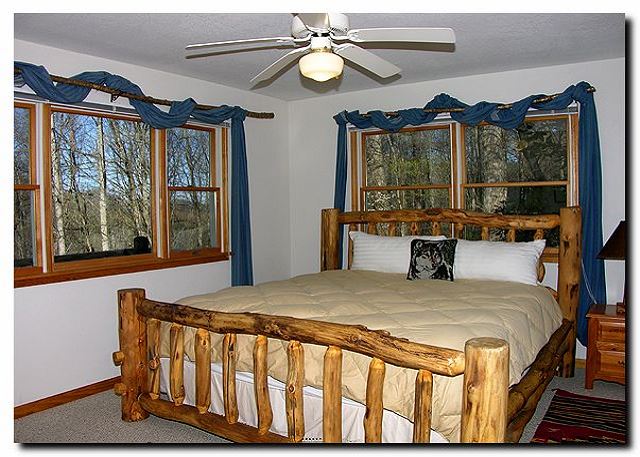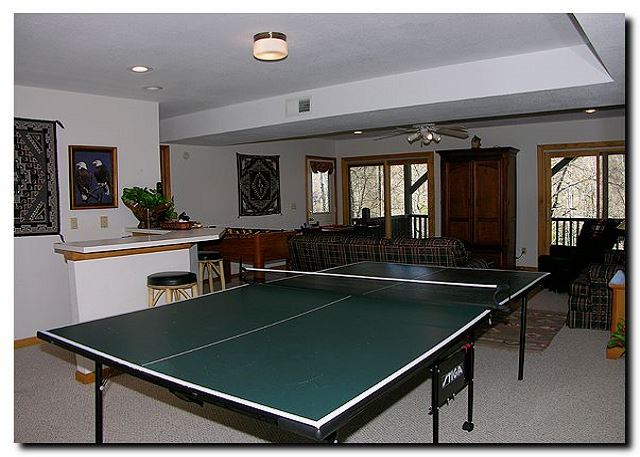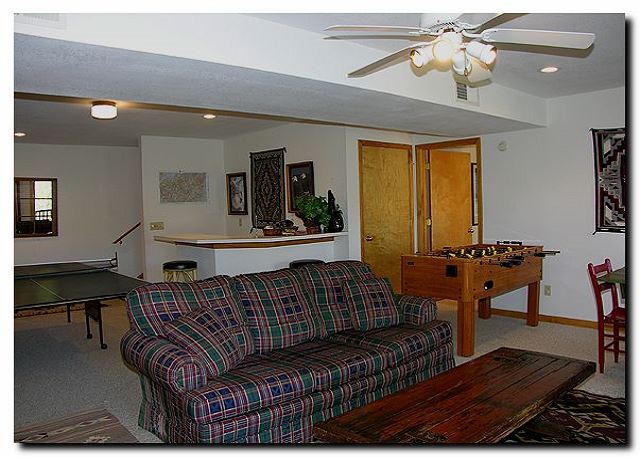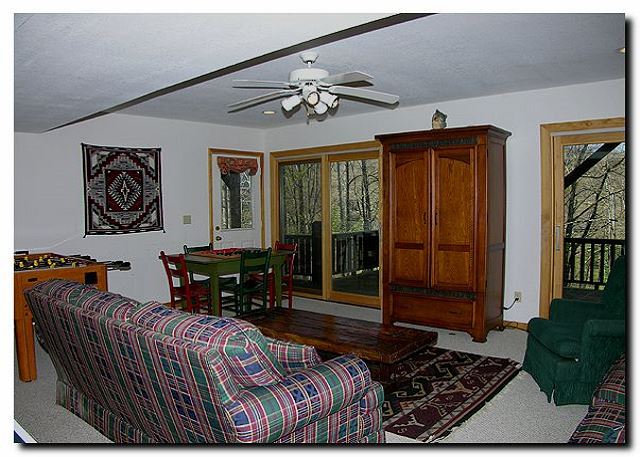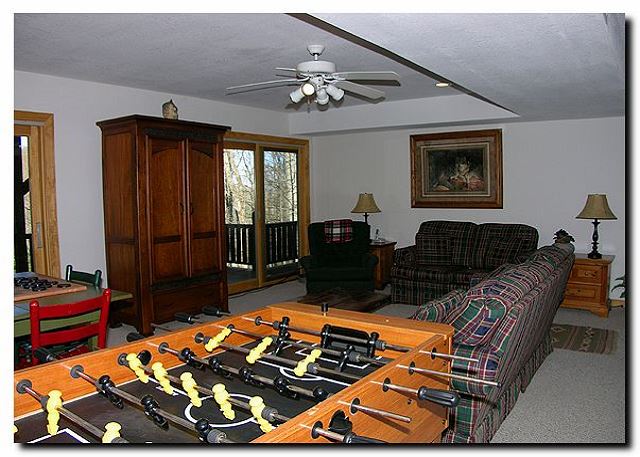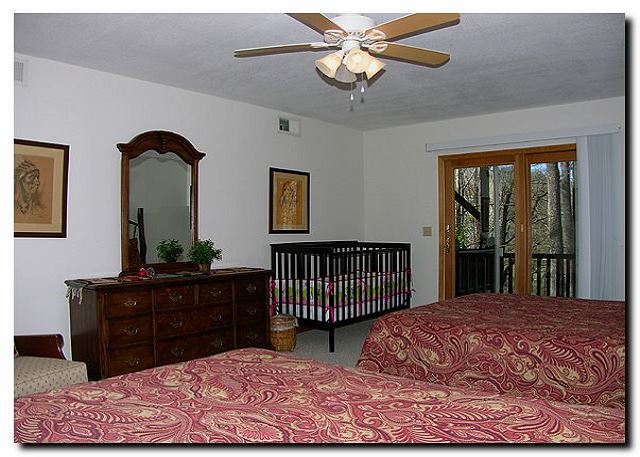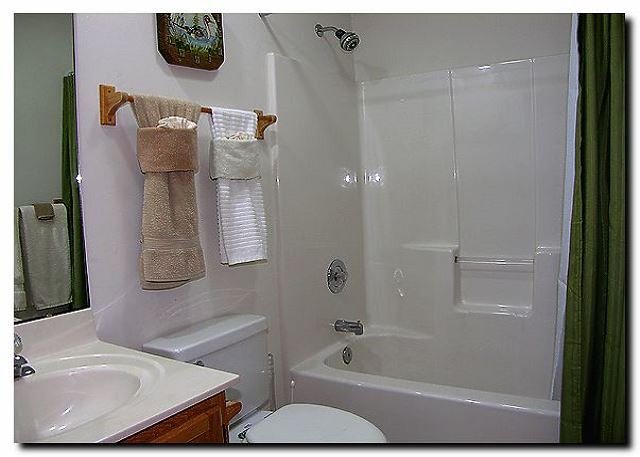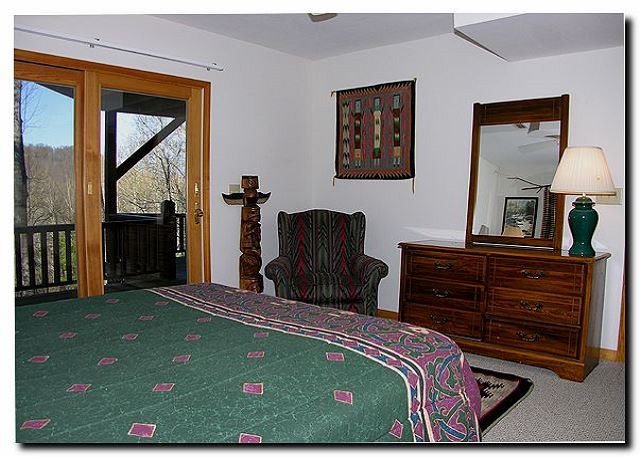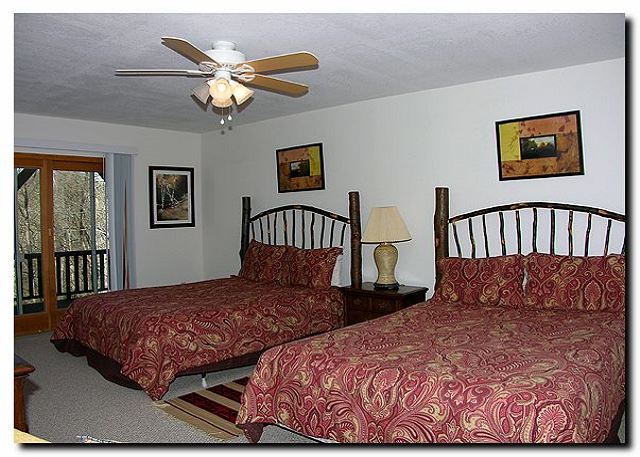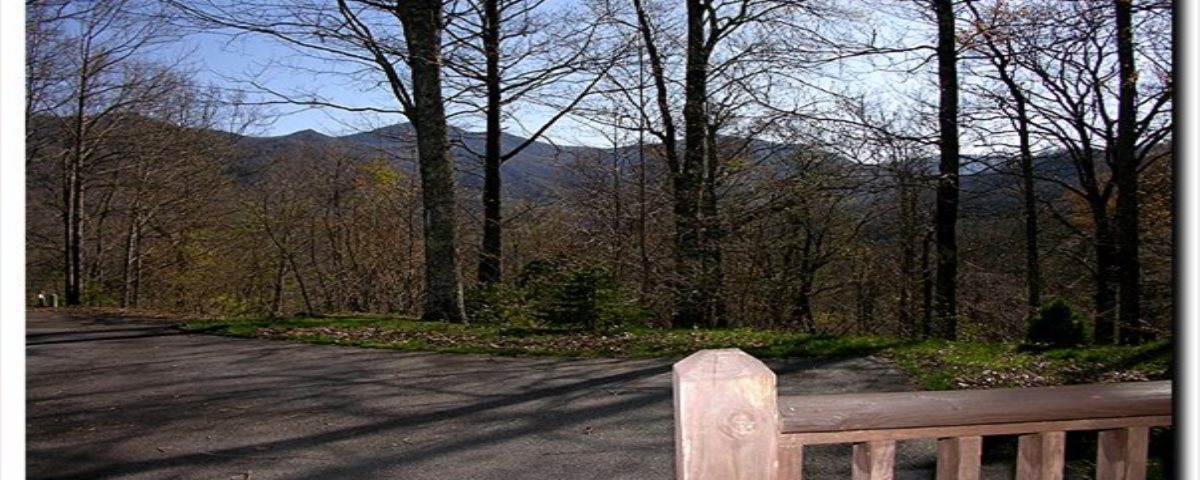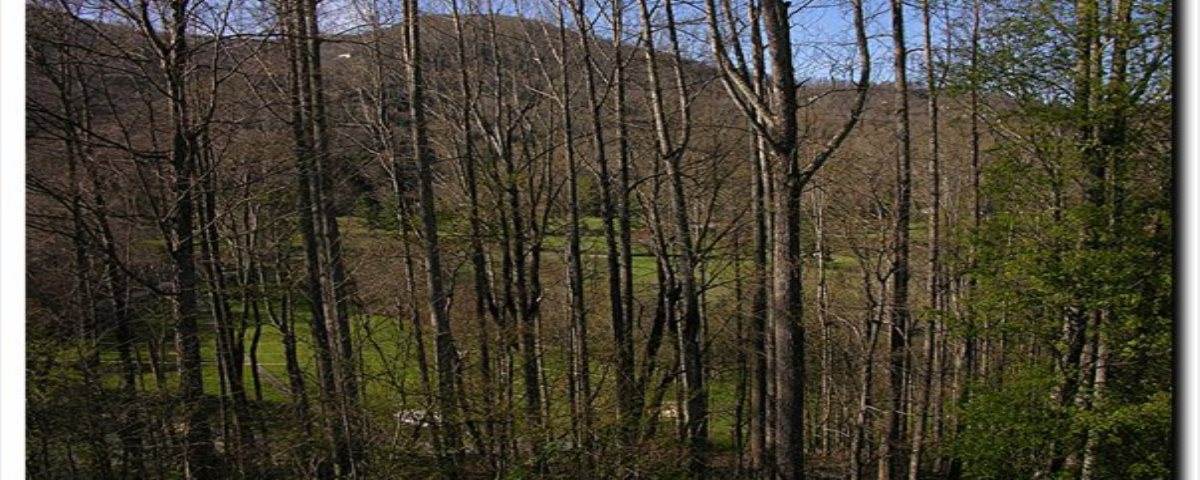 Previous
Next
Welcome to the world of relaxation! On a ridgeline in the Maggie Valley Country Club, this 4 bedroom 3 bath home offers plenty of space for the whole family. With easy paved access to the home, you are only minutes to the golf course and many local attractions. The main level features 2 master suites with king size beds and private baths. The livingroom is open to the dining and kitchen area and feautres a large stone wood burning fireplace . Step our of the livingroom onto the covered deck area to enjoy the fresh mountain air. Downstairs features a guest room with full size bed and a second guest room with 2 full size beds. Game room area which includes a ping pong table, fooz ball table, checkers table and TV with satellite. This home is suitable for motorcycles and small size trailers.

Travelers who cancel a reservation 60 days or more prior to arrival date will receive a 100% refund of rent minus the reservation fee of $100.00

Travelers who cancel a reservation between 31 and 59 days prior to arrival date will receive a 50% refund of rent minus the reservation fee of $100.00

Travelers who cancel within 30 days of arrival will only receive a refund if the property is re-booked for the same dates, minus the reservation fee of $100.00



Cancellation Policy:

Travelers who cancel a reservation 60 days or more prior to arrival date will receive a 100% refund of rent minus the reservation fee of $100.00

Travelers who cancel a reservation between 31 and 59 days prior to arrival date will receive a 50% refund of rent minus the reservation fee of $100.00

Travelers who cancel within 30 days of arrival will only receive

• We highly recommend purchasing insurance to cover cancellation and read the exclusion clauses thoroughly. Travel Cancellation and Protection Insurance is sold by Premier Vacation Rentals and is designed to protect you in the event it becomes necessary for you to cancel your reservation. Ask your booking agent for more details.

Instructions for Check-In/Check-Out

• You must check-in at our office at 2787 Soco Rd. in Maggie Valley. We are located in Eagles Plaza near Snappy's Pizza.

• Check in times will begin at 4:00 pm, however, this is not guaranteed. We work very hard to accommodate this check in time, but additional cleaning and inspection may be required for the rental homes, especially during peak and holiday seasons. You are welcome to call the office before your arrival to see if your vacation rental is ready for occupancy.

• During business hours, your check-in packet will be in our office. If you arrive after business hours, your packet will be in the RED drop box located just outside our office door. This packet includes directions to the home, keys, an after hours emergency number, local trash locations, and directions to various grocery stores.

• Check out is 10:00 am and all keys need to be returned to our office or placed in the locked section of the RED drop box.

Items you will need to bring with you

(owners do not supply these items, however, if they are in the home, you are welcome to use)

• all paper products (toilet paper, napkins, paper plates, paper towels)

• trash bags, tin foil, baggies, coffee filters

• dish soap, laundry soap, hand soap, bath products

• All homes are furnished with bed and bath linens, pots & pans, and dishes. The homes also have washer and dryers for your use.

• Utility outages (power, cable, internet) are out of our control and we will make every effort for a quick resolve. There are no adjustments or refunds due to utility outages.

• NON-DISCLOSURE OF PETS WILL RESULT IN IMMEDIATE EVICTION AND NO REFUNDS!

• If you are wanting to have firewood delivered, please call our office atand we will give you a contact person for that.

• Please be aware that weather and road conditions can change drastically in the mountains during the winter, even if there is no snow, roads can still become icy and dangerous (this includes steps and driveways) Please plan accordingly and drive safely.



Thank you for your recent booking and we lo
Amenities

child bed:
combination tub/shower:
king:
queen:
sleep sofa /futon:
toilet:
arboretum:
autumn foliage:
festivals:
forests:
museums:
restaurants:
theme parks:
water parks:
waterfalls:
winery tours:
zoo:
Foosball:
Game Room:
Ping Pong Table:
Satellite / Cable:
Television:
Air Conditioning:
Clothes Dryer:
Fireplace:
Heating:
Internet:
Iron & Board:
Linens Provided:
Living Room:
Towels Provided:
Washing Machine:
Wifi:
Free Wifi:
Coffee Maker:
Dishes & Utensils:
Dishwasher:
Kitchen:
Microwave:
Oven:
Refrigerator:
Stove:
Toaster:
Dining Table:
antiquing:
bird watching:
eco tourism:
gambling casinos:
horseback riding:
photography:
scenic drives:
sight seeing:
walking:
ATM/bank:
fitness center:
groceries:
hospital:
massage therapist:
medical services:
Mountain View:
Deck / Patio:
Golf:
Outdoor Grill:
fishing:
fly fishing:
freshwater fishing:
golf privileges optional:
hunting:
mountain climbing:
mountaineering:
rafting:
skiing:
whitewater rafting:
children welcome:
non smoking only:
pets not allowed:
wheelchair accessible:
Minimum Age Limit for Renters:
flexible:
necessary:
Adventure:
Family:
Historic:
Sports & Activities:
Tourist Attractions:
Enhanced cleaning practices:
Clean with disinfectant:
High touch surfaces cleaned with disinfectant:
Mountain View:
Central Air:
Ceiling Fans:
High Speed Internet:
Satellite/Cable TV:
DVD Player:
Refrigerator:
Coffee Maker:
Ice Maker:
Microwave:
Toaster:
Cookware:
Dishes and Utensils:
Dishwasher:
Stove/Oven:
Combination Tub/Shower:
Toilet:
Baby Crib:
Cable TV:
DVD Player:
VCR:
Games:
Game Room:
Foosball:
Ping Pong Table:
Deck:
Motorcycle Friendly:
Trailer Friendly:
Children Welcome:
Inside Homes NON-Smoking:
Non-Pet Friendly Home:
Basketball Court:
Cycling:
Fly Fishing/Freshwater Fishing:
Golf:
Hiking:
Mountain Biking:
Mountain Climbing:
Skiing/tubing:
White Water Rafting:
The North Carolina Arboretum:
Autumn Foliage-BlueRidge Parkway:
Churches:
Festivals:
NationalForest in North Carolina:
Museums:
Recreation Center:
Theme Parks:
Water Falls:
Winery Tours:
Golf Courses:
Antiquing:
Bird Watching:
Gambling Casinos:
Horseback Riding:
Outlet Shopping:
Photography:
Scenic Drives:
Sight Seeing:
Walking:
Guest Reviews of
wolf lodge
Maggie Valley , NC
Wolf lodge maggie valley nc
Review by
Tammy C.
Just shoot me, had a good time at the rental but they will not return my deposit. I have called and received an email 6 days ago that my deposit would be returned but no deposit. I called the number on the email and it is not a working number. Now I get to play call and it is another persons responsibility which is what happened when I called the first time. They did not have a problem charging for the property but do not want to return the deposit when we did everything on the list to include taking out the trash when all of the places were closed on the Sunday we left the property.
5 out of 5 stars
Manager Response:
Thank you for your review and feedback. I'm not sure about your communication issues, but no one has held your deposit. The contract information states that your security deposits are returned within 45 days of departure by law. We typically have those returned with in 14 days. They are not processed on the day you check out. I have no control over how long your card company wishes to hold the credit. Please check with your bank on their policies. When you received the email stating the deposit had been processed, we have started that procedure and your bank requires 5 to 7 business days to post the credit. Please understand WE do not hold deposits unnecessarily. If you had a problem with the way we handle our business, you could have called me, the owner of Premier and I have always tried to be fair to our guest. Premier Vacation Rentals has no control over the county disposal of trash. There again, a phone call and I would have gladly helped you. Despite the fact that you do not like our service, I appreciate your business!
Excellent Vacation
Review by
Robert H.
We had a great time in Maggie Valley and Wolf Lodge was a great p[lace to stay!
5 out of 5 stars
Manager Response:
Thank you so much and we are glad you had a great time! We look forward to serving you again.
Maggie Valley Getaway
Review by
Lisa H.
This is a cute house, close to Maggie Valley Country Club. Nicely decorated. Quiet location, not much of a view in back because of trees. Kitchen is dated but functional and who wants to cook on vacation? Be prepared to buy TP and paper towels as they aren't provided. Can't lie - the road up is scary. Thankfully we never met anyone going the opposite direction. Pro tip - follow the property mgmt company's directions to get there, not your GPS.
5 out of 5 stars
Manager Response:
Pleased to hear you had a nice time. I agree some of our mountain roads are a little curvy and one way only. We supply 1 roll of TP per bathroom and 1 paper towel , we are certainly sorry for any inconvenience . We hope to see you soon . Premier Staff
Excellent all around
Review by
David A.
Everything went well and we enjoyed the stay.
5 out of 5 stars
Manager Response:
Great News! We love to hear that our guest enjoy their stay while visiting The Smokies! We hope to see you soon. Premier Staff!
Snowed in FUN
Review by
Kimberly C.
Everyone had a great time. There was space downstairs for the 4 teenage boys, and 3 of us enjoyed the comfortable upstairs with fire and views. The beds were comfortable, water pressure great and kitchen had all we needed. We parked way way down hill as snow and ice storm moved in during our stay. I was able to order wood before we arrived and we stayed warm. We had great communication from the office, We would stay here again.
5 out of 5 stars
Manager Response:
Great!!! We are so happy to know you had a comfortable stay while staying at Beautiful Wolf Lodge!! We look forward to seeing you again soon:) Premier Staff!
Beautiful home
Review by
Chunling H.
Beautiful home. We had good time. The only thing is the location. It was hard to find it. GPS was confused. The first night was like an adventure. And the hill of drive way is very tough for us, can't image how to make it in winter. Except this, everything is good.
4 out of 5 stars
Nice house. taking trash with you and washing & drying dishes ??
Review by
james p h.
Good all around Taking trash with you is a hassle, but not too unusual so it doesn't sit around in between rentals, BUT 10 AM check out PLUSrunning dishwasher AND putting dishes up means breakfast is at 7AM on a vacation day!! Suggest run DW and leave.
4 out of 5 stars
Much needed time away
Review by
Andrea Y.
I found the house at the last minute on VRBO. The house was everything it claimed to be and more. For once in a very long time of renting cabins in the mountains, everything I needed was there. The only mistake I made was not using the info once I found the house to rent directly. VRBO has reached a terrible level of charging additional fees, but lesson learned.
5 out of 5 stars
Beautiful house
Review by
Denise B.
The description of the house was accurate. Very roomy and love the furnishings. Property was clean and well kept. Good location but can be difficult to access due to steep incline. I would recommend this to family and friends. Would love to come back and stay at the Wolf Lodge again.
5 out of 5 stars
GREAT WEEKEND !!!
Review by
Scott M.
We stayed at Wolfe Lodge for 3 nights on a motorcycle trip . The road / driveway was a little challenging to say the least for motorcycles but all was well . When we went in the house it was exceptionally clean and neat . From the décor to the well stocked kitchen everything was great . Furniture and beds were very comfortable . We hated to leave and will for sure be back. THANKS FOR A GREAT WEEKEND WOLF LODGE !!!
5 out of 5 stars
Great House
Review by
Mark D.
Beautifully decorated, very comfortable and well outfitted. Streets are narrow and a little little tricky but manageable.
5 out of 5 stars
Manager Response:
We are pleased you had a nice time and found the home clean and comfortable during your stay... Yes sometimes these mountain roads can be a little challenge 🙂 We look forward to seeing you on your next Maggie Mountain Getaway !! Have a GREAT summer:) The Premier Staff!
Motorcycle Trip to Maggie Valley
Review by
Marc P.
The property was in very good condition and pride of ownership shows. I have stayed at many VRBO cabins in the Maggie Valley area and this was the nicest. It was very clean and not littered with dead flys/bugs everywhere. It was also not musty and damp like most places.Our only complaint was that the ping pong balls and paddles provided were not very good quality (seriously - the only complaint!). But not to worry, we left a few good balls and paddles behind for the next renters :).
5 out of 5 stars
Manager Response:
Amazing! So pleased you had a nice time and found the home clean and comfortable during your stay:) It is definitely our goal for our guest to be satisfied during their stay:) Thank you for the new paddles and ping pong balls:) Have a GREAT summer and we hope to see you soon... The Premier Staff!
Great Time !
Review by
Chip C.
We had an awesome time at Wolf Lodge. Very nice house will everything you need, it was perfect for our family and had all the comforts of home. I highly recommend this property.
5 out of 5 stars
Manager Response:
We are pleased to hear you and your family had a nice time and found the clean and comfortable upon your arrival:) We look forward to seeing you soon:) The Premier Staff!
Best Rental Yet
Review by
Shaun W.
Quiet, comfortable and just the right elevation (not too high up the mountain). The family loved the game room and relaxing outside rocking away overlooking the golf course. We will definitely be back!!
5 out of 5 stars
Manager Response:
We are pleased to hear you and your family had an enjoyable time during your Maggie Valley getaway:) What a wonderful time spent with family rocking on the porch overlooking the beautiful mountains... We look forward to seeing you again in the near future:) Enjoy your day:) The Premier Staff!
Wolf Lodge review in April
Overall appearance was nice. A lot more at the lodge then we expected with some things there that was there that was said wasn't going to be there. Directions were a little confusing to the lodge and the info given to us in the packet contradicted what was at the lodge on the refrigerator. Everything we needed was available and we has plenty of everything to accommodate our stay.The WiFi did not work at all and we couldn't get the lower level TV to work. Directions for some of those things would be nice.
4 out of 5 stars
November 2016
Review by
John G.
We have stayed at Wolf Lodge several times and enjoy it every time! As we missed last year we noticed new flooring & oven and a new ping pong table. The home was a little dusty and we were short washcloths and towels, but no biggie as there is a washing machine available. Location is great and taking a hike just down to the golf course is plenty of exercise. Shopping is not far and Waynesville is close by. We always go to Hendersonville which is more of a drive, but only 40 minutes or so away. Great little town. Wolf Lodge is a great family get-away place.
5 out of 5 stars
Nice Mountain Escape
I rented this home for a recent family visit. I grew up in this area. The house was large and had plenty of room for family visits. We enjoyed the covered deck. The house could use some new carpet and a few other updates. The kitchen had new appliances and counter tops. The house had easy access for my elderly mother to be able to visit. The drive up to the house might be a little difficult for someone not familiar with mountain roads. It was paved .
4 out of 5 stars
Wolf Lodge
Could not get on WIFI. Wrong password on modem. Was given a different password by management, still did not work. Not good for a working vacation...
4 out of 5 stars
Memorial Day weekend 2015
Great cabin, very comfortable? I would suggest directions for both TV's to view cable, as well as watching rented movies. We had trouble viewing both.Also, since we were on motorcycles, there is definately a safe way going UP to the cabin using Country Club Rd. vs. Riddle Cove.
4 out of 5 stars
Book Your Stay!
Select your arrival and departure dates below to reserve this unit.


December 2023

| S | M | T | W | T | F | S |
| --- | --- | --- | --- | --- | --- | --- |
| | | | | | 01 | 02 |
| 03 | 04 | 05 | 06 | 07 | 08 | 09 |
| 10 | 11 | 12 | 13 | 14 | 15 | 16 |
| 17 | 18 | 19 | 20 | 21 | 22 | 23 |
| 24 | 25 | 26 | 27 | 28 | 29 | 30 |
| 31 | | | | | | |
January 2024

| S | M | T | W | T | F | S |
| --- | --- | --- | --- | --- | --- | --- |
| | 01 | 02 | 03 | 04 | 05 | 06 |
| 07 | 08 | 09 | 10 | 11 | 12 | 13 |
| 14 | 15 | 16 | 17 | 18 | 19 | 20 |
| 21 | 22 | 23 | 24 | 25 | 26 | 27 |
| 28 | 29 | 30 | 31 | | | |
February 2024

| S | M | T | W | T | F | S |
| --- | --- | --- | --- | --- | --- | --- |
| | | | | 01 | 02 | 03 |
| 04 | 05 | 06 | 07 | 08 | 09 | 10 |
| 11 | 12 | 13 | 14 | 15 | 16 | 17 |
| 18 | 19 | 20 | 21 | 22 | 23 | 24 |
| 25 | 26 | 27 | 28 | 29 | | |
March 2024

| S | M | T | W | T | F | S |
| --- | --- | --- | --- | --- | --- | --- |
| | | | | | 01 | 02 |
| 03 | 04 | 05 | 06 | 07 | 08 | 09 |
| 10 | 11 | 12 | 13 | 14 | 15 | 16 |
| 17 | 18 | 19 | 20 | 21 | 22 | 23 |
| 24 | 25 | 26 | 27 | 28 | 29 | 30 |
| 31 | | | | | | |
April 2024

| S | M | T | W | T | F | S |
| --- | --- | --- | --- | --- | --- | --- |
| | 01 | 02 | 03 | 04 | 05 | 06 |
| 07 | 08 | 09 | 10 | 11 | 12 | 13 |
| 14 | 15 | 16 | 17 | 18 | 19 | 20 |
| 21 | 22 | 23 | 24 | 25 | 26 | 27 |
| 28 | 29 | 30 | | | | |
May 2024

| S | M | T | W | T | F | S |
| --- | --- | --- | --- | --- | --- | --- |
| | | | 01 | 02 | 03 | 04 |
| 05 | 06 | 07 | 08 | 09 | 10 | 11 |
| 12 | 13 | 14 | 15 | 16 | 17 | 18 |
| 19 | 20 | 21 | 22 | 23 | 24 | 25 |
| 26 | 27 | 28 | 29 | 30 | 31 | |
June 2024

| S | M | T | W | T | F | S |
| --- | --- | --- | --- | --- | --- | --- |
| | | | | | | 01 |
| 02 | 03 | 04 | 05 | 06 | 07 | 08 |
| 09 | 10 | 11 | 12 | 13 | 14 | 15 |
| 16 | 17 | 18 | 19 | 20 | 21 | 22 |
| 23 | 24 | 25 | 26 | 27 | 28 | 29 |
| 30 | | | | | | |
July 2024

| S | M | T | W | T | F | S |
| --- | --- | --- | --- | --- | --- | --- |
| | 01 | 02 | 03 | 04 | 05 | 06 |
| 07 | 08 | 09 | 10 | 11 | 12 | 13 |
| 14 | 15 | 16 | 17 | 18 | 19 | 20 |
| 21 | 22 | 23 | 24 | 25 | 26 | 27 |
| 28 | 29 | 30 | 31 | | | |
August 2024

| S | M | T | W | T | F | S |
| --- | --- | --- | --- | --- | --- | --- |
| | | | | 01 | 02 | 03 |
| 04 | 05 | 06 | 07 | 08 | 09 | 10 |
| 11 | 12 | 13 | 14 | 15 | 16 | 17 |
| 18 | 19 | 20 | 21 | 22 | 23 | 24 |
| 25 | 26 | 27 | 28 | 29 | 30 | 31 |
September 2024

| S | M | T | W | T | F | S |
| --- | --- | --- | --- | --- | --- | --- |
| 01 | 02 | 03 | 04 | 05 | 06 | 07 |
| 08 | 09 | 10 | 11 | 12 | 13 | 14 |
| 15 | 16 | 17 | 18 | 19 | 20 | 21 |
| 22 | 23 | 24 | 25 | 26 | 27 | 28 |
| 29 | 30 | | | | | |
October 2024

| S | M | T | W | T | F | S |
| --- | --- | --- | --- | --- | --- | --- |
| | | 01 | 02 | 03 | 04 | 05 |
| 06 | 07 | 08 | 09 | 10 | 11 | 12 |
| 13 | 14 | 15 | 16 | 17 | 18 | 19 |
| 20 | 21 | 22 | 23 | 24 | 25 | 26 |
| 27 | 28 | 29 | 30 | 31 | | |
November 2024

| S | M | T | W | T | F | S |
| --- | --- | --- | --- | --- | --- | --- |
| | | | | | 01 | 02 |
| 03 | 04 | 05 | 06 | 07 | 08 | 09 |
| 10 | 11 | 12 | 13 | 14 | 15 | 16 |
| 17 | 18 | 19 | 20 | 21 | 22 | 23 |
| 24 | 25 | 26 | 27 | 28 | 29 | 30 |
December 2024

| S | M | T | W | T | F | S |
| --- | --- | --- | --- | --- | --- | --- |
| 01 | 02 | 03 | 04 | 05 | 06 | 07 |
| 08 | 09 | 10 | 11 | 12 | 13 | 14 |
| 15 | 16 | 17 | 18 | 19 | 20 | 21 |
| 22 | 23 | 24 | 25 | 26 | 27 | 28 |
| 29 | 30 | 31 | | | | |
January 2025

| S | M | T | W | T | F | S |
| --- | --- | --- | --- | --- | --- | --- |
| | | | 01 | 02 | 03 | 04 |
| 05 | 06 | 07 | 08 | 09 | 10 | 11 |
| 12 | 13 | 14 | 15 | 16 | 17 | 18 |
| 19 | 20 | 21 | 22 | 23 | 24 | 25 |
| 26 | 27 | 28 | 29 | 30 | 31 | |
February 2025

| S | M | T | W | T | F | S |
| --- | --- | --- | --- | --- | --- | --- |
| | | | | | | 01 |
| 02 | 03 | 04 | 05 | 06 | 07 | 08 |
| 09 | 10 | 11 | 12 | 13 | 14 | 15 |
| 16 | 17 | 18 | 19 | 20 | 21 | 22 |
| 23 | 24 | 25 | 26 | 27 | 28 | |
March 2025

| S | M | T | W | T | F | S |
| --- | --- | --- | --- | --- | --- | --- |
| | | | | | | 01 |
| 02 | 03 | 04 | 05 | 06 | 07 | 08 |
| 09 | 10 | 11 | 12 | 13 | 14 | 15 |
| 16 | 17 | 18 | 19 | 20 | 21 | 22 |
| 23 | 24 | 25 | 26 | 27 | 28 | 29 |
| 30 | 31 | | | | | |
April 2025

| S | M | T | W | T | F | S |
| --- | --- | --- | --- | --- | --- | --- |
| | | 01 | 02 | 03 | 04 | 05 |
| 06 | 07 | 08 | 09 | 10 | 11 | 12 |
| 13 | 14 | 15 | 16 | 17 | 18 | 19 |
| 20 | 21 | 22 | 23 | 24 | 25 | 26 |
| 27 | 28 | 29 | 30 | | | |
May 2025

| S | M | T | W | T | F | S |
| --- | --- | --- | --- | --- | --- | --- |
| | | | | 01 | 02 | 03 |
| 04 | 05 | 06 | 07 | 08 | 09 | 10 |
| 11 | 12 | 13 | 14 | 15 | 16 | 17 |
| 18 | 19 | 20 | 21 | 22 | 23 | 24 |
| 25 | 26 | 27 | 28 | 29 | 30 | 31 |
June 2025

| S | M | T | W | T | F | S |
| --- | --- | --- | --- | --- | --- | --- |
| 01 | 02 | 03 | 04 | 05 | 06 | 07 |
| 08 | 09 | 10 | 11 | 12 | 13 | 14 |
| 15 | 16 | 17 | 18 | 19 | 20 | 21 |
| 22 | 23 | 24 | 25 | 26 | 27 | 28 |
| 29 | 30 | | | | | |
July 2025

| S | M | T | W | T | F | S |
| --- | --- | --- | --- | --- | --- | --- |
| | | 01 | 02 | 03 | 04 | 05 |
| 06 | 07 | 08 | 09 | 10 | 11 | 12 |
| 13 | 14 | 15 | 16 | 17 | 18 | 19 |
| 20 | 21 | 22 | 23 | 24 | 25 | 26 |
| 27 | 28 | 29 | 30 | 31 | | |
August 2025

| S | M | T | W | T | F | S |
| --- | --- | --- | --- | --- | --- | --- |
| | | | | | 01 | 02 |
| 03 | 04 | 05 | 06 | 07 | 08 | 09 |
| 10 | 11 | 12 | 13 | 14 | 15 | 16 |
| 17 | 18 | 19 | 20 | 21 | 22 | 23 |
| 24 | 25 | 26 | 27 | 28 | 29 | 30 |
| 31 | | | | | | |
September 2025

| S | M | T | W | T | F | S |
| --- | --- | --- | --- | --- | --- | --- |
| | 01 | 02 | 03 | 04 | 05 | 06 |
| 07 | 08 | 09 | 10 | 11 | 12 | 13 |
| 14 | 15 | 16 | 17 | 18 | 19 | 20 |
| 21 | 22 | 23 | 24 | 25 | 26 | 27 |
| 28 | 29 | 30 | | | | |
October 2025

| S | M | T | W | T | F | S |
| --- | --- | --- | --- | --- | --- | --- |
| | | | 01 | 02 | 03 | 04 |
| 05 | 06 | 07 | 08 | 09 | 10 | 11 |
| 12 | 13 | 14 | 15 | 16 | 17 | 18 |
| 19 | 20 | 21 | 22 | 23 | 24 | 25 |
| 26 | 27 | 28 | 29 | 30 | 31 | |
November 2025

| S | M | T | W | T | F | S |
| --- | --- | --- | --- | --- | --- | --- |
| | | | | | | 01 |
| 02 | 03 | 04 | 05 | 06 | 07 | 08 |
| 09 | 10 | 11 | 12 | 13 | 14 | 15 |
| 16 | 17 | 18 | 19 | 20 | 21 | 22 |
| 23 | 24 | 25 | 26 | 27 | 28 | 29 |
| 30 | | | | | | |
December 2025

| S | M | T | W | T | F | S |
| --- | --- | --- | --- | --- | --- | --- |
| | 01 | 02 | 03 | 04 | 05 | 06 |
| 07 | 08 | 09 | 10 | 11 | 12 | 13 |
| 14 | 15 | 16 | 17 | 18 | 19 | 20 |
| 21 | 22 | 23 | 24 | 25 | 26 | 27 |
| 28 | 29 | 30 | 31 | | | |
January 2026

| S | M | T | W | T | F | S |
| --- | --- | --- | --- | --- | --- | --- |
| | | | | 01 | 02 | 03 |
| 04 | 05 | 06 | 07 | 08 | 09 | 10 |
| 11 | 12 | 13 | 14 | 15 | 16 | 17 |
| 18 | 19 | 20 | 21 | 22 | 23 | 24 |
| 25 | 26 | 27 | 28 | 29 | 30 | 31 |
February 2026

| S | M | T | W | T | F | S |
| --- | --- | --- | --- | --- | --- | --- |
| 01 | 02 | 03 | 04 | 05 | 06 | 07 |
| 08 | 09 | 10 | 11 | 12 | 13 | 14 |
| 15 | 16 | 17 | 18 | 19 | 20 | 21 |
| 22 | 23 | 24 | 25 | 26 | 27 | 28 |
March 2026

| S | M | T | W | T | F | S |
| --- | --- | --- | --- | --- | --- | --- |
| 01 | 02 | 03 | 04 | 05 | 06 | 07 |
| 08 | 09 | 10 | 11 | 12 | 13 | 14 |
| 15 | 16 | 17 | 18 | 19 | 20 | 21 |
| 22 | 23 | 24 | 25 | 26 | 27 | 28 |
| 29 | 30 | 31 | | | | |
April 2026

| S | M | T | W | T | F | S |
| --- | --- | --- | --- | --- | --- | --- |
| | | | 01 | 02 | 03 | 04 |
| 05 | 06 | 07 | 08 | 09 | 10 | 11 |
| 12 | 13 | 14 | 15 | 16 | 17 | 18 |
| 19 | 20 | 21 | 22 | 23 | 24 | 25 |
| 26 | 27 | 28 | 29 | 30 | | |
May 2026

| S | M | T | W | T | F | S |
| --- | --- | --- | --- | --- | --- | --- |
| | | | | | 01 | 02 |
| 03 | 04 | 05 | 06 | 07 | 08 | 09 |
| 10 | 11 | 12 | 13 | 14 | 15 | 16 |
| 17 | 18 | 19 | 20 | 21 | 22 | 23 |
| 24 | 25 | 26 | 27 | 28 | 29 | 30 |
| 31 | | | | | | |
June 2026

| S | M | T | W | T | F | S |
| --- | --- | --- | --- | --- | --- | --- |
| | 01 | 02 | 03 | 04 | 05 | 06 |
| 07 | 08 | 09 | 10 | 11 | 12 | 13 |
| 14 | 15 | 16 | 17 | 18 | 19 | 20 |
| 21 | 22 | 23 | 24 | 25 | 26 | 27 |
| 28 | 29 | 30 | | | | |
July 2026

| S | M | T | W | T | F | S |
| --- | --- | --- | --- | --- | --- | --- |
| | | | 01 | 02 | 03 | 04 |
| 05 | 06 | 07 | 08 | 09 | 10 | 11 |
| 12 | 13 | 14 | 15 | 16 | 17 | 18 |
| 19 | 20 | 21 | 22 | 23 | 24 | 25 |
| 26 | 27 | 28 | 29 | 30 | 31 | |
August 2026

| S | M | T | W | T | F | S |
| --- | --- | --- | --- | --- | --- | --- |
| | | | | | | 01 |
| 02 | 03 | 04 | 05 | 06 | 07 | 08 |
| 09 | 10 | 11 | 12 | 13 | 14 | 15 |
| 16 | 17 | 18 | 19 | 20 | 21 | 22 |
| 23 | 24 | 25 | 26 | 27 | 28 | 29 |
| 30 | 31 | | | | | |
September 2026

| S | M | T | W | T | F | S |
| --- | --- | --- | --- | --- | --- | --- |
| | | 01 | 02 | 03 | 04 | 05 |
| 06 | 07 | 08 | 09 | 10 | 11 | 12 |
| 13 | 14 | 15 | 16 | 17 | 18 | 19 |
| 20 | 21 | 22 | 23 | 24 | 25 | 26 |
| 27 | 28 | 29 | 30 | | | |
October 2026

| S | M | T | W | T | F | S |
| --- | --- | --- | --- | --- | --- | --- |
| | | | | 01 | 02 | 03 |
| 04 | 05 | 06 | 07 | 08 | 09 | 10 |
| 11 | 12 | 13 | 14 | 15 | 16 | 17 |
| 18 | 19 | 20 | 21 | 22 | 23 | 24 |
| 25 | 26 | 27 | 28 | 29 | 30 | 31 |
November 2026

| S | M | T | W | T | F | S |
| --- | --- | --- | --- | --- | --- | --- |
| 01 | 02 | 03 | 04 | 05 | 06 | 07 |
| 08 | 09 | 10 | 11 | 12 | 13 | 14 |
| 15 | 16 | 17 | 18 | 19 | 20 | 21 |
| 22 | 23 | 24 | 25 | 26 | 27 | 28 |
| 29 | 30 | | | | | |
December 2026

| S | M | T | W | T | F | S |
| --- | --- | --- | --- | --- | --- | --- |
| | | 01 | 02 | 03 | 04 | 05 |
| 06 | 07 | 08 | 09 | 10 | 11 | 12 |
| 13 | 14 | 15 | 16 | 17 | 18 | 19 |
| 20 | 21 | 22 | 23 | 24 | 25 | 26 |
| 27 | 28 | 29 | 30 | 31 | | |
Available
Unavailable
Check-In Only
Check-Out Only
Previous
Next