A Million Dollar View
2 Bedroom(s) | 2 Bathroom(s) | Sleeps 6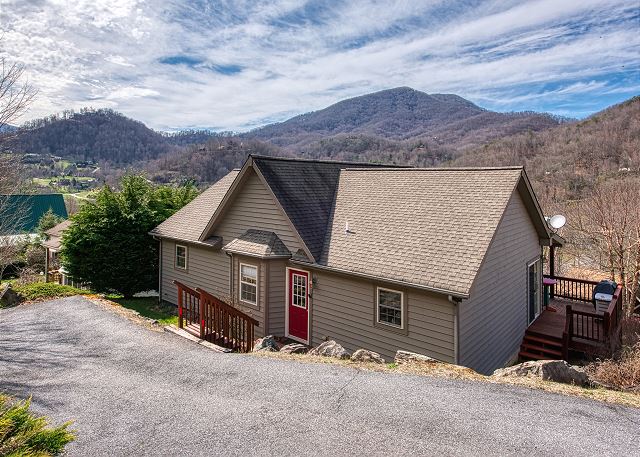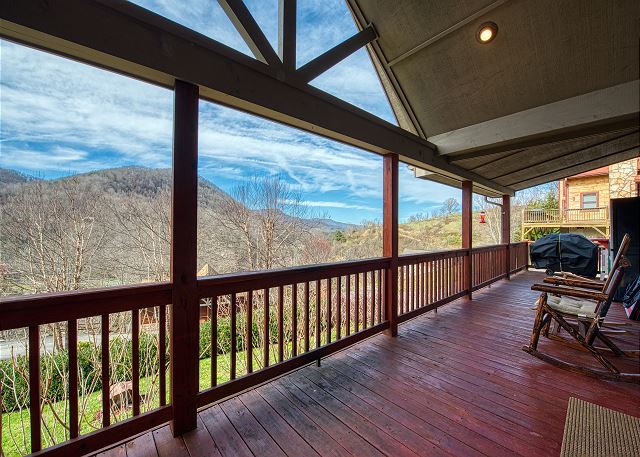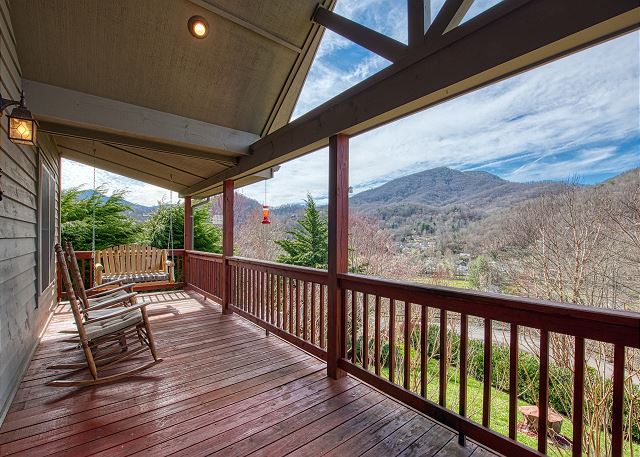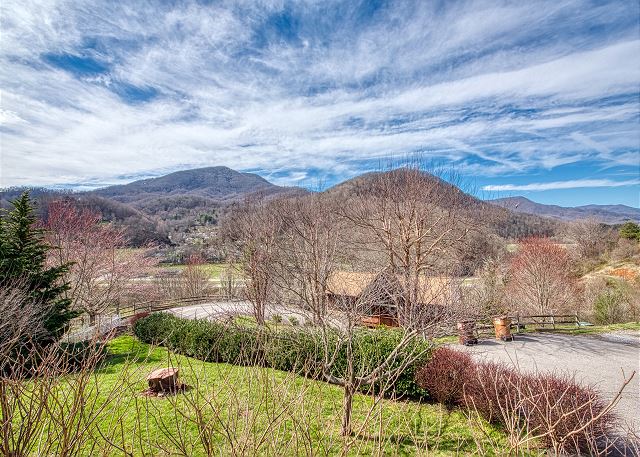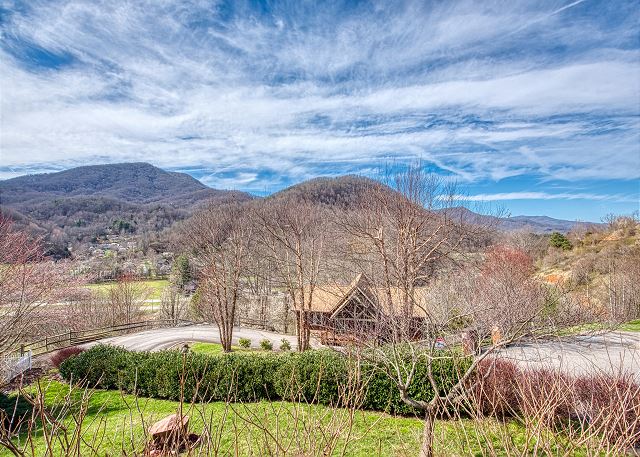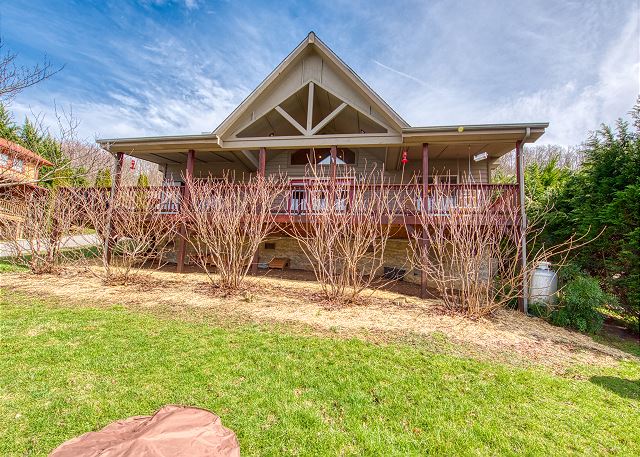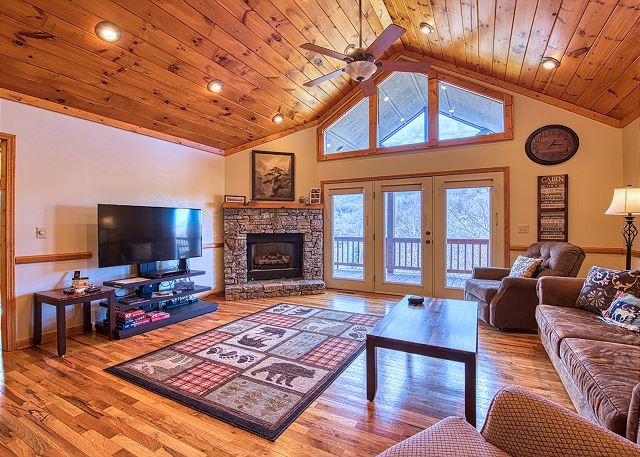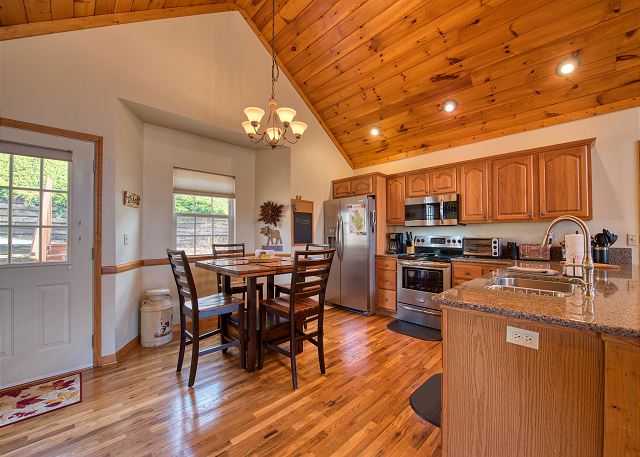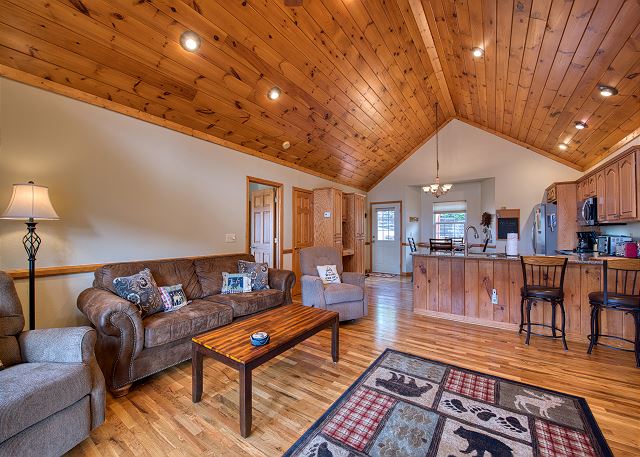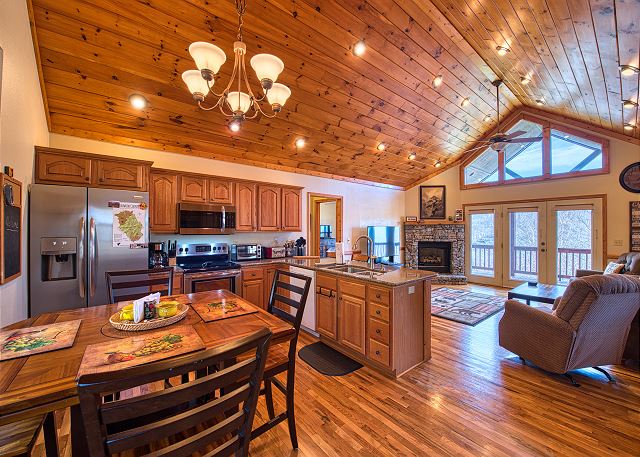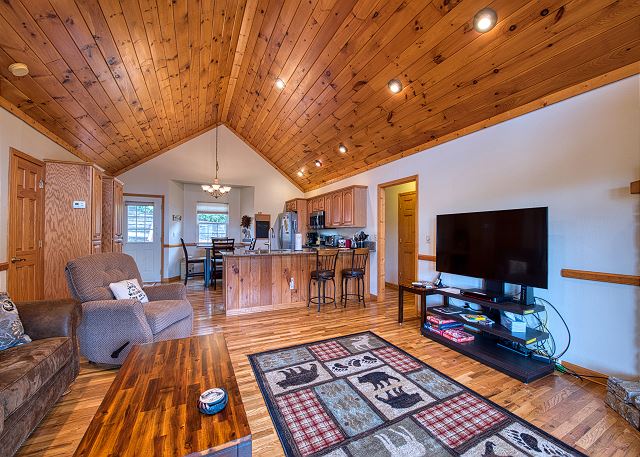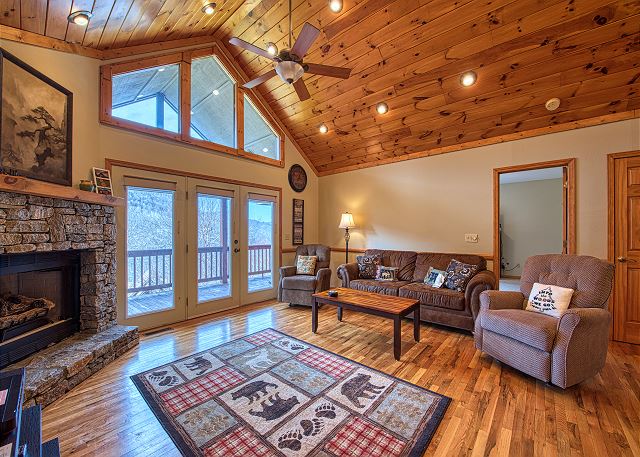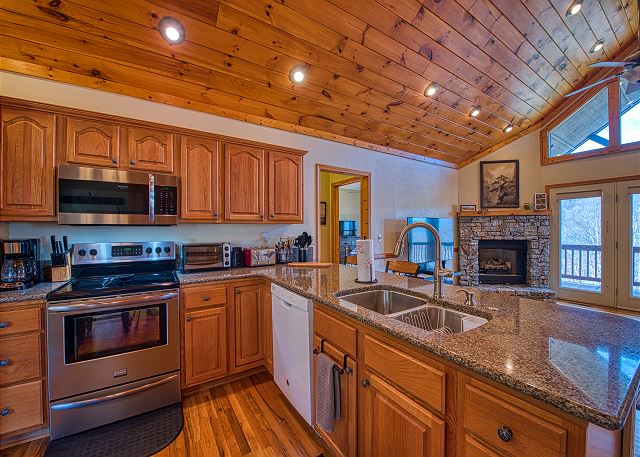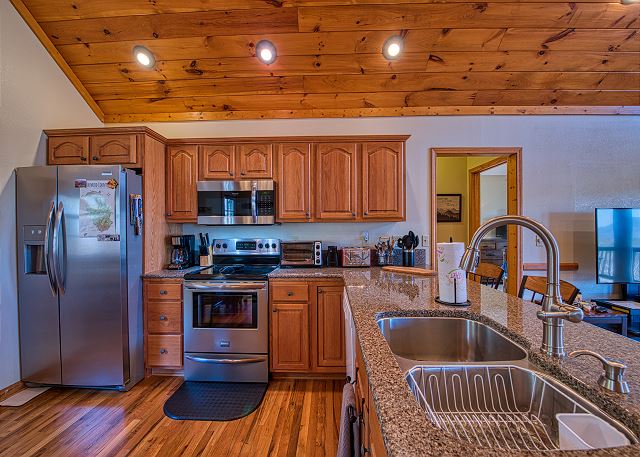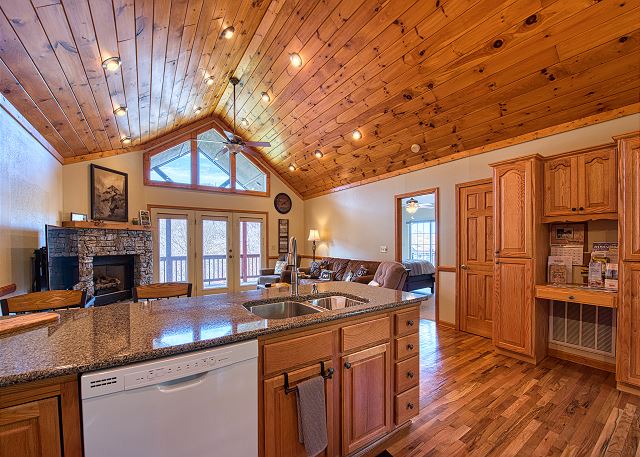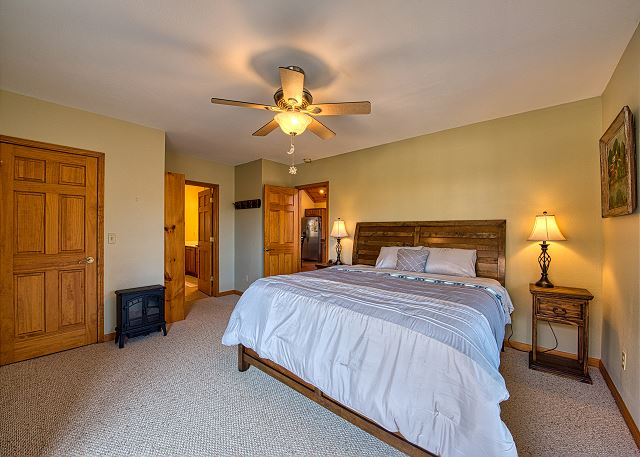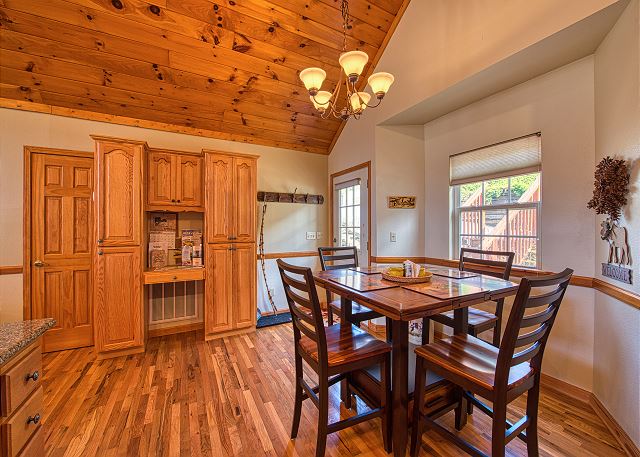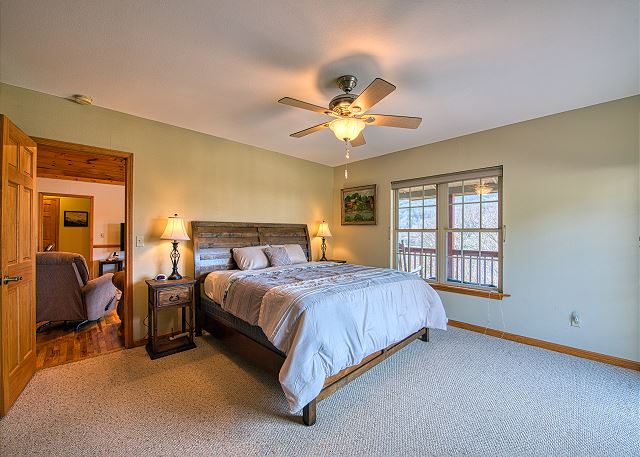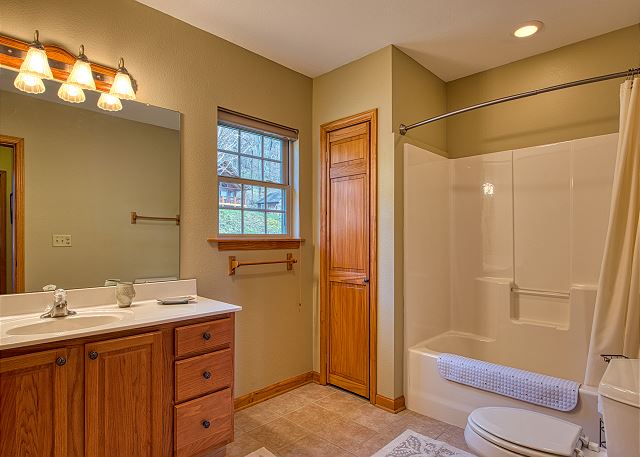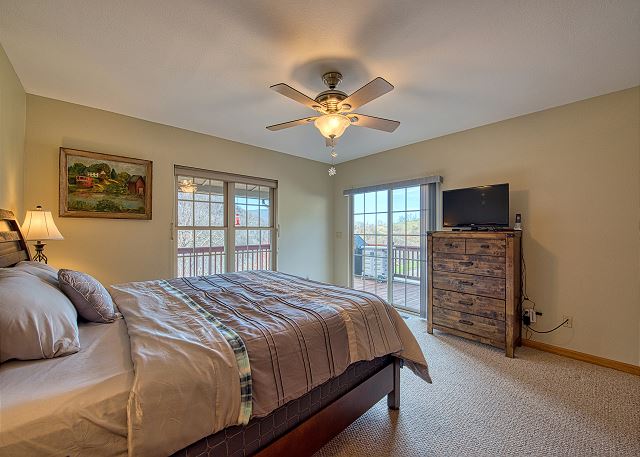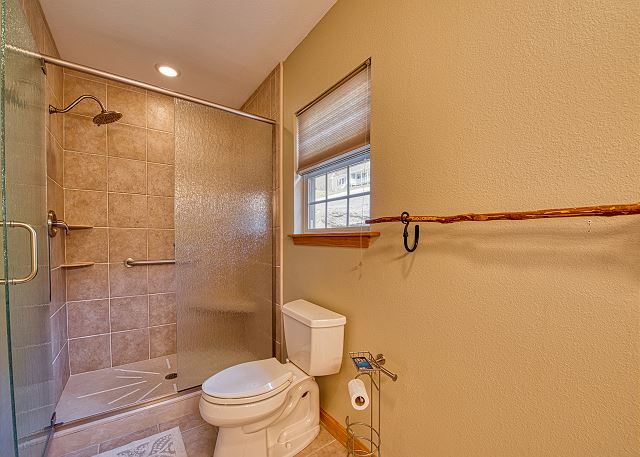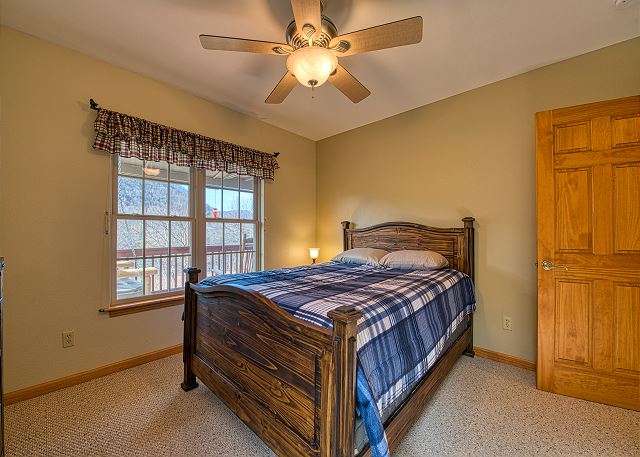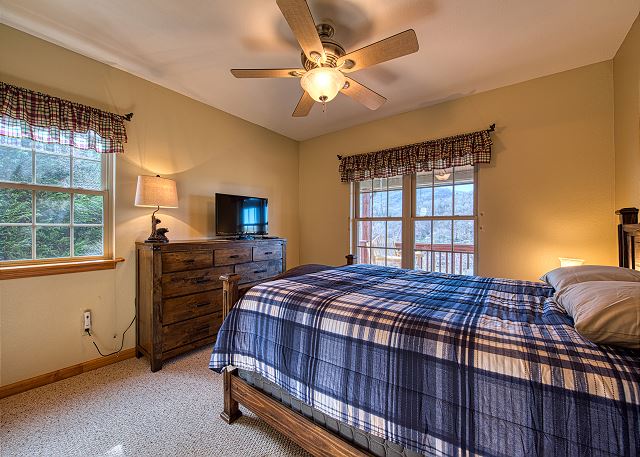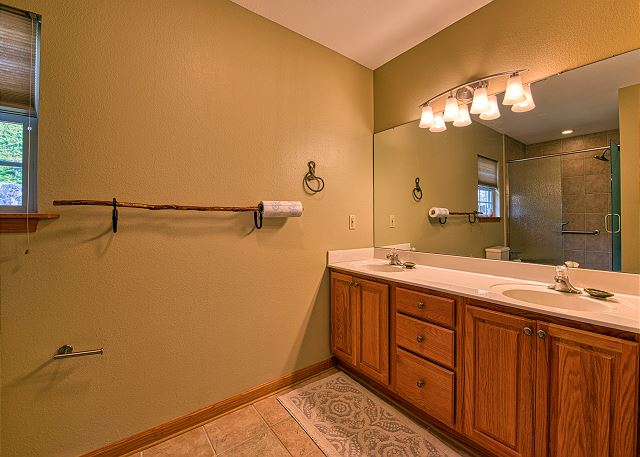 Previous
Next
Come and enjoy your getaway to the Smoky Mountains in our 2 bedroom 2 bath cottage. Only minutes to local areas of Maggie Valley and Waynesville. A short drive to Cherokee or Asheville and surrounding tourist attractions. The cottage has super views and features paved access to the home.

The living room has a gas fireplace and open concept with kitchen and dining area. The master features a king size bed and has a shower. The second bedroom features a queen size bed and a tub shower combination. Each bedroom is equipped with TV and cable.

The covered front porch is the perfect place to enjoy the views. It has a swing, rockers and a gas grill.

Make your plans now as the cabins are booking fast.

Cancellation Policy:

If you need to cancel for any reason and have not purchased our travel insurance plan:

• You will receive a refund of your rental fee (either deposit or full payment) less a reservation fee of $107.00 IF we are able to re-rent the period booked.

• There is no refund of any monies paid if we are not able to re-rent the period booked.

• We highly recommend purchasing insurance to cover cancellation and read the exclusion clauses thoroughly. Travel Cancellation and Protection Insurance is sold by Premier Vacation Rentals and is designed to protect you in the event it becomes necessary for you to cancel your reservation. Ask your booking agent for more details.

Instructions for Check-In/Check-Out

• You must check-in at our office at 2787 Soco Rd. in Maggie Valley. We are located in Eagles Plaza near Snappy's Pizza.

• Check in times will begin at 4:00 pm, however, this is not guaranteed. We work very hard to accommodate this check in time, but additional cleaning and inspection may be required for the rental homes, especially during peak and holiday seasons. You are welcome to call the office before your arrival to see if your vacation rental is ready for occupancy.

• During business hours, your check-in packet will be in our office. If you arrive after business hours, your packet will be in the RED drop box located just outside our office door. This packet includes directions to the home, keys, an after-hours emergency number, local trash locations, and directions to various grocery stores.

• Check out is 10:00 am and all keys need to be returned to our office or placed in the locked section of the RED drop box.

Items you will need to bring with you

(owners do not supply these items, however, if they are in the home, you are welcome to use)

• all paper products (toilet paper, napkins, paper plates, paper towels)

• trash bags, tin foil, baggies, coffee filters

• dish soap, laundry soap, hand soap, bath products

• All homes are furnished with bed and bath linens, pots & pans, and dishes. The homes also have washer and dryers for your use.

• Utility outages (power, cable, internet) are out of our control and we will make every effort for a quick resolve. There are no adjustments or refunds due to utility outages.

• NON-DISCLOSURE OF PETS WILL RESULT IN IMMEDIATE EVICTION AND NO REFUNDS!

• If you are wanting to have firewood delivered, please call our office atand we will give you a contact person for that.

• Please be aware that weather and road conditions can change drastically in the mountains during the winter, even if there is no snow, roads can still become icy and dangerous (this includes steps and driveways) Please plan accordingly and drive safely.

Thank you for your recent booking and we look forward to seeing you!!
Amenities

combination tub/shower:
king:
shower:
toilet:
tub:
arboretum:
autumn foliage:
festivals:
forests:
live theater:
museums:
recreation center:
restaurants:
theme parks:
water parks:
waterfalls:
winery tours:
Dining:
DVD Player:
Satellite / Cable:
Television:
Air Conditioning:
Clothes Dryer:
Heating:
Internet:
Linens Provided:
Living Room:
Parking:
Telephone:
Towels Provided:
Washing Machine:
Wifi:
Free Wifi:
Coffee Maker:
Dishes & Utensils:
Dishwasher:
Kitchen:
Microwave:
Refrigerator:
Stove:
Toaster:
antiquing:
bird watching:
eco tourism:
gambling casinos:
horseback riding:
photography:
scenic drives:
sight seeing:
walking:
ATM/bank:
fitness center:
groceries:
hospital:
massage therapist:
medical services:
Mountain View:
Deck / Patio:
Golf:
Outdoor Grill:
cycling:
fishing:
fly fishing:
freshwater fishing:
golf:
hiking:
mountain climbing:
rafting:
skiing:
swimming:
tennis:
water tubing:
whitewater rafting:
children welcome:
non smoking only:
Minimum Age Limit for Renters:
flexible:
necessary:
Family:
Historic:
Romantic:
Sports & Activities:
Tourist Attractions:
Children Welcome:
Inside Homes NON-Smoking:
Basketball Court:
Cycling:
Fly Fishing/Freshwater Fishing:
Golf:
Hiking:
Mountain Biking:
Mountain Climbing:
Skiing/tubing:
White Water Rafting:
The North Carolina Arboretum:
Autumn Foliage-BlueRidge Parkway:
Churches:
Festivals:
NationalForest in North Carolina:
Museums:
Recreation Center:
Theme Parks:
Water Falls:
Winery Tours:
Golf Courses:
Antiquing:
Bird Watching:
Gambling Casinos:
Horseback Riding:
Outlet Shopping:
Photography:
Scenic Drives:
Sight Seeing:
Walking:
Guest Reviews of
a million dollar view
Waynesville , NC
Million Dollar View
Review by
Chris A.
This is the 3rd time we have rented this place. Wonderful view and very comfortable!
5 out of 5 stars
Million Dollar View
Review by
Chris A.
Great time , our second time staying here
5 out of 5 stars
Manager Response:
Awesome! We are happy you enjoyed your stay once again at A Million Dollar View!! We look forward to seeing you and your family soon. Premier Staff!
Great Vacation
Review by
Debbie G.
Great family vacation home. Parking was a little interesting and kind of hard to navigate. Otherwise home was fully stocked. The view was not as good as pictured because it was summertime with lots of trees around that blocked the open view. The only other complaint was the wet and dry towels were left in the laundry basket and had not been washed. We had to wash them before use. After driving a distance, we could not shower immediately. That was an inconvenience, but otherwise good vacation home.
4 out of 5 stars
Manager Response:
We are pleased you enjoyed your stay but we certainly apologize for the inconvenience of the towels not being ready for your arrival and we will let housekeeping know about this. We hope to be able to accommodate on your next Smokie Mountain Getaway! Premier Staff!
The best plan!!!
Review by
Gisel U.
The house is just perfect, very cozy, comfortable and has everything you need. Very friendly and helpful staff, great view.
5 out of 5 stars
Manager Response:
Great! We are pleased to hear you had a nice time... Hope to see you soon! The Premier Staff!
Million Dollar View
Review by
Chris A.
Beautiful place with a fantastic viewComfortable bedsVery clean and well stockedOwner gave good directions on the use of appliancesWould highly recommend this place
5 out of 5 stars
Manager Response:
Awesome! We are pleased you had a nice time at Million Dollar View! Thank you for staying with us and we hope to see you soon. Premier Staff!
Love Million Dollar View
Wife and I had just stayed for the second year in a row at MD view. A cozy place, excellent location, well equipped, clean and a great value! Highly recommend staying here. It is a great property and Premier Vacation Rentals is awesome to do business with!
5 out of 5 stars
Manager Response:
Thank you! We appreciate the review and your business... We are pleased to hear you had a nice stay:) see you soon! Premier Staff!
absolute comfort
Review by
Jens L.
This cabin was more than I could ask for from the spacious and comfortable lay out to the breathtaking view. The management staff was awesome acting immediately to one minor concern that we had while staying there.
5 out of 5 stars
Manager Response:
Awesome! We are pleased you both had a nice time and we look forward to seeing you soon in The Beautiful Smokies!! Premier Staff! Melissa and Sandy
Fantastic
Review by
John P.
The house was clean and exceeded expectations and the communication was excellent.
5 out of 5 stars
Manager Response:
Awesome! Glad you enjoyed your stay! Hope to see you soon. Premier Staff!
my holliday usa
Review by
Leslie F.
very good staff brilliant will rent again
5 out of 5 stars
Manager Response:
AWESOME!!! We love to hear that our guests were pleased with their stay!!! Hope to see you soon, Premier staff!
Perfect home...and setting
Review by
Danny P.
This home was perfect for my wife and me for a quiet weekly vacation and celebrating our 48th anniversary. The seating in the living was great with each of us having a reclining. And yes the fireplace was perfect giving us warmth on cool mornings and evening. Melissa is very detailed and thoughtful about providing instructions on using the lighting, the fireplace and kitchen area. The bed was extremely comfortable in the master and the bathroom had a great shower with a rain type shower head. A plus was an overhead heater. And yes more instructions on using the bathroom accessories. The porch was perfect with rockers and a swing and the bird feeder was an extra bonus with many wild birds. Thank you Melissa for a great getaway.
5 out of 5 stars
Manager Response:
Happy 48yh Anniversary!!! We are pleased you enjoyed your stay at A Million Dollar View! Hope to see you soon. Premier Staff!
Gods Glorious Creation
Review by
Randy T.
What an absolutely amazing view of Gods glorious creation. We had a little bit of every kind of precipitation! The blowing snows for 2 days was awesome . It was so relaxing laying in recliners with our coffee and PJs on enjoying the peaceful views and lovely home! Very roomy and so clean. Beds so comfy!!!! One thing we disliked was thin bumpy sheets on king bed!! We went and bought new ones for stay but left the old ones. Belks had Biltmore for 60.00! Great! Y'all otherwise this truly was the most wonderful stay we have experienced as far as resting and homely feeling. I will go back in a heartbeat! The location is Amazing ! We have stayed in maggie Valley for trips , 45 years. Thank you for The Million Dollar View Stay!❤️���� Denise & Randy
5 out of 5 stars
Manager Response:
We are pleased you had a nice stay and we will certainly mention to owners about replacing sheets, Thank you for the info. We are certainly pleased you had a nice stay. Hope to accommodate you again in the future. Premier Staff!
Amazing View from a Beautiful Home!
Review by
Tonya W.
We had the best week while staying at A Million Dollar View. This place was close to perfect in every way. We loved the view, the deck with rocking chairs, corn hole, games, and super comfortable bed! The location makes it super easy to get to everything you need as well as all the best places to enjoy God's beautiful creation!
5 out of 5 stars
Manager Response:
Great!!! We are pleased that you and your family enjoyed your stay:) We look forward to seeing you soon:) Premier Staff!
Fantastic choice!
My wife and myself just came back from a 2 week Oct/Nov fall trip visit to Maggie Valley and we stayed at the Million Dollar View rental. We absolutely loved it! Million Dollar View during peak fall mountain foliage did not dissapoint! Loved the back porch! Great views and very cozy cottage. Well equipped with a remote controlled gas fireplace it simply was relaxing and comfortable as a vacation rental should be. Tv and Internet was great! We even had a strong cellphone signal from ATT. The cottage is about 1 minute from the main rd. It's a short uphill drive on a well paved wider road. It was very clean kudos to housekeeping! We needed nothing just what they recommend you bring with you. Location was excellent. Short drives to Waynesville downtown and Maggie Valley Soco road with plenty of places to eat, shop and visit. We took a day trip to Bryson City and Gatlinburg TN as well. People around town are very friendly. Premier Vacations was a pleasure to do business with. I would highly recommend them and this cottage.
5 out of 5 stars
Awesome stay!!
Review by
Michelle C.
Our stay at this cabin was amazing. Beautiful view! Cozy cabin! Management was awesome and helpful. We had a long stay, felt like home.
5 out of 5 stars
A Million Dollar View
Review by
Shannon R.
We loved the house and the view. Pretty much everything was very nice. The only reason we wouldn't recommend was the difficulty in getting into the driveway if you have a big vehicle. We drive a 2500 HD 4X4 and it was difficult. The road and drive-way was very steep. We ended up having to park in the lower parking spot and walk back up the steep road to the back door.
4 out of 5 stars
Manager Response:
Good afternoon! We are pleased you enjoyed your stay and enjoyed the beautiful view. We certainly apologize for any inconvenience with the driveway... We do have other homes with easier access but in the mountains we do have steeper driveways than most areas and it certainly can be a challenge maneuvering vehicles. We look forward to seeing you again om your next trip to the Smokey Mountains. Have a great day! The Premier Staff!
Beautiful Rental with Outstanding Views and Very Well Located
Very professional.
5 out of 5 stars
Manager Response:
Hello:) We are happy to know you had a nice time at Million Dollar View and found the home clean and cozy during your stay:) We certainly look forward to seeing you again on your next Smokey Mountain Getaway! The Premier Staff!
Warm and cozy, best Christmas in 30 years
Review by
Kathy B.
We thoroughly enjoyed this cabin with location being super convenient. It was so warm, cozy and comfortable. The cabin had everything we needed for a great Christmas vacation. The fireplace really made it for us and kept the cabin nice and warm when the weather got cold. It was beautiful from the minute we opened the door and it felt like home! Rooms we spacious, beds super comfy, view spectacular and had lots of amenities. We will definitely be back to this cabin again perhaps in summer or fall. Driveway a bit steep for winter ice and snow but the neighbor was incredibly helpful in getting us up the hill.
5 out of 5 stars
Great week at Million Dollar View
Review by
Brenda F.
Love the cabin! Very comfortable, clean and well appointed. It's easy to get to, not too high up winding roads. We will stay here again!
5 out of 5 stars
Beautiful view
Beautiful place and view, the deck was great. Enjoyed the view and the birds, quite, other houses around but still had privacy. Would rent again, best one we have rented.
5 out of 5 stars
Well equipped home, very comfortable
Review by
Joseph S.
This is a beautiful home-perfect for staying in on a rainy day, or setting out to explore. It has all the comforts and amenities of our own home
4 out of 5 stars
Christmas getaway
Review by
Sandra M.
We were so pleased to walk into spacious home it was spot on clean, easy access for restaurant, stores and a step to the back window their was the million dollar view that walks out to a lg porch with a bench swinging and rockers. It was so peaceful which is what we were needing, where my husband passed Dec 3rd ,had not been on vacation in 4yrs, just didn't feel like throwing our annual Christmas eve party. So 5 of us fit comfortably for 6 day stay. celebrating a quiet Christmas together. Thank you .
5 out of 5 stars
One of the best rentals in our 20 years renting in Haywood County
The location was ideal as you were minutes from Maggie Valley & Waynesville. We enjoyed all the local restaurants & shops. Fun times at Church Street Festival, Apple Festival, BRACA Show, took in the Mustang rally, a wonderful time in the mountains. The house was comfortable, very well appointed and we will return.
5 out of 5 stars
Manager Response:
Great! We are pleased you found the home clean and comfortable during your stay:) Glad you enjoyed the shops and festivals ... Have a nice Thanksgiving! The Premier Staff!
This is a great house in a great location.
Review by
Paul M.
The management and staff at Premier Rentals was very helpful in assisting my family and I in securing a last minute rental of stellar quality.
5 out of 5 stars
Great newly refurbished Cabin
Review by
Iain M.
The cabin is great. It's not as secluded as we were used to but the area felt safe and friendly. All linen is new. You can absolutely tell that this is a newly refurbished cabin. We had one TINY gripe; the checkout instructions asked for all items to be put away. The last guests had put the chopping board away wet and it had got blackspot mould on it. This isn't the owners fault at all; just may be better for guests checking out to be able to leave items to dry properly.
4 out of 5 stars
Manager Response:
We are pleased you had a nice time while visiting A Million Dollar View! Yes this is a newly decorated home and done absolutely beautiful:) We will be sure to make mention of the cutting board not to be put away wet and thank you for that information:) Hope to see you on your next Smokey Mountain Getaway! The Premier Staff!
Book Your Stay!
Select your arrival and departure dates below to reserve this unit.


December 2023

| S | M | T | W | T | F | S |
| --- | --- | --- | --- | --- | --- | --- |
| | | | | | 01 | 02 |
| 03 | 04 | 05 | 06 | 07 | 08 | 09 |
| 10 | 11 | 12 | 13 | 14 | 15 | 16 |
| 17 | 18 | 19 | 20 | 21 | 22 | 23 |
| 24 | 25 | 26 | 27 | 28 | 29 | 30 |
| 31 | | | | | | |
January 2024

| S | M | T | W | T | F | S |
| --- | --- | --- | --- | --- | --- | --- |
| | 01 | 02 | 03 | 04 | 05 | 06 |
| 07 | 08 | 09 | 10 | 11 | 12 | 13 |
| 14 | 15 | 16 | 17 | 18 | 19 | 20 |
| 21 | 22 | 23 | 24 | 25 | 26 | 27 |
| 28 | 29 | 30 | 31 | | | |
February 2024

| S | M | T | W | T | F | S |
| --- | --- | --- | --- | --- | --- | --- |
| | | | | 01 | 02 | 03 |
| 04 | 05 | 06 | 07 | 08 | 09 | 10 |
| 11 | 12 | 13 | 14 | 15 | 16 | 17 |
| 18 | 19 | 20 | 21 | 22 | 23 | 24 |
| 25 | 26 | 27 | 28 | 29 | | |
March 2024

| S | M | T | W | T | F | S |
| --- | --- | --- | --- | --- | --- | --- |
| | | | | | 01 | 02 |
| 03 | 04 | 05 | 06 | 07 | 08 | 09 |
| 10 | 11 | 12 | 13 | 14 | 15 | 16 |
| 17 | 18 | 19 | 20 | 21 | 22 | 23 |
| 24 | 25 | 26 | 27 | 28 | 29 | 30 |
| 31 | | | | | | |
April 2024

| S | M | T | W | T | F | S |
| --- | --- | --- | --- | --- | --- | --- |
| | 01 | 02 | 03 | 04 | 05 | 06 |
| 07 | 08 | 09 | 10 | 11 | 12 | 13 |
| 14 | 15 | 16 | 17 | 18 | 19 | 20 |
| 21 | 22 | 23 | 24 | 25 | 26 | 27 |
| 28 | 29 | 30 | | | | |
May 2024

| S | M | T | W | T | F | S |
| --- | --- | --- | --- | --- | --- | --- |
| | | | 01 | 02 | 03 | 04 |
| 05 | 06 | 07 | 08 | 09 | 10 | 11 |
| 12 | 13 | 14 | 15 | 16 | 17 | 18 |
| 19 | 20 | 21 | 22 | 23 | 24 | 25 |
| 26 | 27 | 28 | 29 | 30 | 31 | |
June 2024

| S | M | T | W | T | F | S |
| --- | --- | --- | --- | --- | --- | --- |
| | | | | | | 01 |
| 02 | 03 | 04 | 05 | 06 | 07 | 08 |
| 09 | 10 | 11 | 12 | 13 | 14 | 15 |
| 16 | 17 | 18 | 19 | 20 | 21 | 22 |
| 23 | 24 | 25 | 26 | 27 | 28 | 29 |
| 30 | | | | | | |
July 2024

| S | M | T | W | T | F | S |
| --- | --- | --- | --- | --- | --- | --- |
| | 01 | 02 | 03 | 04 | 05 | 06 |
| 07 | 08 | 09 | 10 | 11 | 12 | 13 |
| 14 | 15 | 16 | 17 | 18 | 19 | 20 |
| 21 | 22 | 23 | 24 | 25 | 26 | 27 |
| 28 | 29 | 30 | 31 | | | |
August 2024

| S | M | T | W | T | F | S |
| --- | --- | --- | --- | --- | --- | --- |
| | | | | 01 | 02 | 03 |
| 04 | 05 | 06 | 07 | 08 | 09 | 10 |
| 11 | 12 | 13 | 14 | 15 | 16 | 17 |
| 18 | 19 | 20 | 21 | 22 | 23 | 24 |
| 25 | 26 | 27 | 28 | 29 | 30 | 31 |
September 2024

| S | M | T | W | T | F | S |
| --- | --- | --- | --- | --- | --- | --- |
| 01 | 02 | 03 | 04 | 05 | 06 | 07 |
| 08 | 09 | 10 | 11 | 12 | 13 | 14 |
| 15 | 16 | 17 | 18 | 19 | 20 | 21 |
| 22 | 23 | 24 | 25 | 26 | 27 | 28 |
| 29 | 30 | | | | | |
October 2024

| S | M | T | W | T | F | S |
| --- | --- | --- | --- | --- | --- | --- |
| | | 01 | 02 | 03 | 04 | 05 |
| 06 | 07 | 08 | 09 | 10 | 11 | 12 |
| 13 | 14 | 15 | 16 | 17 | 18 | 19 |
| 20 | 21 | 22 | 23 | 24 | 25 | 26 |
| 27 | 28 | 29 | 30 | 31 | | |
November 2024

| S | M | T | W | T | F | S |
| --- | --- | --- | --- | --- | --- | --- |
| | | | | | 01 | 02 |
| 03 | 04 | 05 | 06 | 07 | 08 | 09 |
| 10 | 11 | 12 | 13 | 14 | 15 | 16 |
| 17 | 18 | 19 | 20 | 21 | 22 | 23 |
| 24 | 25 | 26 | 27 | 28 | 29 | 30 |
December 2024

| S | M | T | W | T | F | S |
| --- | --- | --- | --- | --- | --- | --- |
| 01 | 02 | 03 | 04 | 05 | 06 | 07 |
| 08 | 09 | 10 | 11 | 12 | 13 | 14 |
| 15 | 16 | 17 | 18 | 19 | 20 | 21 |
| 22 | 23 | 24 | 25 | 26 | 27 | 28 |
| 29 | 30 | 31 | | | | |
January 2025

| S | M | T | W | T | F | S |
| --- | --- | --- | --- | --- | --- | --- |
| | | | 01 | 02 | 03 | 04 |
| 05 | 06 | 07 | 08 | 09 | 10 | 11 |
| 12 | 13 | 14 | 15 | 16 | 17 | 18 |
| 19 | 20 | 21 | 22 | 23 | 24 | 25 |
| 26 | 27 | 28 | 29 | 30 | 31 | |
February 2025

| S | M | T | W | T | F | S |
| --- | --- | --- | --- | --- | --- | --- |
| | | | | | | 01 |
| 02 | 03 | 04 | 05 | 06 | 07 | 08 |
| 09 | 10 | 11 | 12 | 13 | 14 | 15 |
| 16 | 17 | 18 | 19 | 20 | 21 | 22 |
| 23 | 24 | 25 | 26 | 27 | 28 | |
March 2025

| S | M | T | W | T | F | S |
| --- | --- | --- | --- | --- | --- | --- |
| | | | | | | 01 |
| 02 | 03 | 04 | 05 | 06 | 07 | 08 |
| 09 | 10 | 11 | 12 | 13 | 14 | 15 |
| 16 | 17 | 18 | 19 | 20 | 21 | 22 |
| 23 | 24 | 25 | 26 | 27 | 28 | 29 |
| 30 | 31 | | | | | |
April 2025

| S | M | T | W | T | F | S |
| --- | --- | --- | --- | --- | --- | --- |
| | | 01 | 02 | 03 | 04 | 05 |
| 06 | 07 | 08 | 09 | 10 | 11 | 12 |
| 13 | 14 | 15 | 16 | 17 | 18 | 19 |
| 20 | 21 | 22 | 23 | 24 | 25 | 26 |
| 27 | 28 | 29 | 30 | | | |
May 2025

| S | M | T | W | T | F | S |
| --- | --- | --- | --- | --- | --- | --- |
| | | | | 01 | 02 | 03 |
| 04 | 05 | 06 | 07 | 08 | 09 | 10 |
| 11 | 12 | 13 | 14 | 15 | 16 | 17 |
| 18 | 19 | 20 | 21 | 22 | 23 | 24 |
| 25 | 26 | 27 | 28 | 29 | 30 | 31 |
June 2025

| S | M | T | W | T | F | S |
| --- | --- | --- | --- | --- | --- | --- |
| 01 | 02 | 03 | 04 | 05 | 06 | 07 |
| 08 | 09 | 10 | 11 | 12 | 13 | 14 |
| 15 | 16 | 17 | 18 | 19 | 20 | 21 |
| 22 | 23 | 24 | 25 | 26 | 27 | 28 |
| 29 | 30 | | | | | |
July 2025

| S | M | T | W | T | F | S |
| --- | --- | --- | --- | --- | --- | --- |
| | | 01 | 02 | 03 | 04 | 05 |
| 06 | 07 | 08 | 09 | 10 | 11 | 12 |
| 13 | 14 | 15 | 16 | 17 | 18 | 19 |
| 20 | 21 | 22 | 23 | 24 | 25 | 26 |
| 27 | 28 | 29 | 30 | 31 | | |
August 2025

| S | M | T | W | T | F | S |
| --- | --- | --- | --- | --- | --- | --- |
| | | | | | 01 | 02 |
| 03 | 04 | 05 | 06 | 07 | 08 | 09 |
| 10 | 11 | 12 | 13 | 14 | 15 | 16 |
| 17 | 18 | 19 | 20 | 21 | 22 | 23 |
| 24 | 25 | 26 | 27 | 28 | 29 | 30 |
| 31 | | | | | | |
September 2025

| S | M | T | W | T | F | S |
| --- | --- | --- | --- | --- | --- | --- |
| | 01 | 02 | 03 | 04 | 05 | 06 |
| 07 | 08 | 09 | 10 | 11 | 12 | 13 |
| 14 | 15 | 16 | 17 | 18 | 19 | 20 |
| 21 | 22 | 23 | 24 | 25 | 26 | 27 |
| 28 | 29 | 30 | | | | |
October 2025

| S | M | T | W | T | F | S |
| --- | --- | --- | --- | --- | --- | --- |
| | | | 01 | 02 | 03 | 04 |
| 05 | 06 | 07 | 08 | 09 | 10 | 11 |
| 12 | 13 | 14 | 15 | 16 | 17 | 18 |
| 19 | 20 | 21 | 22 | 23 | 24 | 25 |
| 26 | 27 | 28 | 29 | 30 | 31 | |
November 2025

| S | M | T | W | T | F | S |
| --- | --- | --- | --- | --- | --- | --- |
| | | | | | | 01 |
| 02 | 03 | 04 | 05 | 06 | 07 | 08 |
| 09 | 10 | 11 | 12 | 13 | 14 | 15 |
| 16 | 17 | 18 | 19 | 20 | 21 | 22 |
| 23 | 24 | 25 | 26 | 27 | 28 | 29 |
| 30 | | | | | | |
December 2025

| S | M | T | W | T | F | S |
| --- | --- | --- | --- | --- | --- | --- |
| | 01 | 02 | 03 | 04 | 05 | 06 |
| 07 | 08 | 09 | 10 | 11 | 12 | 13 |
| 14 | 15 | 16 | 17 | 18 | 19 | 20 |
| 21 | 22 | 23 | 24 | 25 | 26 | 27 |
| 28 | 29 | 30 | 31 | | | |
January 2026

| S | M | T | W | T | F | S |
| --- | --- | --- | --- | --- | --- | --- |
| | | | | 01 | 02 | 03 |
| 04 | 05 | 06 | 07 | 08 | 09 | 10 |
| 11 | 12 | 13 | 14 | 15 | 16 | 17 |
| 18 | 19 | 20 | 21 | 22 | 23 | 24 |
| 25 | 26 | 27 | 28 | 29 | 30 | 31 |
February 2026

| S | M | T | W | T | F | S |
| --- | --- | --- | --- | --- | --- | --- |
| 01 | 02 | 03 | 04 | 05 | 06 | 07 |
| 08 | 09 | 10 | 11 | 12 | 13 | 14 |
| 15 | 16 | 17 | 18 | 19 | 20 | 21 |
| 22 | 23 | 24 | 25 | 26 | 27 | 28 |
March 2026

| S | M | T | W | T | F | S |
| --- | --- | --- | --- | --- | --- | --- |
| 01 | 02 | 03 | 04 | 05 | 06 | 07 |
| 08 | 09 | 10 | 11 | 12 | 13 | 14 |
| 15 | 16 | 17 | 18 | 19 | 20 | 21 |
| 22 | 23 | 24 | 25 | 26 | 27 | 28 |
| 29 | 30 | 31 | | | | |
April 2026

| S | M | T | W | T | F | S |
| --- | --- | --- | --- | --- | --- | --- |
| | | | 01 | 02 | 03 | 04 |
| 05 | 06 | 07 | 08 | 09 | 10 | 11 |
| 12 | 13 | 14 | 15 | 16 | 17 | 18 |
| 19 | 20 | 21 | 22 | 23 | 24 | 25 |
| 26 | 27 | 28 | 29 | 30 | | |
May 2026

| S | M | T | W | T | F | S |
| --- | --- | --- | --- | --- | --- | --- |
| | | | | | 01 | 02 |
| 03 | 04 | 05 | 06 | 07 | 08 | 09 |
| 10 | 11 | 12 | 13 | 14 | 15 | 16 |
| 17 | 18 | 19 | 20 | 21 | 22 | 23 |
| 24 | 25 | 26 | 27 | 28 | 29 | 30 |
| 31 | | | | | | |
June 2026

| S | M | T | W | T | F | S |
| --- | --- | --- | --- | --- | --- | --- |
| | 01 | 02 | 03 | 04 | 05 | 06 |
| 07 | 08 | 09 | 10 | 11 | 12 | 13 |
| 14 | 15 | 16 | 17 | 18 | 19 | 20 |
| 21 | 22 | 23 | 24 | 25 | 26 | 27 |
| 28 | 29 | 30 | | | | |
July 2026

| S | M | T | W | T | F | S |
| --- | --- | --- | --- | --- | --- | --- |
| | | | 01 | 02 | 03 | 04 |
| 05 | 06 | 07 | 08 | 09 | 10 | 11 |
| 12 | 13 | 14 | 15 | 16 | 17 | 18 |
| 19 | 20 | 21 | 22 | 23 | 24 | 25 |
| 26 | 27 | 28 | 29 | 30 | 31 | |
August 2026

| S | M | T | W | T | F | S |
| --- | --- | --- | --- | --- | --- | --- |
| | | | | | | 01 |
| 02 | 03 | 04 | 05 | 06 | 07 | 08 |
| 09 | 10 | 11 | 12 | 13 | 14 | 15 |
| 16 | 17 | 18 | 19 | 20 | 21 | 22 |
| 23 | 24 | 25 | 26 | 27 | 28 | 29 |
| 30 | 31 | | | | | |
September 2026

| S | M | T | W | T | F | S |
| --- | --- | --- | --- | --- | --- | --- |
| | | 01 | 02 | 03 | 04 | 05 |
| 06 | 07 | 08 | 09 | 10 | 11 | 12 |
| 13 | 14 | 15 | 16 | 17 | 18 | 19 |
| 20 | 21 | 22 | 23 | 24 | 25 | 26 |
| 27 | 28 | 29 | 30 | | | |
October 2026

| S | M | T | W | T | F | S |
| --- | --- | --- | --- | --- | --- | --- |
| | | | | 01 | 02 | 03 |
| 04 | 05 | 06 | 07 | 08 | 09 | 10 |
| 11 | 12 | 13 | 14 | 15 | 16 | 17 |
| 18 | 19 | 20 | 21 | 22 | 23 | 24 |
| 25 | 26 | 27 | 28 | 29 | 30 | 31 |
November 2026

| S | M | T | W | T | F | S |
| --- | --- | --- | --- | --- | --- | --- |
| 01 | 02 | 03 | 04 | 05 | 06 | 07 |
| 08 | 09 | 10 | 11 | 12 | 13 | 14 |
| 15 | 16 | 17 | 18 | 19 | 20 | 21 |
| 22 | 23 | 24 | 25 | 26 | 27 | 28 |
| 29 | 30 | | | | | |
December 2026

| S | M | T | W | T | F | S |
| --- | --- | --- | --- | --- | --- | --- |
| | | 01 | 02 | 03 | 04 | 05 |
| 06 | 07 | 08 | 09 | 10 | 11 | 12 |
| 13 | 14 | 15 | 16 | 17 | 18 | 19 |
| 20 | 21 | 22 | 23 | 24 | 25 | 26 |
| 27 | 28 | 29 | 30 | 31 | | |
Available
Unavailable
Check-In Only
Check-Out Only
Previous
Next