Cozy Bear Cabin
3 Bedroom(s) | 3 Bathroom(s) | Sleeps 8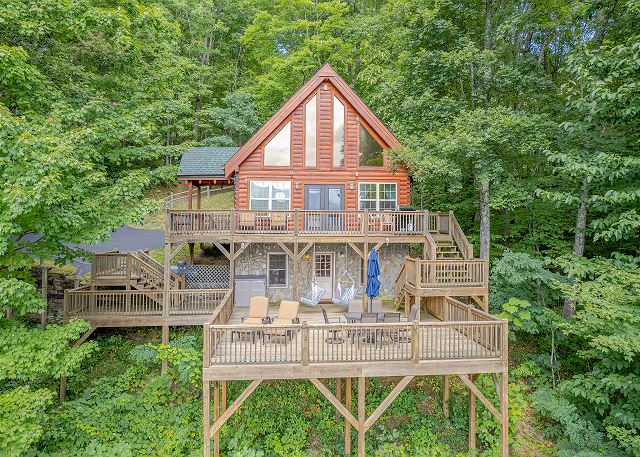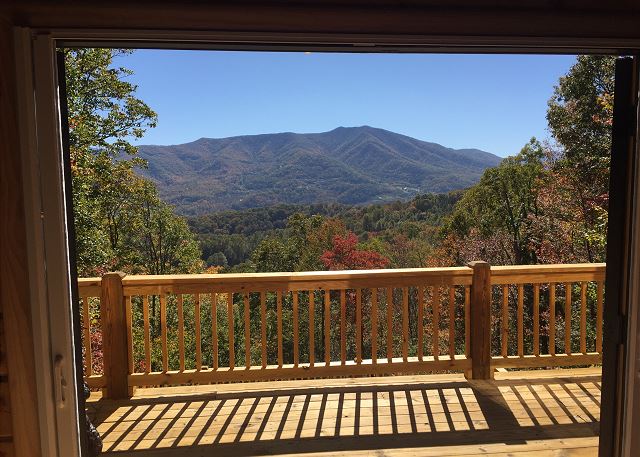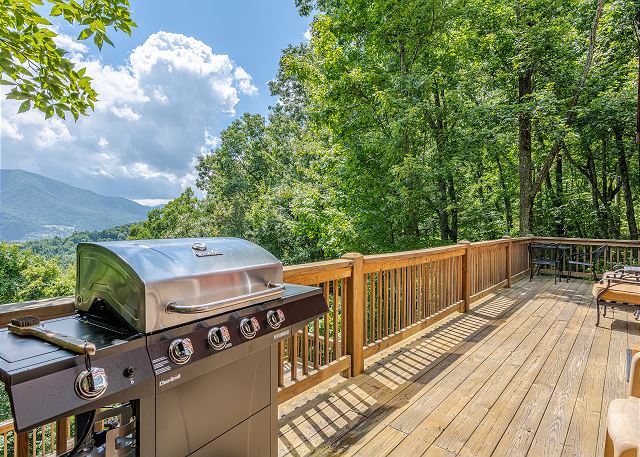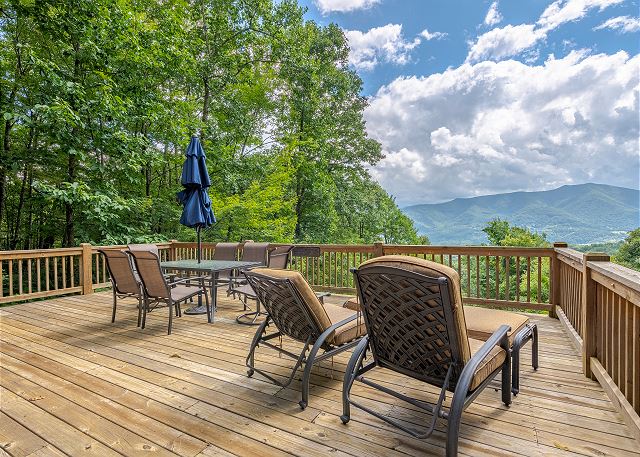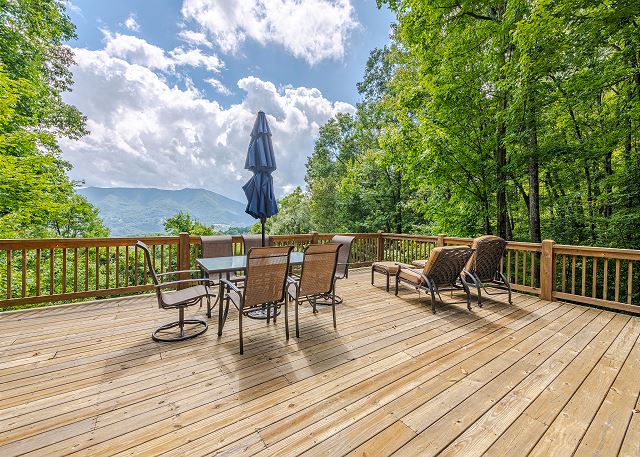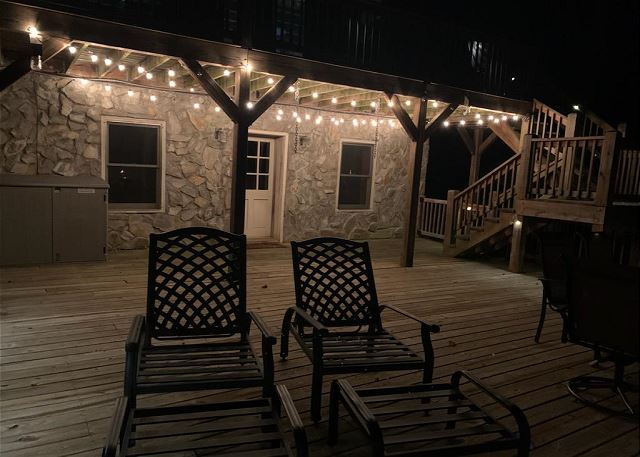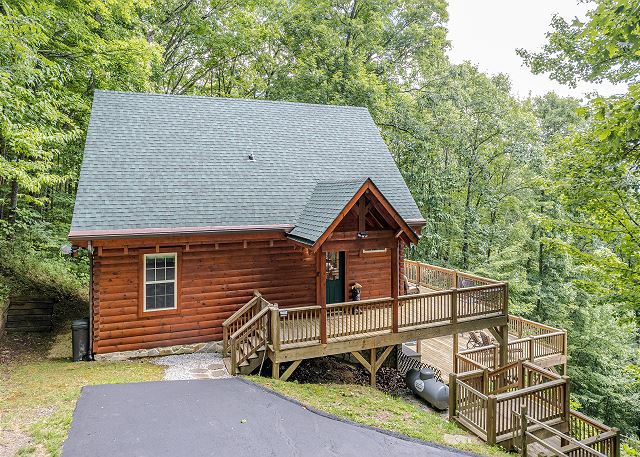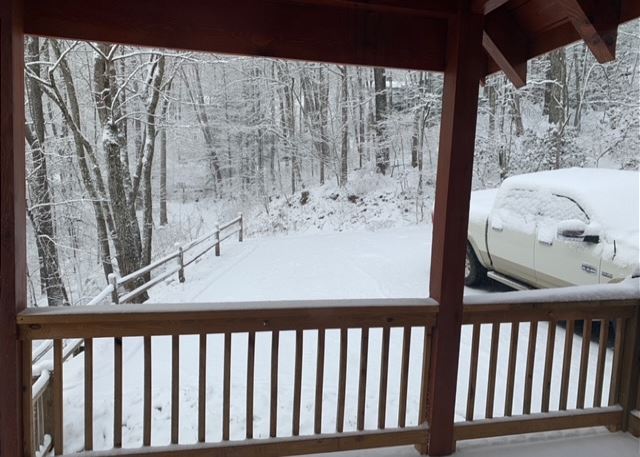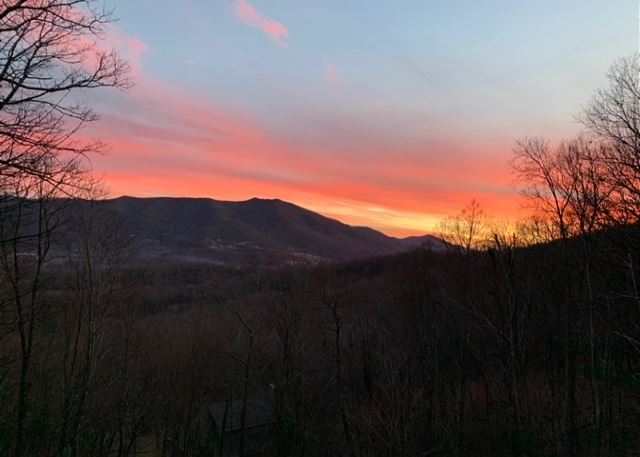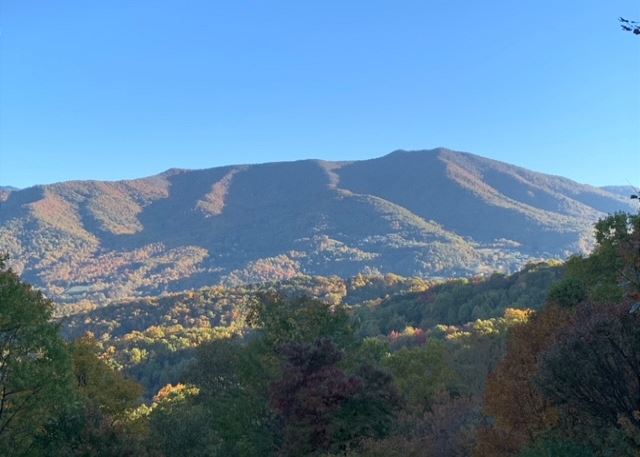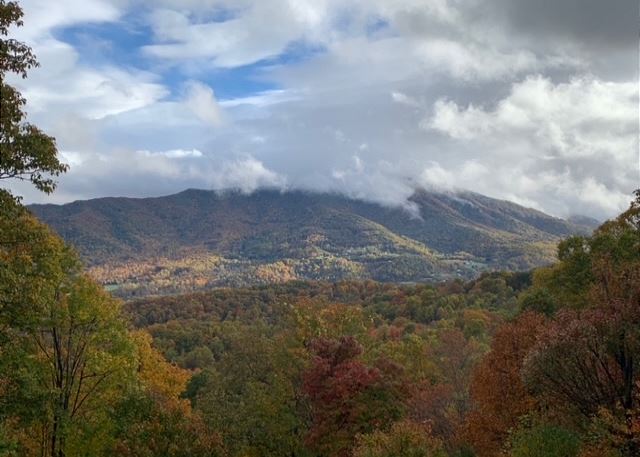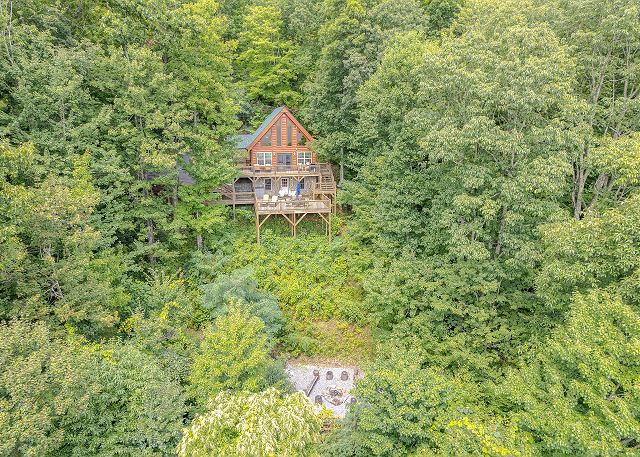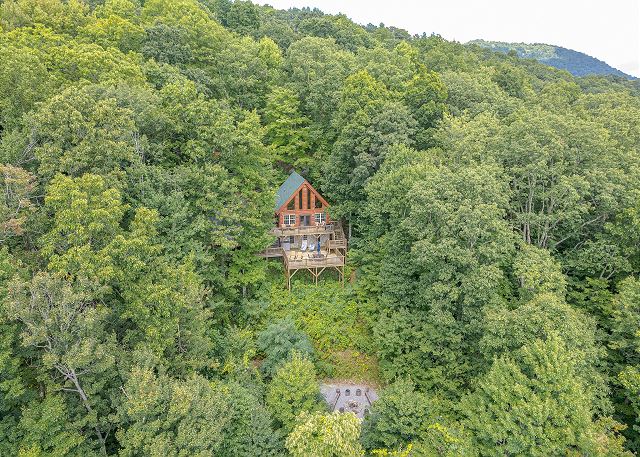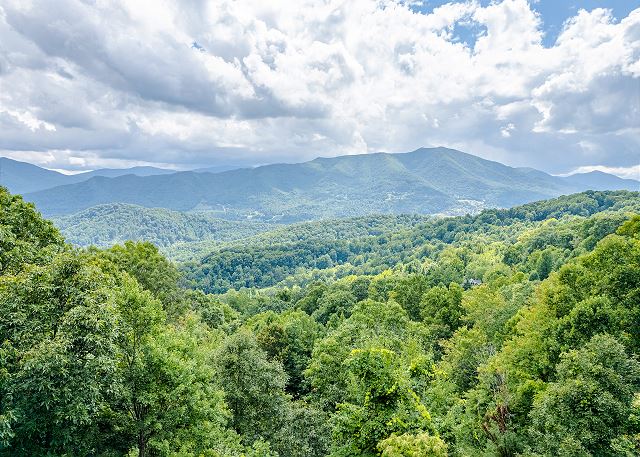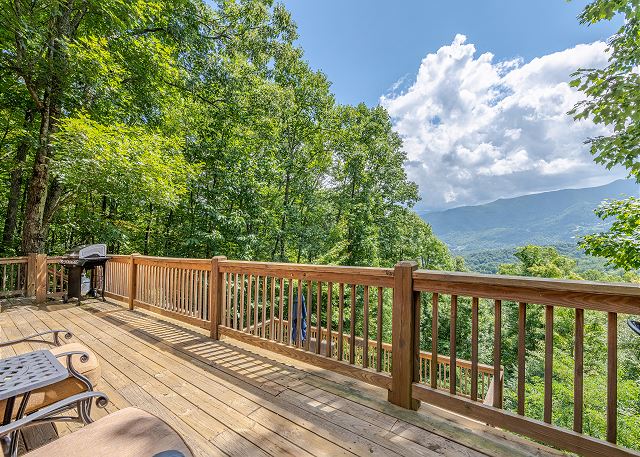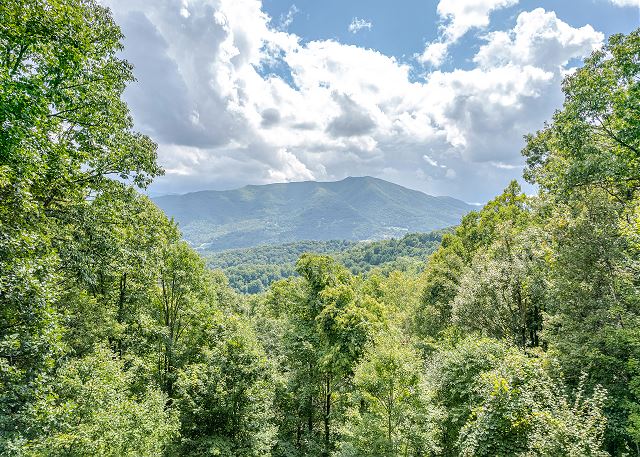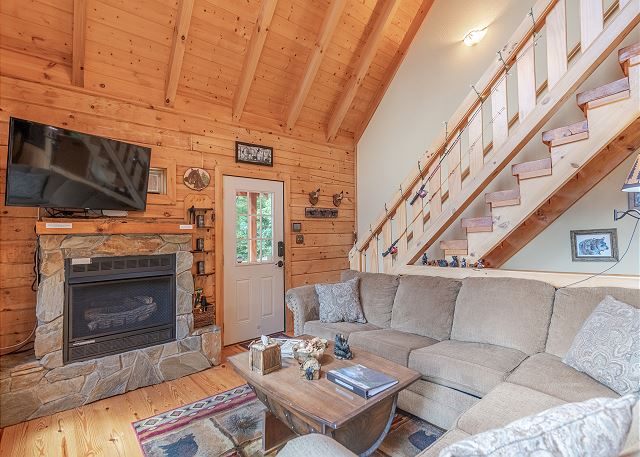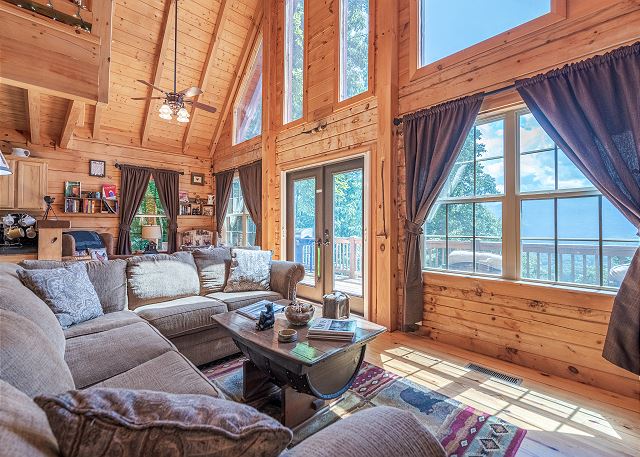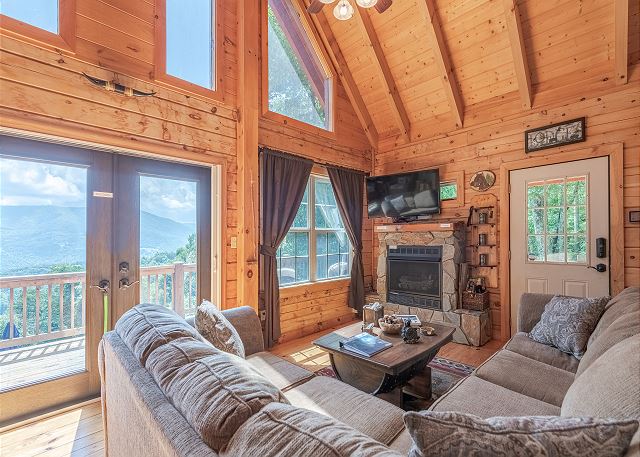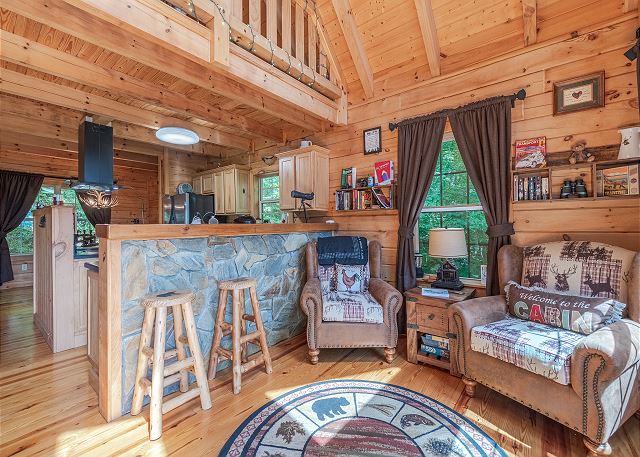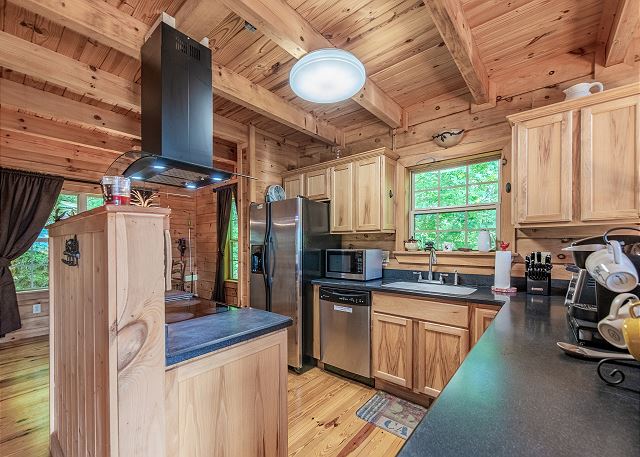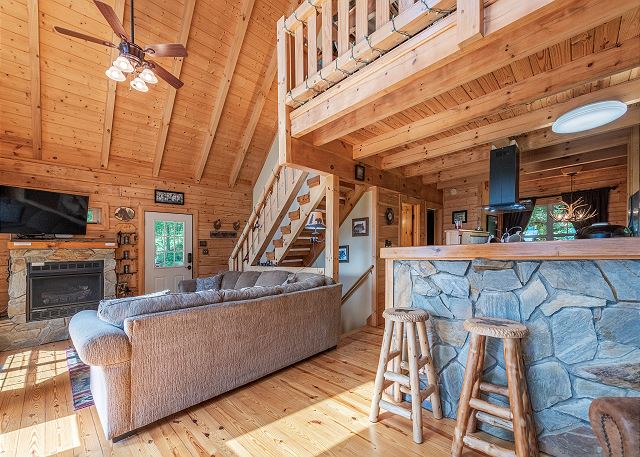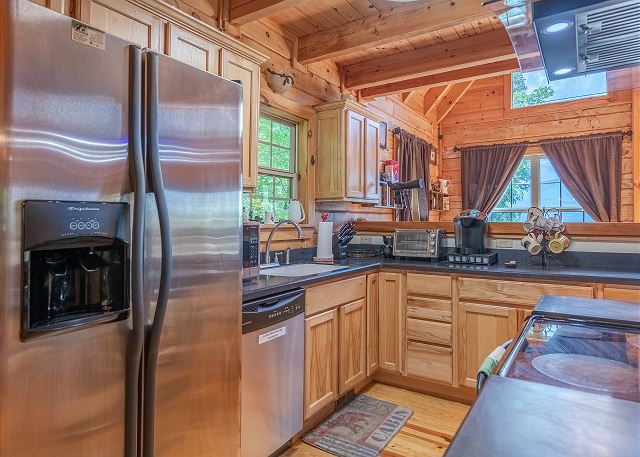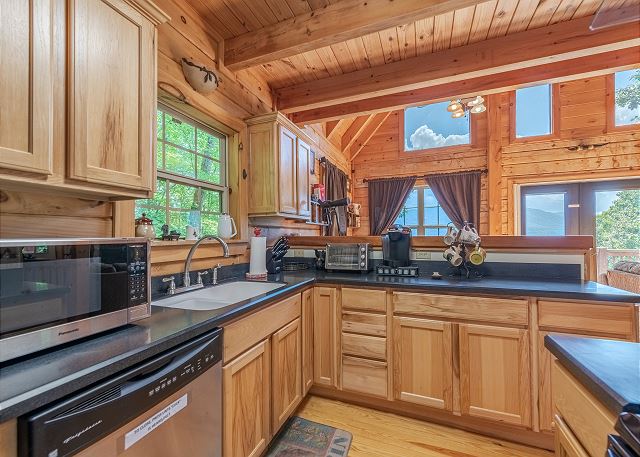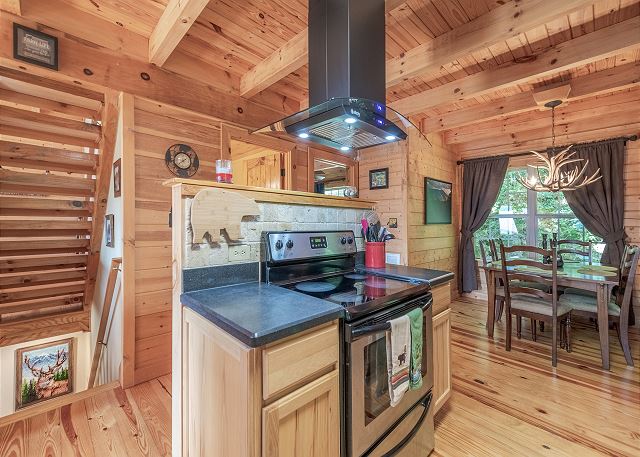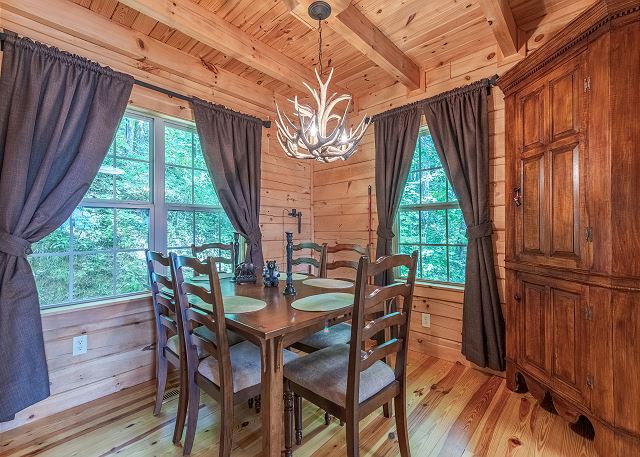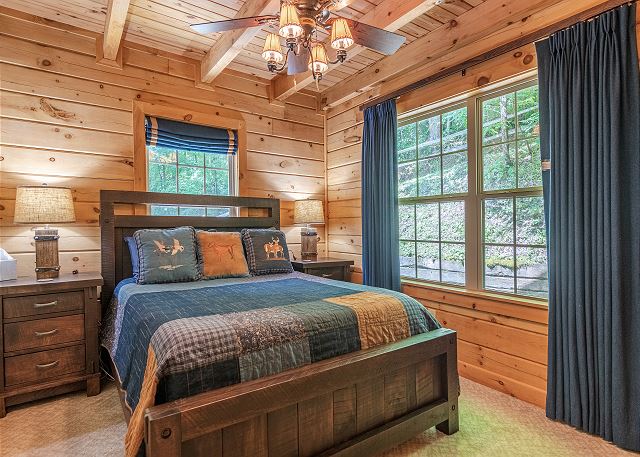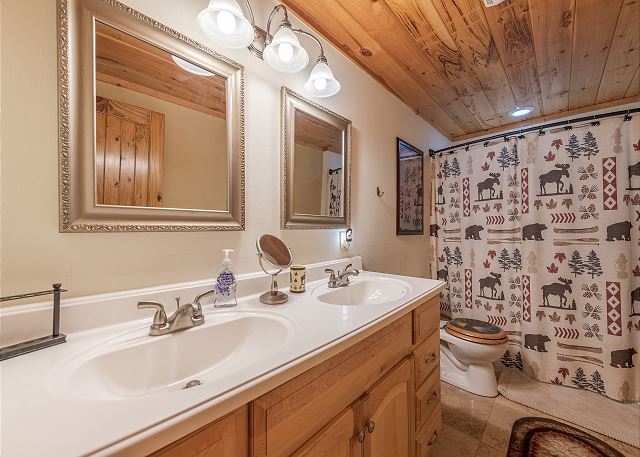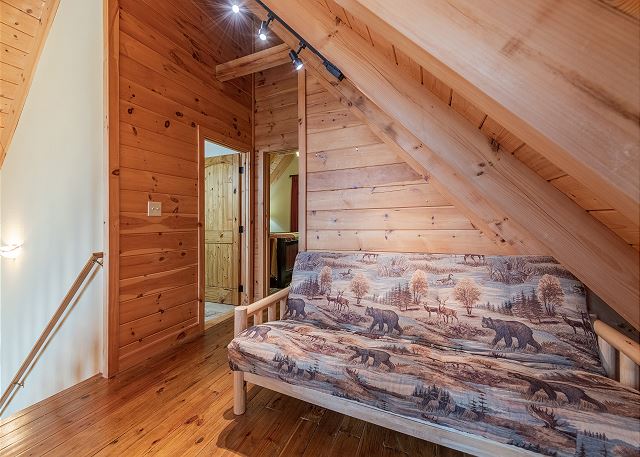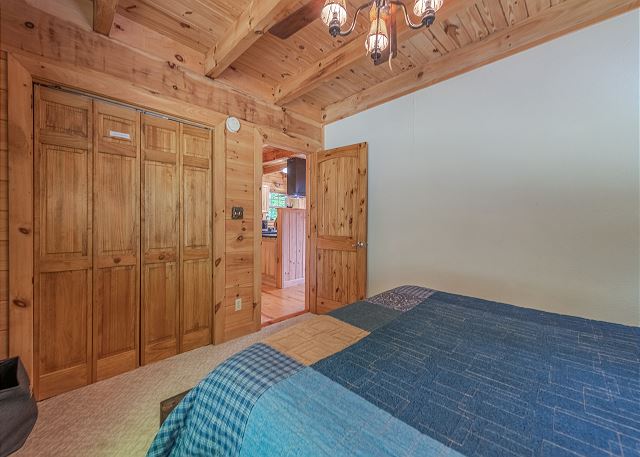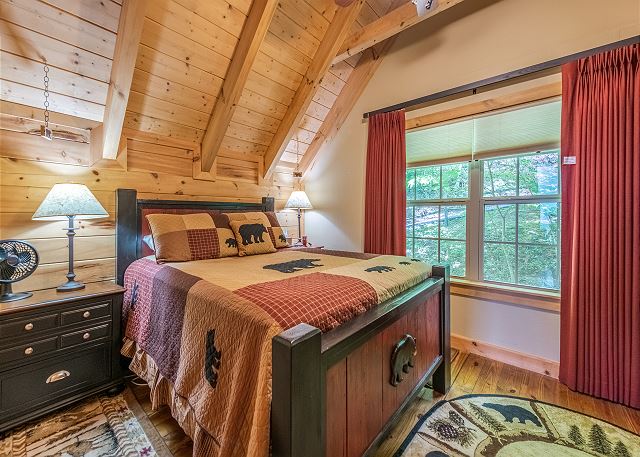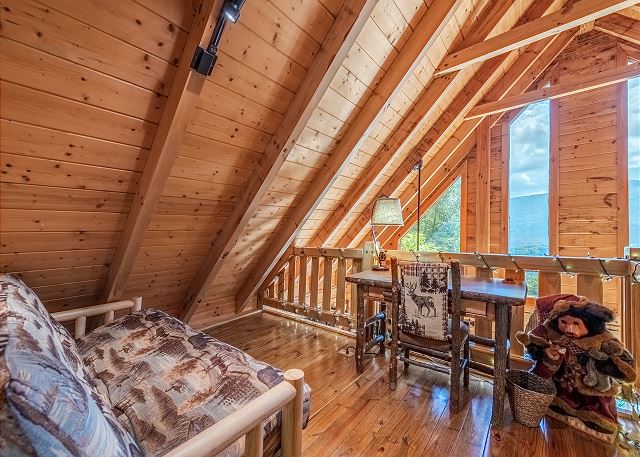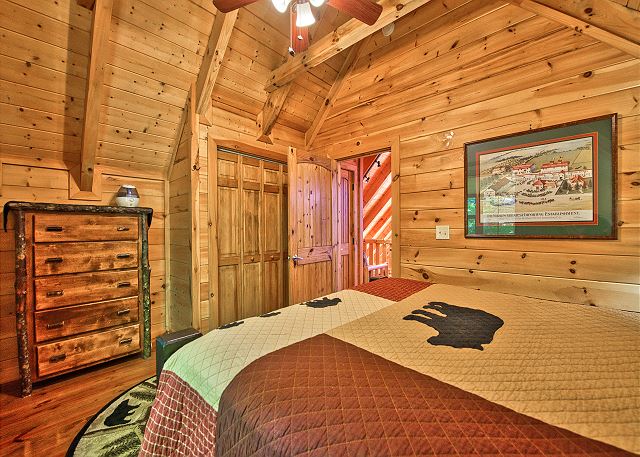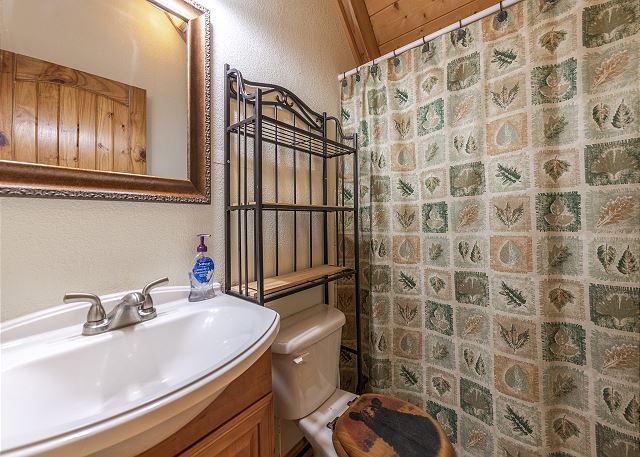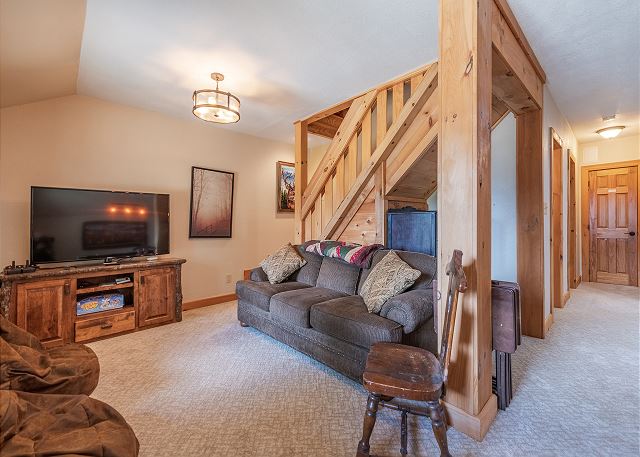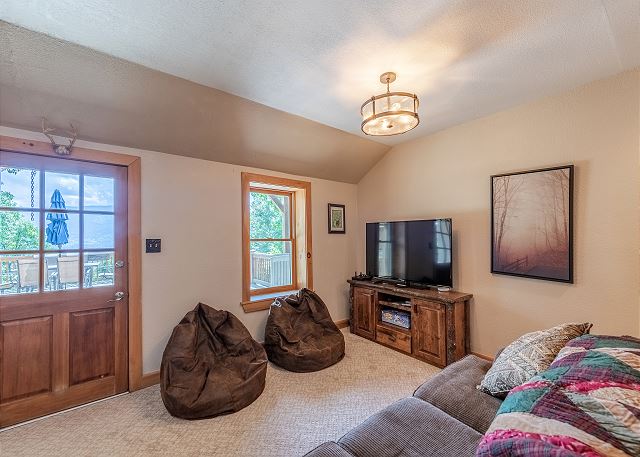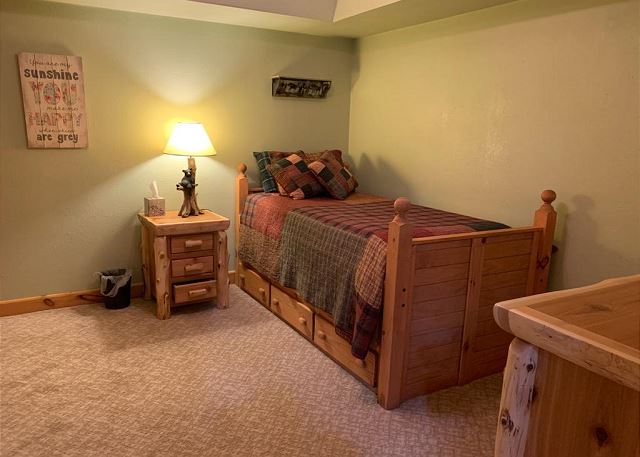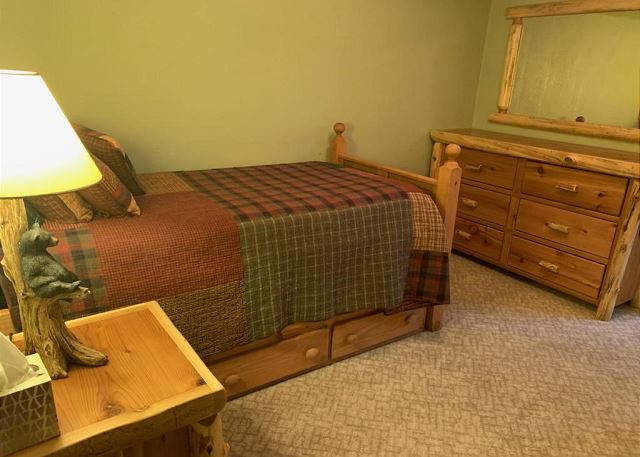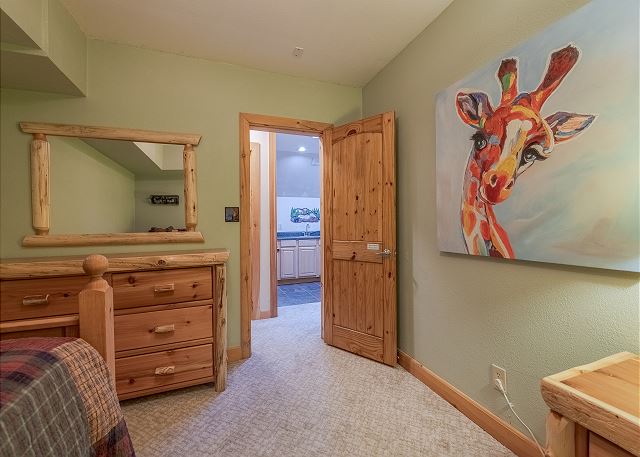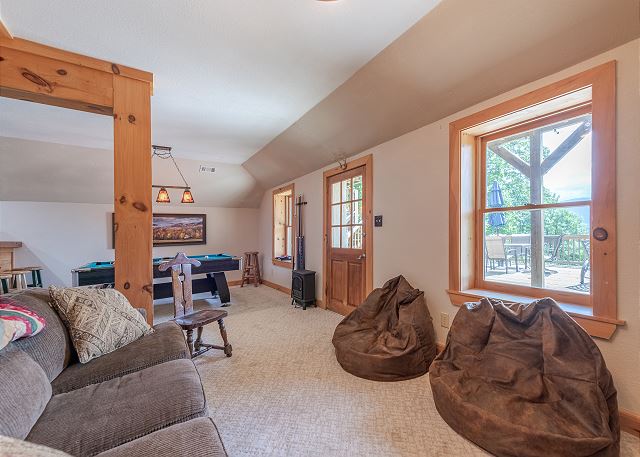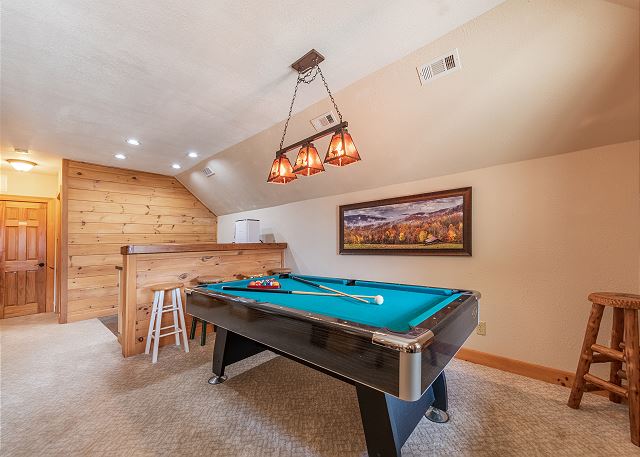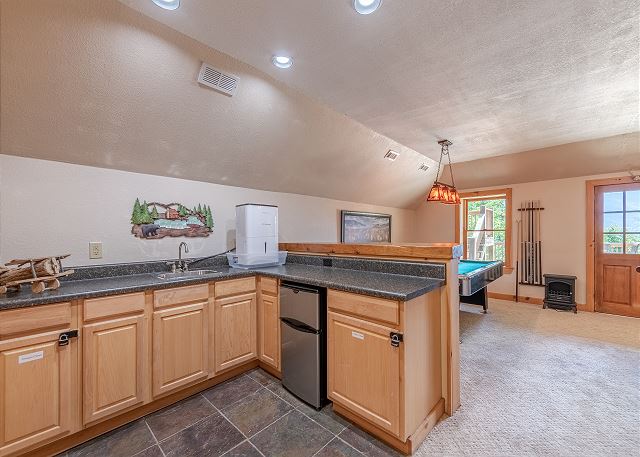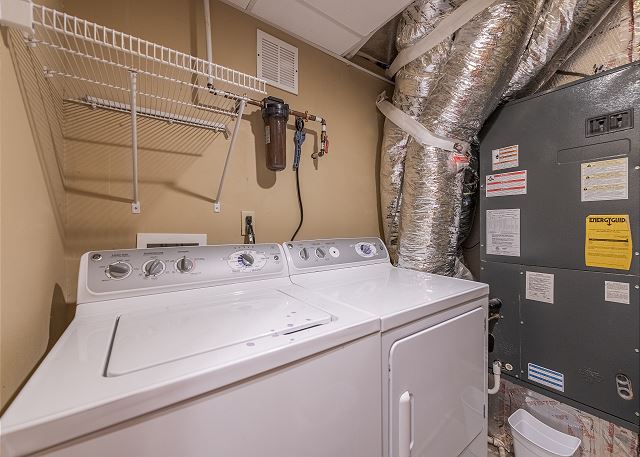 Previous
Next
Cozy Bear Cabin is located in beautiful and quaint Waynesville North Carolina, the largest town in

North Carolina west of Asheville. Waynesville is located about 30 miles southwest of Asheville between

the Great Smoky and Blue Ridge Mountains. The home boast 4000' VIEWS and is only 7 minutes to the bottom of the mountain, 12 minutes to Wal-Mart or Ingles and 15 minutes to Main Street of Waynesville.

The home features 3 levels with 3 full baths and 3 bedrooms with 2 queen size beds and a 1 trundle bed (two twin beds) there is also a queen futon couch/bed in the loft or a queen pullout couch bed in the lower level, all of which will sleep 6 adults and 2 children comfortably. Very private yet only minutes to down town Waynesville and Expressway. Access is paved with a driveway that has a moderate incline which may require AWD or 4WD if snow or ice. Suggest to back in drive or go beyond the home and turn around at reflectors and pull into the drive.

Multiple levels of expansive decking and seating to enjoy the beautiful views and surrounding mountains.

Inside home is a true mountain cabin feel with multiple levels to spread out and enjoy the many amenities the home has to offer which all together puts the "Cozy" in Cozy Bear Cabin. We look forward to hosting you and your family on your next Smoky Mountain Vacation.

The home owner supplies a 1 night supply of dish soap, laundry soap, hand soap, shampoo and conditioner. Items you will need to bring with you for your stay

All paper products (paper towels, toilet paper, napkins, paper plates)

Dish Soaps, Laundry Soaps, Bath Soaps, Hand Soaps

Trash Bags, Foils, Baggies, ect.

Owners do not provide these items for the entire stay.

All linens and kitchen items are included in the home. The coffee pot is a keurig.
Amenities

combination tub/shower:
queen:
toilet:
twin/ single:
arboretum:
autumn foliage:
festivals:
forests:
museums:
restaurants:
theme parks:
waterfalls:
winery tours:
Books:
Game Room:
Pool Table:
Television:
Air Conditioning:
Clothes Dryer:
Fireplace:
Heating:
Internet:
Iron & Board:
Linens Provided:
Living Room:
Towels Provided:
Washing Machine:
Wifi:
Free Wifi:
Coffee Maker:
Dishes & Utensils:
Dishwasher:
Kitchen:
Microwave:
Oven:
Refrigerator:
Stove:
Toaster:
Dining Table:
antiquing:
bird watching:
eco tourism:
gambling casinos:
horseback riding:
photography:
scenic drives:
sight seeing:
sledding:
walking:
ATM/bank:
fitness center:
groceries:
hospital:
massage therapist:
medical services:
Mountain View:
Rural:
Deck / Patio:
Outdoor Grill:
freshwater fishing:
golf:
hiking:
mountain biking:
mountain climbing:
rafting:
skiing:
whitewater rafting:
children welcome:
non smoking only:
pets not allowed:
Minimum Age Limit for Renters:
flexible:
necessary:
Adventure:
Family:
Historic:
Sports & Activities:
Tourist Attractions:
Deadbolt lock on entryway:
Smoke detectors:
Carbon monoxide detector:
Enhanced cleaning practices:
Clean with disinfectant:
No-contact check-in and check-out:
High touch surfaces cleaned with disinfectant:
Mountain View:
Secluded:
Central Air:
Ceiling Fans:
High Speed Internet:
Gas Logs:
Refrigerator:
Coffee Maker:
Ice Maker:
Microwave:
Toaster:
Cookware:
Dishes and Utensils:
Dishwasher:
Stove/Oven:
Combination Tub/Shower:
Toilet:
Games:
Deck:
Gas Grill:
Fire Pit:
Children Welcome:
Inside Homes NON-Smoking:
Basketball Court:
Cycling:
Fly Fishing/Freshwater Fishing:
Golf:
Hiking:
Mountain Biking:
Mountain Climbing:
Skiing/tubing:
White Water Rafting:
The North Carolina Arboretum:
Autumn Foliage-BlueRidge Parkway:
Churches:
Festivals:
NationalForest in North Carolina:
Museums:
Recreation Center:
Theme Parks:
Water Falls:
Winery Tours:
Golf Courses:
Antiquing:
Bird Watching:
Gambling Casinos:
Horseback Riding:
Outlet Shopping:
Photography:
Scenic Drives:
Sight Seeing:
Walking:
Guest Reviews of
cozy bear cabin
Waynesville , NC
Cozy Cabin
Looking for a relaxed getaway. This cabin has amazing views and was not very difficult to find. The cabin was in working order and the owners took care of all our needs.
4 out of 5 stars
Perfect home to see fall leaves
Review by
Karen E.
Overall we enjoyed our stay because the setting couldn't have been better. The views were beyond what we hoped for and made for awesome photos. The downside was the beds in all the rooms. Incredibly uncomfortable and made for a miserable night for everyone. The bedroom on the main floor also had some very strange noises all 3 nights that we did not get up to investigate.
4 out of 5 stars
Manager Response:
Thank you Karen for your feedback and we are glad you got a 4/5 star experience out of your stay at Cozy Bear Cabin. We confirmed with the owners that as this is a new rental cabin, all the mattresses in the cabin are brand new, less than 6 months old and haven't been slept on more than 10-12 times. They are medium to firm mattresses and were chosen based on positive reviews about them from renters at the owner's brother's beach rental. It appears, therefore, that your experience is a personal preference issue as opposed to a mattress issue. As far as the "noises at night", mountain cabins, especially at 4000ft. are notoriously noisy, creaky, windy, etc. which is often thought of as part of the charm of staying in a cabin in the mountains. The other possibility is the ice maker, which does make a noise when the ice drops into the bucket. We will be recommending raising the shut off bar at night to future renters if that is the source of the noise and it is bothersome to future renters. Thank you for the feedback and hope to give you a better experience in the future.
Book Your Stay!
Select your arrival and departure dates below to reserve this unit.


October 2023

| S | M | T | W | T | F | S |
| --- | --- | --- | --- | --- | --- | --- |
| 01 | 02 | 03 | 04 | 05 | 06 | 07 |
| 08 | 09 | 10 | 11 | 12 | 13 | 14 |
| 15 | 16 | 17 | 18 | 19 | 20 | 21 |
| 22 | 23 | 24 | 25 | 26 | 27 | 28 |
| 29 | 30 | 31 | | | | |
November 2023

| S | M | T | W | T | F | S |
| --- | --- | --- | --- | --- | --- | --- |
| | | | 01 | 02 | 03 | 04 |
| 05 | 06 | 07 | 08 | 09 | 10 | 11 |
| 12 | 13 | 14 | 15 | 16 | 17 | 18 |
| 19 | 20 | 21 | 22 | 23 | 24 | 25 |
| 26 | 27 | 28 | 29 | 30 | | |
December 2023

| S | M | T | W | T | F | S |
| --- | --- | --- | --- | --- | --- | --- |
| | | | | | 01 | 02 |
| 03 | 04 | 05 | 06 | 07 | 08 | 09 |
| 10 | 11 | 12 | 13 | 14 | 15 | 16 |
| 17 | 18 | 19 | 20 | 21 | 22 | 23 |
| 24 | 25 | 26 | 27 | 28 | 29 | 30 |
| 31 | | | | | | |
January 2024

| S | M | T | W | T | F | S |
| --- | --- | --- | --- | --- | --- | --- |
| | 01 | 02 | 03 | 04 | 05 | 06 |
| 07 | 08 | 09 | 10 | 11 | 12 | 13 |
| 14 | 15 | 16 | 17 | 18 | 19 | 20 |
| 21 | 22 | 23 | 24 | 25 | 26 | 27 |
| 28 | 29 | 30 | 31 | | | |
February 2024

| S | M | T | W | T | F | S |
| --- | --- | --- | --- | --- | --- | --- |
| | | | | 01 | 02 | 03 |
| 04 | 05 | 06 | 07 | 08 | 09 | 10 |
| 11 | 12 | 13 | 14 | 15 | 16 | 17 |
| 18 | 19 | 20 | 21 | 22 | 23 | 24 |
| 25 | 26 | 27 | 28 | 29 | | |
March 2024

| S | M | T | W | T | F | S |
| --- | --- | --- | --- | --- | --- | --- |
| | | | | | 01 | 02 |
| 03 | 04 | 05 | 06 | 07 | 08 | 09 |
| 10 | 11 | 12 | 13 | 14 | 15 | 16 |
| 17 | 18 | 19 | 20 | 21 | 22 | 23 |
| 24 | 25 | 26 | 27 | 28 | 29 | 30 |
| 31 | | | | | | |
April 2024

| S | M | T | W | T | F | S |
| --- | --- | --- | --- | --- | --- | --- |
| | 01 | 02 | 03 | 04 | 05 | 06 |
| 07 | 08 | 09 | 10 | 11 | 12 | 13 |
| 14 | 15 | 16 | 17 | 18 | 19 | 20 |
| 21 | 22 | 23 | 24 | 25 | 26 | 27 |
| 28 | 29 | 30 | | | | |
May 2024

| S | M | T | W | T | F | S |
| --- | --- | --- | --- | --- | --- | --- |
| | | | 01 | 02 | 03 | 04 |
| 05 | 06 | 07 | 08 | 09 | 10 | 11 |
| 12 | 13 | 14 | 15 | 16 | 17 | 18 |
| 19 | 20 | 21 | 22 | 23 | 24 | 25 |
| 26 | 27 | 28 | 29 | 30 | 31 | |
June 2024

| S | M | T | W | T | F | S |
| --- | --- | --- | --- | --- | --- | --- |
| | | | | | | 01 |
| 02 | 03 | 04 | 05 | 06 | 07 | 08 |
| 09 | 10 | 11 | 12 | 13 | 14 | 15 |
| 16 | 17 | 18 | 19 | 20 | 21 | 22 |
| 23 | 24 | 25 | 26 | 27 | 28 | 29 |
| 30 | | | | | | |
July 2024

| S | M | T | W | T | F | S |
| --- | --- | --- | --- | --- | --- | --- |
| | 01 | 02 | 03 | 04 | 05 | 06 |
| 07 | 08 | 09 | 10 | 11 | 12 | 13 |
| 14 | 15 | 16 | 17 | 18 | 19 | 20 |
| 21 | 22 | 23 | 24 | 25 | 26 | 27 |
| 28 | 29 | 30 | 31 | | | |
August 2024

| S | M | T | W | T | F | S |
| --- | --- | --- | --- | --- | --- | --- |
| | | | | 01 | 02 | 03 |
| 04 | 05 | 06 | 07 | 08 | 09 | 10 |
| 11 | 12 | 13 | 14 | 15 | 16 | 17 |
| 18 | 19 | 20 | 21 | 22 | 23 | 24 |
| 25 | 26 | 27 | 28 | 29 | 30 | 31 |
September 2024

| S | M | T | W | T | F | S |
| --- | --- | --- | --- | --- | --- | --- |
| 01 | 02 | 03 | 04 | 05 | 06 | 07 |
| 08 | 09 | 10 | 11 | 12 | 13 | 14 |
| 15 | 16 | 17 | 18 | 19 | 20 | 21 |
| 22 | 23 | 24 | 25 | 26 | 27 | 28 |
| 29 | 30 | | | | | |
October 2024

| S | M | T | W | T | F | S |
| --- | --- | --- | --- | --- | --- | --- |
| | | 01 | 02 | 03 | 04 | 05 |
| 06 | 07 | 08 | 09 | 10 | 11 | 12 |
| 13 | 14 | 15 | 16 | 17 | 18 | 19 |
| 20 | 21 | 22 | 23 | 24 | 25 | 26 |
| 27 | 28 | 29 | 30 | 31 | | |
November 2024

| S | M | T | W | T | F | S |
| --- | --- | --- | --- | --- | --- | --- |
| | | | | | 01 | 02 |
| 03 | 04 | 05 | 06 | 07 | 08 | 09 |
| 10 | 11 | 12 | 13 | 14 | 15 | 16 |
| 17 | 18 | 19 | 20 | 21 | 22 | 23 |
| 24 | 25 | 26 | 27 | 28 | 29 | 30 |
December 2024

| S | M | T | W | T | F | S |
| --- | --- | --- | --- | --- | --- | --- |
| 01 | 02 | 03 | 04 | 05 | 06 | 07 |
| 08 | 09 | 10 | 11 | 12 | 13 | 14 |
| 15 | 16 | 17 | 18 | 19 | 20 | 21 |
| 22 | 23 | 24 | 25 | 26 | 27 | 28 |
| 29 | 30 | 31 | | | | |
January 2025

| S | M | T | W | T | F | S |
| --- | --- | --- | --- | --- | --- | --- |
| | | | 01 | 02 | 03 | 04 |
| 05 | 06 | 07 | 08 | 09 | 10 | 11 |
| 12 | 13 | 14 | 15 | 16 | 17 | 18 |
| 19 | 20 | 21 | 22 | 23 | 24 | 25 |
| 26 | 27 | 28 | 29 | 30 | 31 | |
February 2025

| S | M | T | W | T | F | S |
| --- | --- | --- | --- | --- | --- | --- |
| | | | | | | 01 |
| 02 | 03 | 04 | 05 | 06 | 07 | 08 |
| 09 | 10 | 11 | 12 | 13 | 14 | 15 |
| 16 | 17 | 18 | 19 | 20 | 21 | 22 |
| 23 | 24 | 25 | 26 | 27 | 28 | |
March 2025

| S | M | T | W | T | F | S |
| --- | --- | --- | --- | --- | --- | --- |
| | | | | | | 01 |
| 02 | 03 | 04 | 05 | 06 | 07 | 08 |
| 09 | 10 | 11 | 12 | 13 | 14 | 15 |
| 16 | 17 | 18 | 19 | 20 | 21 | 22 |
| 23 | 24 | 25 | 26 | 27 | 28 | 29 |
| 30 | 31 | | | | | |
April 2025

| S | M | T | W | T | F | S |
| --- | --- | --- | --- | --- | --- | --- |
| | | 01 | 02 | 03 | 04 | 05 |
| 06 | 07 | 08 | 09 | 10 | 11 | 12 |
| 13 | 14 | 15 | 16 | 17 | 18 | 19 |
| 20 | 21 | 22 | 23 | 24 | 25 | 26 |
| 27 | 28 | 29 | 30 | | | |
May 2025

| S | M | T | W | T | F | S |
| --- | --- | --- | --- | --- | --- | --- |
| | | | | 01 | 02 | 03 |
| 04 | 05 | 06 | 07 | 08 | 09 | 10 |
| 11 | 12 | 13 | 14 | 15 | 16 | 17 |
| 18 | 19 | 20 | 21 | 22 | 23 | 24 |
| 25 | 26 | 27 | 28 | 29 | 30 | 31 |
June 2025

| S | M | T | W | T | F | S |
| --- | --- | --- | --- | --- | --- | --- |
| 01 | 02 | 03 | 04 | 05 | 06 | 07 |
| 08 | 09 | 10 | 11 | 12 | 13 | 14 |
| 15 | 16 | 17 | 18 | 19 | 20 | 21 |
| 22 | 23 | 24 | 25 | 26 | 27 | 28 |
| 29 | 30 | | | | | |
July 2025

| S | M | T | W | T | F | S |
| --- | --- | --- | --- | --- | --- | --- |
| | | 01 | 02 | 03 | 04 | 05 |
| 06 | 07 | 08 | 09 | 10 | 11 | 12 |
| 13 | 14 | 15 | 16 | 17 | 18 | 19 |
| 20 | 21 | 22 | 23 | 24 | 25 | 26 |
| 27 | 28 | 29 | 30 | 31 | | |
August 2025

| S | M | T | W | T | F | S |
| --- | --- | --- | --- | --- | --- | --- |
| | | | | | 01 | 02 |
| 03 | 04 | 05 | 06 | 07 | 08 | 09 |
| 10 | 11 | 12 | 13 | 14 | 15 | 16 |
| 17 | 18 | 19 | 20 | 21 | 22 | 23 |
| 24 | 25 | 26 | 27 | 28 | 29 | 30 |
| 31 | | | | | | |
September 2025

| S | M | T | W | T | F | S |
| --- | --- | --- | --- | --- | --- | --- |
| | 01 | 02 | 03 | 04 | 05 | 06 |
| 07 | 08 | 09 | 10 | 11 | 12 | 13 |
| 14 | 15 | 16 | 17 | 18 | 19 | 20 |
| 21 | 22 | 23 | 24 | 25 | 26 | 27 |
| 28 | 29 | 30 | | | | |
October 2025

| S | M | T | W | T | F | S |
| --- | --- | --- | --- | --- | --- | --- |
| | | | 01 | 02 | 03 | 04 |
| 05 | 06 | 07 | 08 | 09 | 10 | 11 |
| 12 | 13 | 14 | 15 | 16 | 17 | 18 |
| 19 | 20 | 21 | 22 | 23 | 24 | 25 |
| 26 | 27 | 28 | 29 | 30 | 31 | |
November 2025

| S | M | T | W | T | F | S |
| --- | --- | --- | --- | --- | --- | --- |
| | | | | | | 01 |
| 02 | 03 | 04 | 05 | 06 | 07 | 08 |
| 09 | 10 | 11 | 12 | 13 | 14 | 15 |
| 16 | 17 | 18 | 19 | 20 | 21 | 22 |
| 23 | 24 | 25 | 26 | 27 | 28 | 29 |
| 30 | | | | | | |
December 2025

| S | M | T | W | T | F | S |
| --- | --- | --- | --- | --- | --- | --- |
| | 01 | 02 | 03 | 04 | 05 | 06 |
| 07 | 08 | 09 | 10 | 11 | 12 | 13 |
| 14 | 15 | 16 | 17 | 18 | 19 | 20 |
| 21 | 22 | 23 | 24 | 25 | 26 | 27 |
| 28 | 29 | 30 | 31 | | | |
January 2026

| S | M | T | W | T | F | S |
| --- | --- | --- | --- | --- | --- | --- |
| | | | | 01 | 02 | 03 |
| 04 | 05 | 06 | 07 | 08 | 09 | 10 |
| 11 | 12 | 13 | 14 | 15 | 16 | 17 |
| 18 | 19 | 20 | 21 | 22 | 23 | 24 |
| 25 | 26 | 27 | 28 | 29 | 30 | 31 |
February 2026

| S | M | T | W | T | F | S |
| --- | --- | --- | --- | --- | --- | --- |
| 01 | 02 | 03 | 04 | 05 | 06 | 07 |
| 08 | 09 | 10 | 11 | 12 | 13 | 14 |
| 15 | 16 | 17 | 18 | 19 | 20 | 21 |
| 22 | 23 | 24 | 25 | 26 | 27 | 28 |
March 2026

| S | M | T | W | T | F | S |
| --- | --- | --- | --- | --- | --- | --- |
| 01 | 02 | 03 | 04 | 05 | 06 | 07 |
| 08 | 09 | 10 | 11 | 12 | 13 | 14 |
| 15 | 16 | 17 | 18 | 19 | 20 | 21 |
| 22 | 23 | 24 | 25 | 26 | 27 | 28 |
| 29 | 30 | 31 | | | | |
April 2026

| S | M | T | W | T | F | S |
| --- | --- | --- | --- | --- | --- | --- |
| | | | 01 | 02 | 03 | 04 |
| 05 | 06 | 07 | 08 | 09 | 10 | 11 |
| 12 | 13 | 14 | 15 | 16 | 17 | 18 |
| 19 | 20 | 21 | 22 | 23 | 24 | 25 |
| 26 | 27 | 28 | 29 | 30 | | |
May 2026

| S | M | T | W | T | F | S |
| --- | --- | --- | --- | --- | --- | --- |
| | | | | | 01 | 02 |
| 03 | 04 | 05 | 06 | 07 | 08 | 09 |
| 10 | 11 | 12 | 13 | 14 | 15 | 16 |
| 17 | 18 | 19 | 20 | 21 | 22 | 23 |
| 24 | 25 | 26 | 27 | 28 | 29 | 30 |
| 31 | | | | | | |
June 2026

| S | M | T | W | T | F | S |
| --- | --- | --- | --- | --- | --- | --- |
| | 01 | 02 | 03 | 04 | 05 | 06 |
| 07 | 08 | 09 | 10 | 11 | 12 | 13 |
| 14 | 15 | 16 | 17 | 18 | 19 | 20 |
| 21 | 22 | 23 | 24 | 25 | 26 | 27 |
| 28 | 29 | 30 | | | | |
July 2026

| S | M | T | W | T | F | S |
| --- | --- | --- | --- | --- | --- | --- |
| | | | 01 | 02 | 03 | 04 |
| 05 | 06 | 07 | 08 | 09 | 10 | 11 |
| 12 | 13 | 14 | 15 | 16 | 17 | 18 |
| 19 | 20 | 21 | 22 | 23 | 24 | 25 |
| 26 | 27 | 28 | 29 | 30 | 31 | |
August 2026

| S | M | T | W | T | F | S |
| --- | --- | --- | --- | --- | --- | --- |
| | | | | | | 01 |
| 02 | 03 | 04 | 05 | 06 | 07 | 08 |
| 09 | 10 | 11 | 12 | 13 | 14 | 15 |
| 16 | 17 | 18 | 19 | 20 | 21 | 22 |
| 23 | 24 | 25 | 26 | 27 | 28 | 29 |
| 30 | 31 | | | | | |
September 2026

| S | M | T | W | T | F | S |
| --- | --- | --- | --- | --- | --- | --- |
| | | 01 | 02 | 03 | 04 | 05 |
| 06 | 07 | 08 | 09 | 10 | 11 | 12 |
| 13 | 14 | 15 | 16 | 17 | 18 | 19 |
| 20 | 21 | 22 | 23 | 24 | 25 | 26 |
| 27 | 28 | 29 | 30 | | | |
October 2026

| S | M | T | W | T | F | S |
| --- | --- | --- | --- | --- | --- | --- |
| | | | | 01 | 02 | 03 |
| 04 | 05 | 06 | 07 | 08 | 09 | 10 |
| 11 | 12 | 13 | 14 | 15 | 16 | 17 |
| 18 | 19 | 20 | 21 | 22 | 23 | 24 |
| 25 | 26 | 27 | 28 | 29 | 30 | 31 |
Available
Unavailable
Check-In Only
Check-Out Only
Previous
Next