Hoot Owl
2 Bedroom(s) | 2 Bathroom(s) | Sleeps 6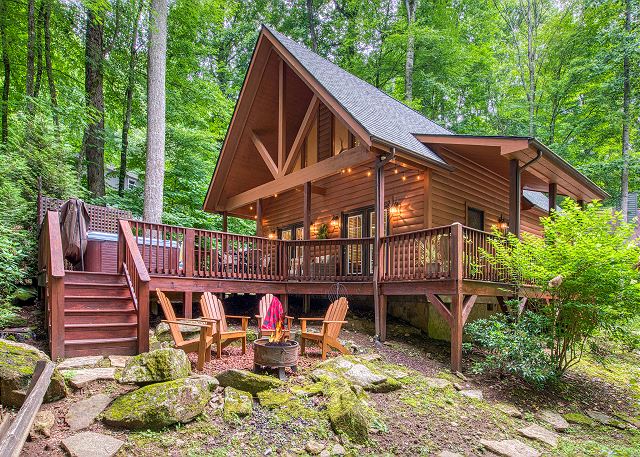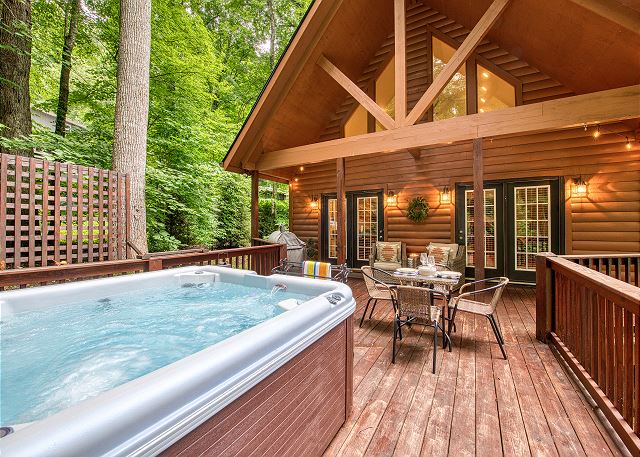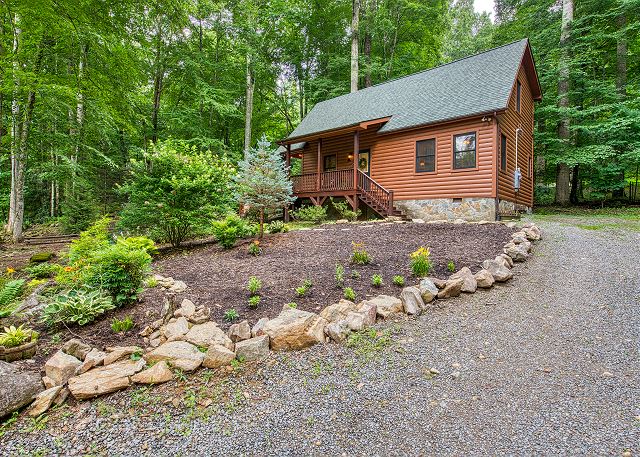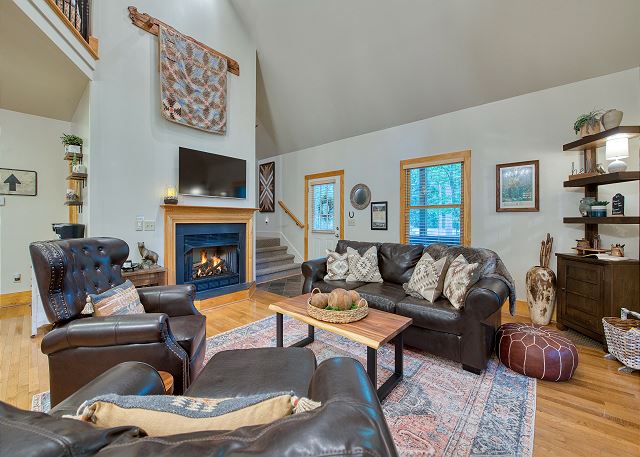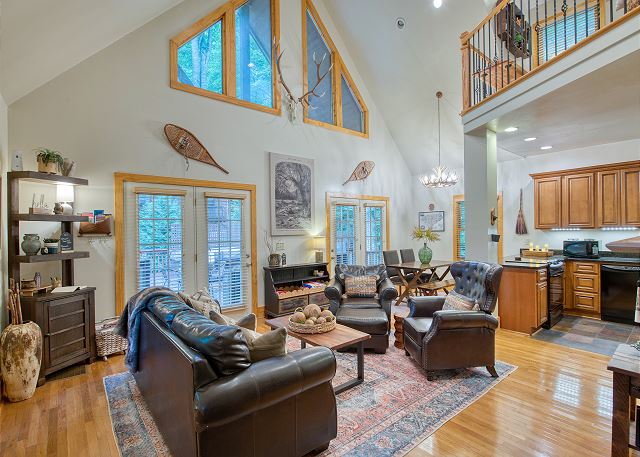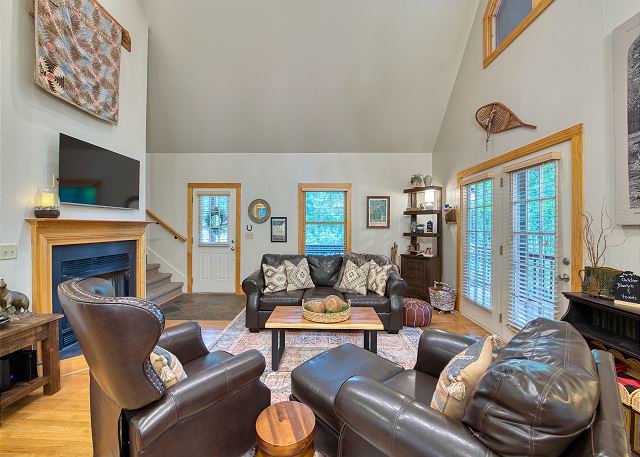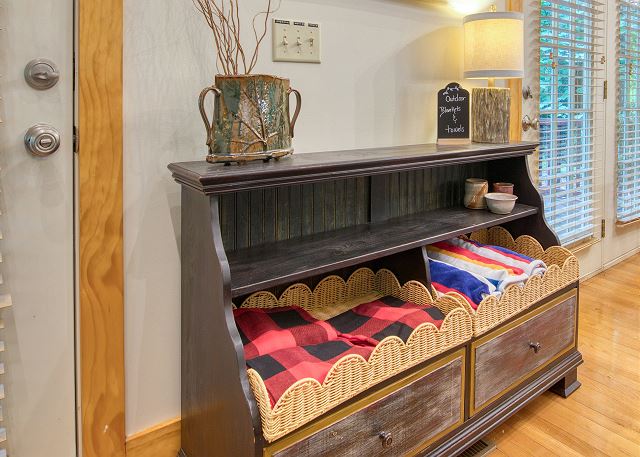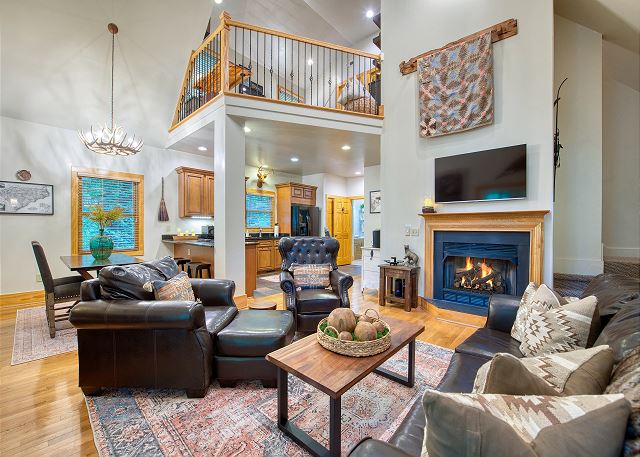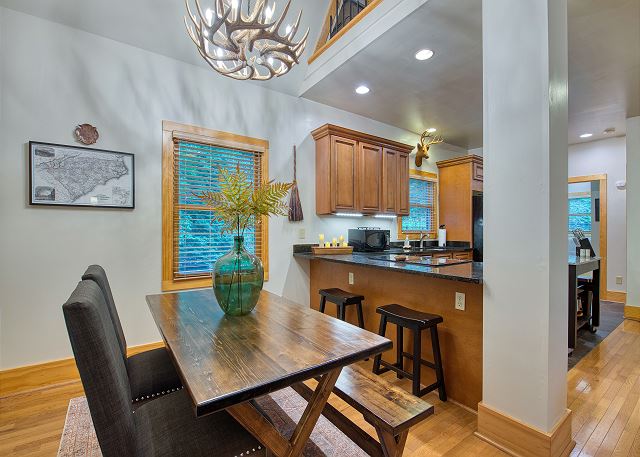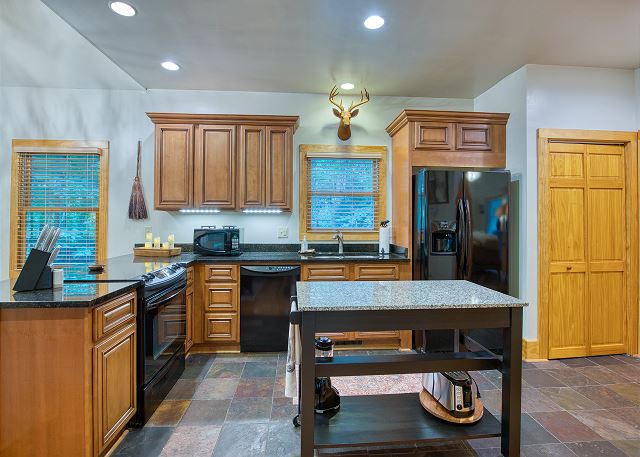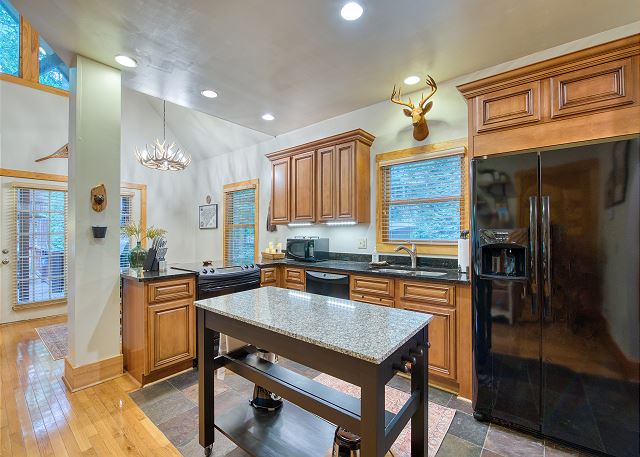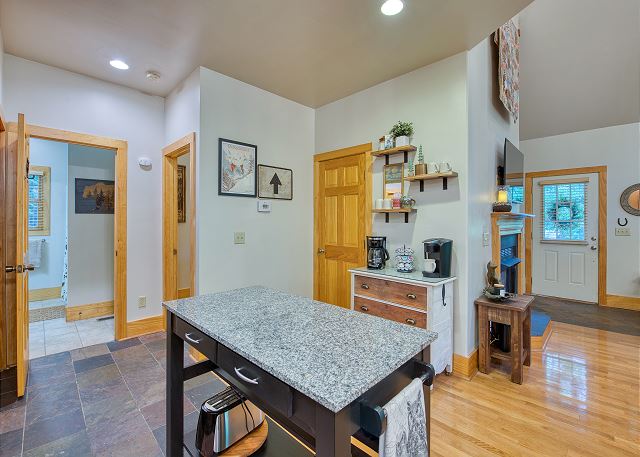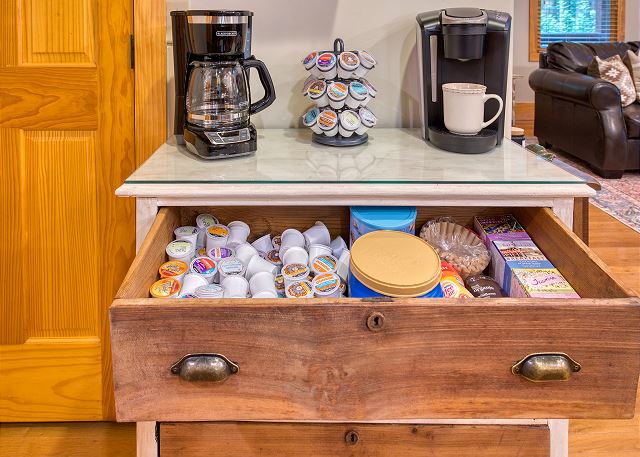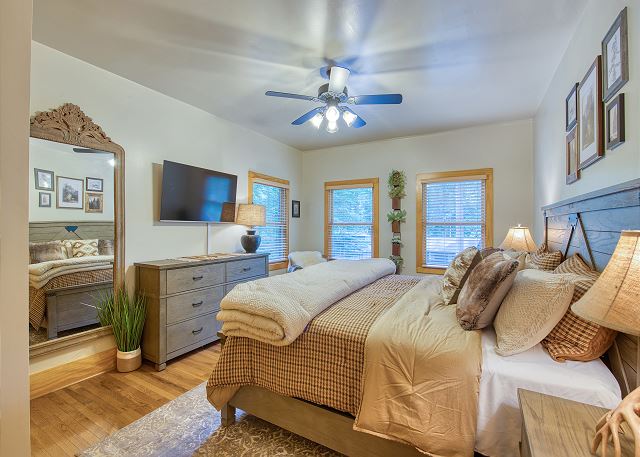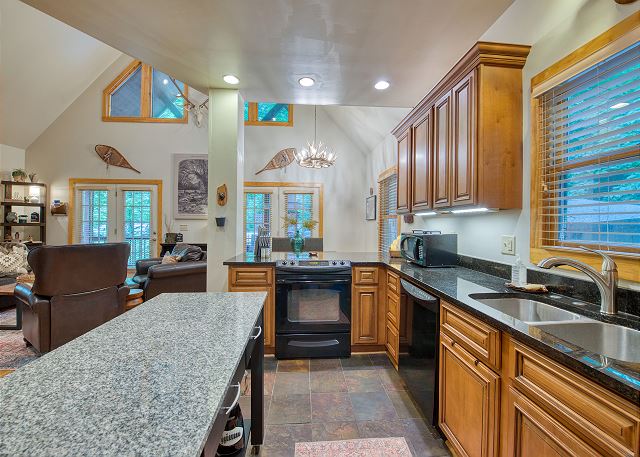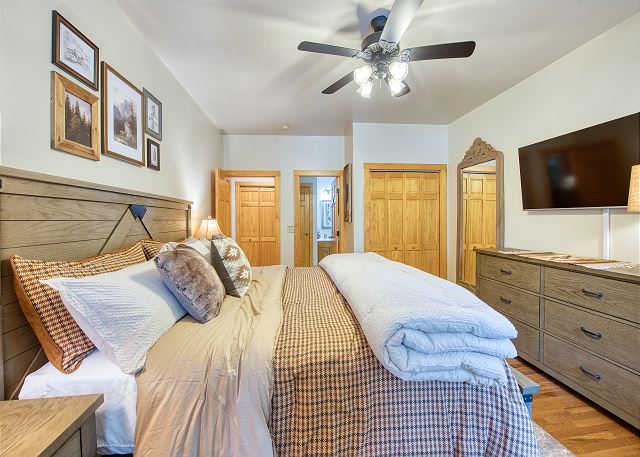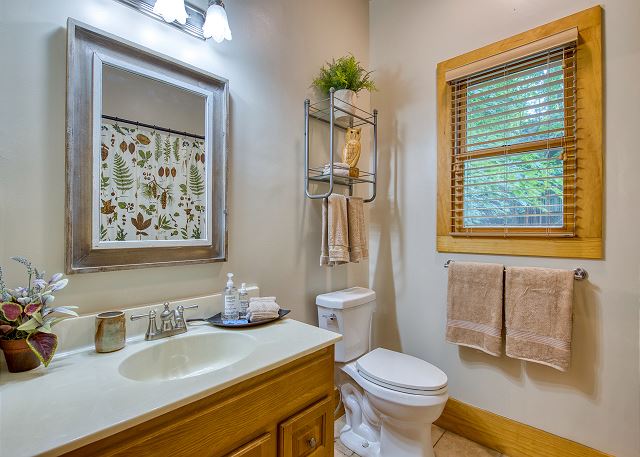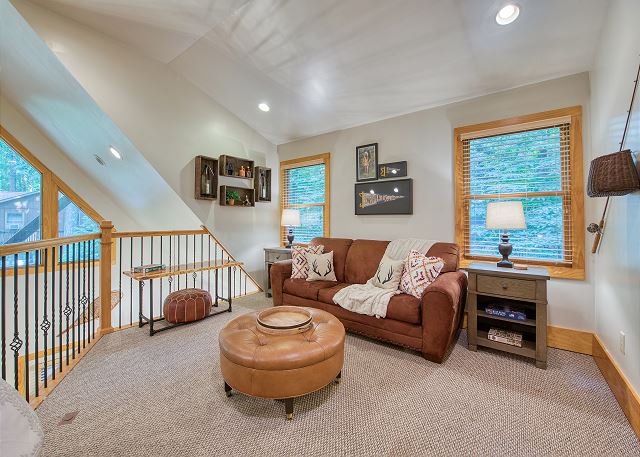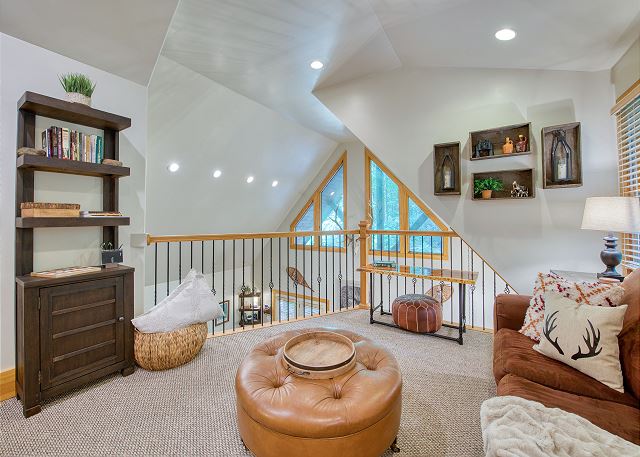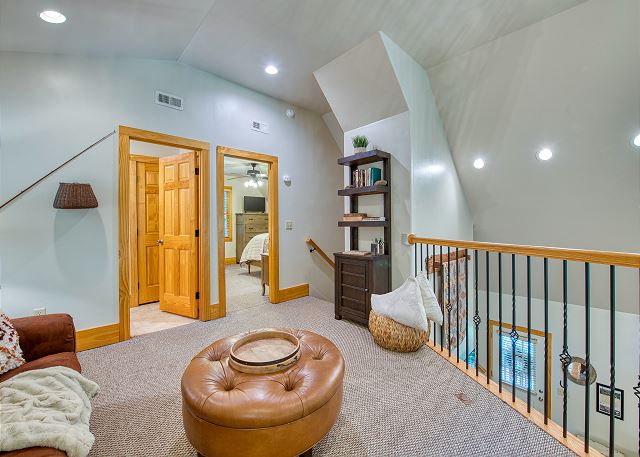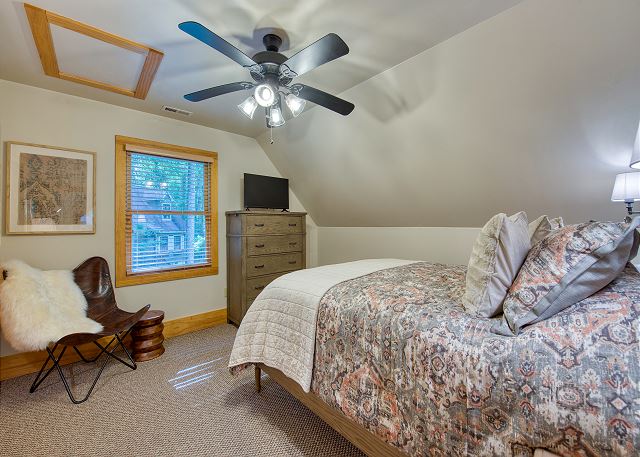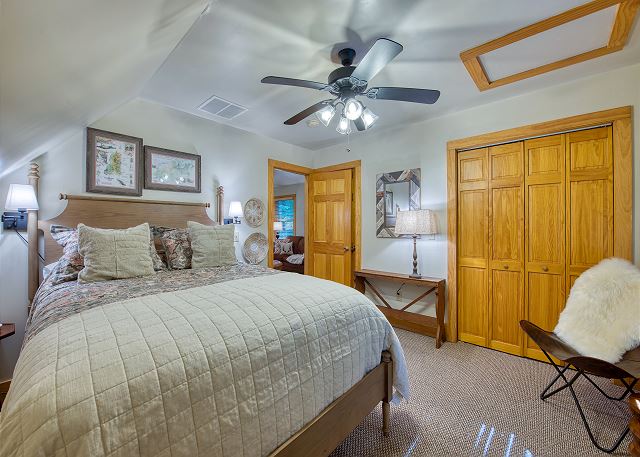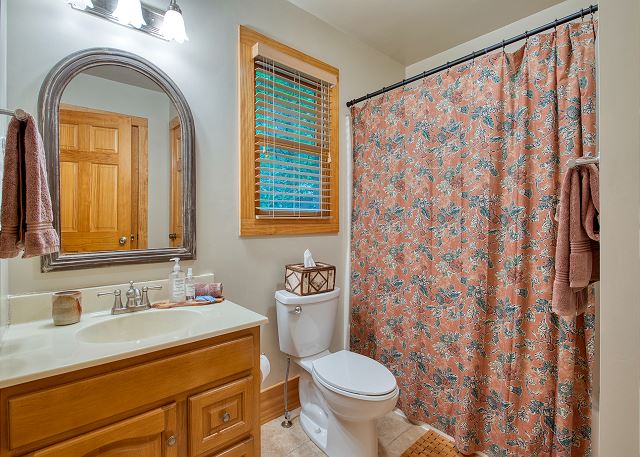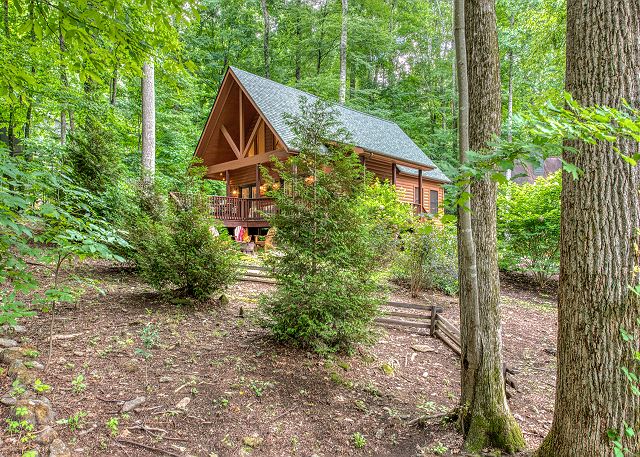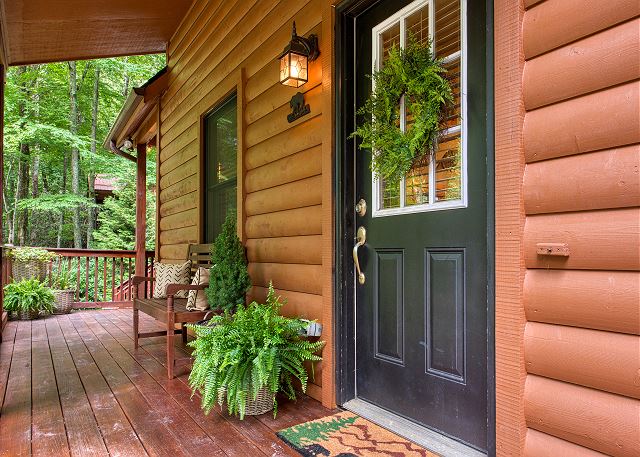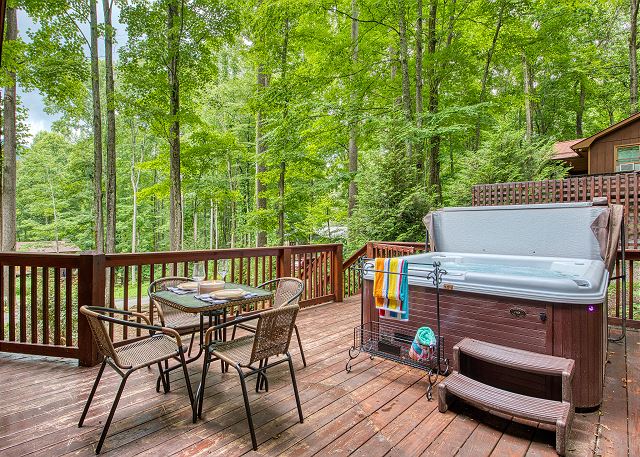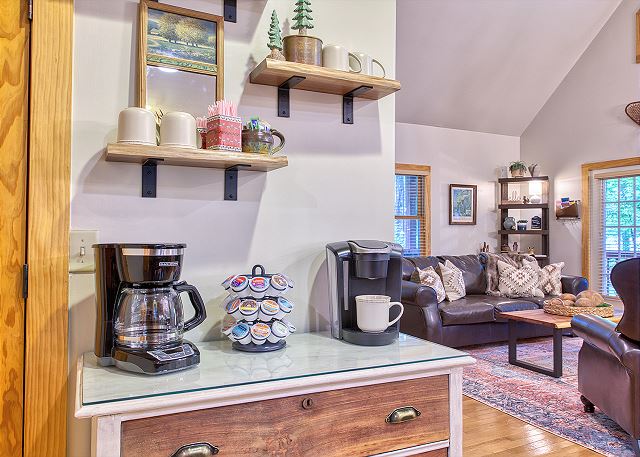 Previous
Next
Hoot Owl Cabin provides solitude only minutes from the entrance to the Great Smoky Mountains National Park & Cataloochee ski resort. Enjoy sitting by the gas fireplace or soaking in the private hot tub after a long day on the slopes or hiking. This cozy cabin offers the perfect place to kick back & relax w/ flat screen TVs & outdoor firepit. The calm, stylish space includes 1 sofa sleeper, 1 Queen & 1 king bed. Great location w/ paved access & only one half mile from downtown Maggie Valley!!
Amenities

combination tub/shower:
king:
queen:
sleep sofa /futon:
toilet:
arboretum:
autumn foliage:
caves:
churches:
cinemas:
coin laundry:
festivals:
forests:
library:
museums:
playground:
recreation center:
restaurants:
theme parks:
water parks:
waterfalls:
winery tours:
zoo:
Dining:
Satellite / Cable:
Television:
Air Conditioning:
Clothes Dryer:
Fireplace:
Heating:
Internet:
Iron & Board:
Linens Provided:
Living Room:
Towels Provided:
Washing Machine:
Wifi:
Free Wifi:
Coffee Maker:
Dishes & Utensils:
Dishwasher:
Kitchen:
Microwave:
Oven:
Refrigerator:
Stove:
Toaster:
Dining Table:
Kitchen Island:
antiquing:
bird watching:
eco tourism:
gambling casinos:
horseback riding:
horseshoes:
outlet shopping:
paddle boating:
photography:
scenic drives:
sight seeing:
walking:
ATM/bank:
fitness center:
groceries:
hospital:
massage therapist:
medical services:
Downtown:
Deck / Patio:
Outdoor Grill:
Hot Tub:
fishing:
fly fishing:
freshwater fishing:
golf:
hiking:
mountain biking:
mountain climbing:
rafting:
skiing:
whitewater rafting:
children welcome:
non smoking only:
pets not allowed:
flexible:
necessary:
Adventure:
Family:
Romantic:
Sports & Activities:
Tourist Attractions:
Outdoor lighting:
Deadbolt lock on entryway:
Smoke detectors:
Carbon monoxide detector:
Fire extinguisher:
First aid kit:
Emergency phone number: Medical:
Emergency phone number: Police:
Emergency phone number: Fire:
Enhanced cleaning practices:
Clean with disinfectant:
High touch surfaces cleaned with disinfectant:
Towels and bedding washed in water that's at least 60sC/140sF:
Water View or Creek:
Close to Town:
Central Air:
Ceiling Fans:
High Speed Internet:
Satellite/Cable TV:
DVD Player:
Gas Logs:
Refrigerator:
Coffee Maker:
Ice Maker:
Microwave:
Toaster:
Cookware:
Dishes and Utensils:
Dishwasher:
Stove/Oven:
Combination Tub/Shower:
Toilet:
Cable TV:
DVD Player:
Deck:
Gas Grill:
Hot Tub:
Fire Pit:
Children Welcome:
Inside Homes NON-Smoking:
Non-Pet Friendly Home:
Basketball Court:
Cycling:
Fly Fishing/Freshwater Fishing:
Golf:
Hiking:
Mountain Biking:
Mountain Climbing:
Skiing/tubing:
White Water Rafting:
The North Carolina Arboretum:
Autumn Foliage-BlueRidge Parkway:
Churches:
Festivals:
NationalForest in North Carolina:
Museums:
Recreation Center:
Theme Parks:
Water Falls:
Winery Tours:
Golf Courses:
Antiquing:
Bird Watching:
Gambling Casinos:
Horseback Riding:
Outlet Shopping:
Photography:
Scenic Drives:
Sight Seeing:
Walking:
Guest Reviews of
hoot owl
Maggie Valley , NC
Hoot Owl Vacation
Review by
Robert S.
Our family had stayed in this cabin previously, it was as lovely this vacation, as with our last. Would encourage others to stay here, for a relaxing and enjoyable vacation. Absolutely love this cabin.
5 out of 5 stars
Manager Response:
Great! We are pleased you and your family enjoyed Hoot Owl and found the home clean and comfy! We agree that its a beautiful home. Enjoy your day! Premier Vacation Rentals staff!
hoot owl cabin review
Review by
Mary P.
AWESOME cabin!!! We rent cabins for christmas every year and this was our best one and very affordable!!!
5 out of 5 stars
Manager Response:
Awesome! sounds like you had a Merry Christmas while visiting The Smokey Mountains:) We agree Hoot Owl is an amazing cabin! Hope to see you next Christmas 🙂 Have a great day! The Premier Staff!
Winter in Maggie Valley
This was a very nice place. It wasn't quite as secluded as I would've liked but we still had an amazing time. This first night the heat was not working. However, we talked to Sandy and she got someone to fix it ASAP so it was warm the rest of the trip. I do recommend this place if you want to be close to town and everything it offers.
5 out of 5 stars
Our Hoot Owl
Review by
Barbara G.
This cabin so was so very beautiful, secluded to a degree and great location. The most relaxing time ever. The decore was amazing, the home clean and just like heaven. I will be going back very soon.
5 out of 5 stars
Hoot Owl
Review by
Janet F.
had a great time
5 out of 5 stars
Hoot Owl was super cute
Review by
Jennifer R.
My family of 4 vacationed at the Hoot Owl for one week in August. We enjoyed the sylvan view and walks around the Sherwood Forest area.
4 out of 5 stars
Confused
Hoot Owl was one of the nicest cabins we've stayed in. It was clean great location. BUT it is the only cabin we have stayed in(and we have stayed in many) that we had to pay a housekeeping fee and do part of the housekeeping ourself. You need a place to put the trash that is on location. I don't care to do the dishes but that's the only place where we had to stay and put them away too. Every other place all we had to do was start the dish washer. So no we probably won't be back to Premier Cabin rental. And I've already not recommend it to friends.
4 out of 5 stars
perfect location
Loved Maggie Valley! House was in a great location, close to so many waterfalls, tubing, and other adventures. Several good restaurants in town as well. Cute, well maintained neighborhood with lots of greenery, new streets, very easy access and good parking. We saw 2 deer by the horse at the bottom of the neighborhood everyday which was very exciting for my little one. Hot tub, deck, and fire pit were very nice. House was exactly like pictures, spacious, kitchen well stocked, 4 tubes provided if you don't have tubes of your own. Beds very uncomfortable and hard, old sponges in kitchen under sink, and needs new shower curtain liners. Overall pretty clean and furnishings were fine. No toiletries provided, one roll of toilet paper in downstairs bath and 1/2 roll in the upstairs bath. There was a roll of paper towels and a small amt. of dish soap in kitchen. soap in downstairs bath pump was empty, soap was in pump in upstairs bath. No trash bag in garbage can in kitchen. I found these things odd and not welcoming, but it was no big deal as I brought all paper products, toiletries, and cleaning products anyway. These minor things would absolutely not keep me from staying here again. We had a wonderful vacation, and would definitely return. It was by far the easiest road and driveway getting to house we have ever stayed at in the mountains, which is a huge plus for me bc it is very stressful navigating steep, narrow roads and driveways in an unfamiliar place, especially when its wet out. Temperatures were perfect and the town itself has so many picturesque views and 2 little parks on Johnathan Creek that were cute. Melissa, the property manager for the rental, was so sweet and helpful! My family and I can't wait to come back to Maggie Valley!!
5 out of 5 stars
Nice house
The house was very clean and we enjoyed the hot tub. It was stocked with everything we needed for our stay. It was very easy to find with the direction left with our key from the property management company.
4 out of 5 stars
Nice property close to the Blue Ridge Parkway
This cabin was very nice and well equipped. The location was within 10 minutes of the Blue Ridge Parkway and 30 minutes access to the Great Smoky Mountain National Park. There were a couple of maintenance issues. The housekeeping was not complete when we arrived. There were damp towels in the clothes dryer and bathroom rugs piled in the master bedroom. At 3:30AM one morning, the smoke detector in the master bedroom began chirping, indicating the need for battery replacement. We had to search for batteries and use a dining room chair to reach the detector to replace the batteries and eliminate the noise. Also, several light bulbs in the high ceiling were burned out, making the house quite dark. It was impossible to replace those without a ladder and it should have been done by housekeeping/maintenance before we arrived. We have AT&T Wireless for our cell phones and had NO cell phone service the whole time we stayed here. This could be a provider problem for this area, but we feel people should know this about this location. The WiFi was great. We were told we had to provide all paper products--toilet paper, kleenex, paper towels, trash bags. We brought all of those things, but found them all to be in good supply at the house after all. The only thing lacking was no bath soap, which was anticipated and we brought anyway. Also, you have to transport all trash to a locked trash dumpster located behind the rental office for disposal. You will be charged $50 if you leave any trash at the house. This is declared in the rental agreement, but could be easy to miss. The nearest grocery store is about 15-20 minutes drive away, but is quite nice. Lastly, the written directions provided by the management company were not quite accurate and we had to "wing it" in order to find the house. The property itself is quite nice, but all these other issues clouded our impression of the stay. I have told Premier about all these things and have had no reply.
4 out of 5 stars
Manager Response:
Good morning! We certainly apologize for any inconvenience you may have experienced while visiting with us... We try to keep batteries and bulbs in homes at all times because we never know when they might stop working, Yes, Cell service can definitely be spotty in our area. We do suppy 1 each of toilet tissue, paper towels, dish soap , etc. as a starter for our guest but if prior guest happen to leave there our housekeeping team will keep it there for the next guest. We are pleased you found the home clean and well equipped for your stay:) Thank you for sharing these issues with us and we will definitely see that they are brought to housekeeping and maintenance attention. Have a nice day and we look forward to seeing you on your next Smoky Mountain Getaway! The Premier Staff!
Pleasantly Impressed
Review by
Samuel H.
First time with this company and this house. Loved the house, was set up nice and crew thoroughly enjoyed it. Only wish they had extra garbage bags and the master bed was a little sketchy. BUT we loved it. The fireplace and hot tub after a day of skiing was just what we needed. Will stay here again. Bring food! the kitchen has literally everything you need minus a croc pot. It centrally located in town and only a few minutes from Ski Resort.
5 out of 5 stars
Manager Response:
Awesome! Sounds like you had a great time:) Thank you for the updates and we will check into the master bed and a crock pot 🙂 Thank you for booking with Premier... Have a nice day! The Premier Staff!
A amazing place for vacation
Review by
Benedicto G.
Very very nice place everything nice and clean
5 out of 5 stars
Manager Response:
We are pleased to hear that you had a nice time at Hoot Owl:) We look forward to seeing you again... Have a nice day! The Premier Staff!
Fabulous Vacation Spot!
Review by
Marsha L.
This place was adorable. It exceeded our expectations in every way. The cabin does have other homes around it, but it was still very private and extremely quiet. The new bed on the main floor was the most comfortable we have ever experienced. The little fire pit was nice to hang around in the evening, and the hot tub was great. Although you feel like you're a million miles away in the mountains, you are only about three minutes to the main road with access to everything. There are wonderful restaurants nearby (Rendezvous is one) and little taverns (Salty Dog), many small breakfast places, pizza places and shops. Two places that are close-by (30 minutes) are Cherokee if you like casinos and Bryson City has a train ride, breweries and shops. Sandy at Premier was awesome. We would go back again in a heartbeat.
5 out of 5 stars
Manager Response:
Awesome!! We are pleased to hear you had a wonderful time for your Anniversary! Hoot Owl is just that... Adorable!! Thank you for the nice comment and we sure hope to see you again in our beautiful valley:) Happy Anniversary! The Premier Staff!
Great vacation getaway
Review by
Randy M.
Everything was great but the beds where junk noticed the reviews from other guest said the same about the beds . I would have assumed after a few reviews they would have fix the problem
4 out of 5 stars
Manager Response:
Good afternoon! We are pleased to hear you had a Great time at Hoot Owl 🙂 We certainly do apologize for any inconvenience with the bedding.... Thank you for bringing this to our attention and we will defiantly look into this matter... We appreciate your booking with us at Premier and we hope you have a nice day! The Premier Staff!
Christiansen July '17
Review by
Robert C.
Excellent
5 out of 5 stars
Manager Response:
Awesome!!! Sounds like you enjoyed your stay at HOOT OWL!!! Hope to see you soon:) The Premier Staff!
My stay at Hoot Owl was just ok
Cabin was nice and cozy. Wish one of the beds would have been king size. Hot tub was very relaxing after the fact that we had to kill several big black ants that was crawling all over hot tub. I feel like no one had been to stay at cabin for awhile. A lot of spider webs inside and outside. Front porch was covered with dust and a lot of leaves. Floors on inside had a lot of dirt on it. But once we cleaned the cabin it was nice and cleaned.
4 out of 5 stars
Manager Response:
We are pleased to know that overall you had a nice stay:) We are sorry to hear of the issues that you shared with us ... We hope you stay with us again and if there were to be any issues please feel free to call our office or emergency number and we will be glad to send housekeeping or maintenance to take care of any issues.... Thank you for sharing this with us... Have a nice day! The Premier Staff!
Hoot Owl
We were very pleased with the cabin. It was very clean, everything provided in excellent condition. The contact at Premiere was very helpful and responsive when we needed anything or had questions.
5 out of 5 stars
Hoot Owl
Review by
Dennis D.
This is an amazing experience, especially if you are not from the country areas of our great nation. The Hoot Owl cabin was simply a cozy place to kick back relax and enjoy the mountains.
5 out of 5 stars
Great Time
Review by
Joel F.
Really great time
5 out of 5 stars
a great vacation
Review by
Bob or Carmaleda B.
very good
5 out of 5 stars
Hoot Owl Cabin
The cabin was nicely furnished and was clean.We suggest that additional privacy panels be installed around the hot tub since the neighboring houses are so close.Unfortunately, the house has no view ... just views of other cabins. Disappointing given the picture.
4 out of 5 stars
Hoot Owl - Vacation
Review by
Dennis D.
It was a very nice experience, Hoot Owl was everything we had hoped for and we would stay here again.
5 out of 5 stars
Great Rental Place
Review by
Becky P.
We had a wonderful experience. Will definitely be back to rent this property again.
5 out of 5 stars
Hoot Owl Review Jul/Aug 2015
Review by
Matthew C.
Let me start by saying the pic of the cabin is very deceiving - it literally shares a driveway with another property and their headlamps shined through the bedroom window at night when they came and went. The cabin was nice inside and out except a couple minor exceptions (upstairs toilet seat was broke, refrigerator bins were busted, towel holder in Master bath fell off the wall). Loved pretty much everything else about the cabin - it was perfect for me and my 2 children (10 and 12 years old). We used the hot-tub often and cooked in (and on the porch) just about every night. Was a bit surprised to see a sponge that looked like it was used to clean prison cells on the counter in the kitchen - I threw it away and replaced it with a new one. Other than these minor issues, we loved the cabin. Just realize neighbors are close by - it doesn't have much privacy.
4 out of 5 stars
Hoot Owl
Review by
Shannon G.
Our vacation experience was great as usual. Hoot Owl was very comfortable and clean and looked just like the pictures on the internet. We have been renting with Premier Vacation Rentals for over 4 years now because their service and rentals are consistently great.
5 out of 5 stars
Book Your Stay!
Select your arrival and departure dates below to reserve this unit.


October 2023

| S | M | T | W | T | F | S |
| --- | --- | --- | --- | --- | --- | --- |
| 01 | 02 | 03 | 04 | 05 | 06 | 07 |
| 08 | 09 | 10 | 11 | 12 | 13 | 14 |
| 15 | 16 | 17 | 18 | 19 | 20 | 21 |
| 22 | 23 | 24 | 25 | 26 | 27 | 28 |
| 29 | 30 | 31 | | | | |
November 2023

| S | M | T | W | T | F | S |
| --- | --- | --- | --- | --- | --- | --- |
| | | | 01 | 02 | 03 | 04 |
| 05 | 06 | 07 | 08 | 09 | 10 | 11 |
| 12 | 13 | 14 | 15 | 16 | 17 | 18 |
| 19 | 20 | 21 | 22 | 23 | 24 | 25 |
| 26 | 27 | 28 | 29 | 30 | | |
December 2023

| S | M | T | W | T | F | S |
| --- | --- | --- | --- | --- | --- | --- |
| | | | | | 01 | 02 |
| 03 | 04 | 05 | 06 | 07 | 08 | 09 |
| 10 | 11 | 12 | 13 | 14 | 15 | 16 |
| 17 | 18 | 19 | 20 | 21 | 22 | 23 |
| 24 | 25 | 26 | 27 | 28 | 29 | 30 |
| 31 | | | | | | |
January 2024

| S | M | T | W | T | F | S |
| --- | --- | --- | --- | --- | --- | --- |
| | 01 | 02 | 03 | 04 | 05 | 06 |
| 07 | 08 | 09 | 10 | 11 | 12 | 13 |
| 14 | 15 | 16 | 17 | 18 | 19 | 20 |
| 21 | 22 | 23 | 24 | 25 | 26 | 27 |
| 28 | 29 | 30 | 31 | | | |
February 2024

| S | M | T | W | T | F | S |
| --- | --- | --- | --- | --- | --- | --- |
| | | | | 01 | 02 | 03 |
| 04 | 05 | 06 | 07 | 08 | 09 | 10 |
| 11 | 12 | 13 | 14 | 15 | 16 | 17 |
| 18 | 19 | 20 | 21 | 22 | 23 | 24 |
| 25 | 26 | 27 | 28 | 29 | | |
March 2024

| S | M | T | W | T | F | S |
| --- | --- | --- | --- | --- | --- | --- |
| | | | | | 01 | 02 |
| 03 | 04 | 05 | 06 | 07 | 08 | 09 |
| 10 | 11 | 12 | 13 | 14 | 15 | 16 |
| 17 | 18 | 19 | 20 | 21 | 22 | 23 |
| 24 | 25 | 26 | 27 | 28 | 29 | 30 |
| 31 | | | | | | |
April 2024

| S | M | T | W | T | F | S |
| --- | --- | --- | --- | --- | --- | --- |
| | 01 | 02 | 03 | 04 | 05 | 06 |
| 07 | 08 | 09 | 10 | 11 | 12 | 13 |
| 14 | 15 | 16 | 17 | 18 | 19 | 20 |
| 21 | 22 | 23 | 24 | 25 | 26 | 27 |
| 28 | 29 | 30 | | | | |
May 2024

| S | M | T | W | T | F | S |
| --- | --- | --- | --- | --- | --- | --- |
| | | | 01 | 02 | 03 | 04 |
| 05 | 06 | 07 | 08 | 09 | 10 | 11 |
| 12 | 13 | 14 | 15 | 16 | 17 | 18 |
| 19 | 20 | 21 | 22 | 23 | 24 | 25 |
| 26 | 27 | 28 | 29 | 30 | 31 | |
June 2024

| S | M | T | W | T | F | S |
| --- | --- | --- | --- | --- | --- | --- |
| | | | | | | 01 |
| 02 | 03 | 04 | 05 | 06 | 07 | 08 |
| 09 | 10 | 11 | 12 | 13 | 14 | 15 |
| 16 | 17 | 18 | 19 | 20 | 21 | 22 |
| 23 | 24 | 25 | 26 | 27 | 28 | 29 |
| 30 | | | | | | |
July 2024

| S | M | T | W | T | F | S |
| --- | --- | --- | --- | --- | --- | --- |
| | 01 | 02 | 03 | 04 | 05 | 06 |
| 07 | 08 | 09 | 10 | 11 | 12 | 13 |
| 14 | 15 | 16 | 17 | 18 | 19 | 20 |
| 21 | 22 | 23 | 24 | 25 | 26 | 27 |
| 28 | 29 | 30 | 31 | | | |
August 2024

| S | M | T | W | T | F | S |
| --- | --- | --- | --- | --- | --- | --- |
| | | | | 01 | 02 | 03 |
| 04 | 05 | 06 | 07 | 08 | 09 | 10 |
| 11 | 12 | 13 | 14 | 15 | 16 | 17 |
| 18 | 19 | 20 | 21 | 22 | 23 | 24 |
| 25 | 26 | 27 | 28 | 29 | 30 | 31 |
September 2024

| S | M | T | W | T | F | S |
| --- | --- | --- | --- | --- | --- | --- |
| 01 | 02 | 03 | 04 | 05 | 06 | 07 |
| 08 | 09 | 10 | 11 | 12 | 13 | 14 |
| 15 | 16 | 17 | 18 | 19 | 20 | 21 |
| 22 | 23 | 24 | 25 | 26 | 27 | 28 |
| 29 | 30 | | | | | |
October 2024

| S | M | T | W | T | F | S |
| --- | --- | --- | --- | --- | --- | --- |
| | | 01 | 02 | 03 | 04 | 05 |
| 06 | 07 | 08 | 09 | 10 | 11 | 12 |
| 13 | 14 | 15 | 16 | 17 | 18 | 19 |
| 20 | 21 | 22 | 23 | 24 | 25 | 26 |
| 27 | 28 | 29 | 30 | 31 | | |
November 2024

| S | M | T | W | T | F | S |
| --- | --- | --- | --- | --- | --- | --- |
| | | | | | 01 | 02 |
| 03 | 04 | 05 | 06 | 07 | 08 | 09 |
| 10 | 11 | 12 | 13 | 14 | 15 | 16 |
| 17 | 18 | 19 | 20 | 21 | 22 | 23 |
| 24 | 25 | 26 | 27 | 28 | 29 | 30 |
December 2024

| S | M | T | W | T | F | S |
| --- | --- | --- | --- | --- | --- | --- |
| 01 | 02 | 03 | 04 | 05 | 06 | 07 |
| 08 | 09 | 10 | 11 | 12 | 13 | 14 |
| 15 | 16 | 17 | 18 | 19 | 20 | 21 |
| 22 | 23 | 24 | 25 | 26 | 27 | 28 |
| 29 | 30 | 31 | | | | |
January 2025

| S | M | T | W | T | F | S |
| --- | --- | --- | --- | --- | --- | --- |
| | | | 01 | 02 | 03 | 04 |
| 05 | 06 | 07 | 08 | 09 | 10 | 11 |
| 12 | 13 | 14 | 15 | 16 | 17 | 18 |
| 19 | 20 | 21 | 22 | 23 | 24 | 25 |
| 26 | 27 | 28 | 29 | 30 | 31 | |
February 2025

| S | M | T | W | T | F | S |
| --- | --- | --- | --- | --- | --- | --- |
| | | | | | | 01 |
| 02 | 03 | 04 | 05 | 06 | 07 | 08 |
| 09 | 10 | 11 | 12 | 13 | 14 | 15 |
| 16 | 17 | 18 | 19 | 20 | 21 | 22 |
| 23 | 24 | 25 | 26 | 27 | 28 | |
March 2025

| S | M | T | W | T | F | S |
| --- | --- | --- | --- | --- | --- | --- |
| | | | | | | 01 |
| 02 | 03 | 04 | 05 | 06 | 07 | 08 |
| 09 | 10 | 11 | 12 | 13 | 14 | 15 |
| 16 | 17 | 18 | 19 | 20 | 21 | 22 |
| 23 | 24 | 25 | 26 | 27 | 28 | 29 |
| 30 | 31 | | | | | |
April 2025

| S | M | T | W | T | F | S |
| --- | --- | --- | --- | --- | --- | --- |
| | | 01 | 02 | 03 | 04 | 05 |
| 06 | 07 | 08 | 09 | 10 | 11 | 12 |
| 13 | 14 | 15 | 16 | 17 | 18 | 19 |
| 20 | 21 | 22 | 23 | 24 | 25 | 26 |
| 27 | 28 | 29 | 30 | | | |
May 2025

| S | M | T | W | T | F | S |
| --- | --- | --- | --- | --- | --- | --- |
| | | | | 01 | 02 | 03 |
| 04 | 05 | 06 | 07 | 08 | 09 | 10 |
| 11 | 12 | 13 | 14 | 15 | 16 | 17 |
| 18 | 19 | 20 | 21 | 22 | 23 | 24 |
| 25 | 26 | 27 | 28 | 29 | 30 | 31 |
June 2025

| S | M | T | W | T | F | S |
| --- | --- | --- | --- | --- | --- | --- |
| 01 | 02 | 03 | 04 | 05 | 06 | 07 |
| 08 | 09 | 10 | 11 | 12 | 13 | 14 |
| 15 | 16 | 17 | 18 | 19 | 20 | 21 |
| 22 | 23 | 24 | 25 | 26 | 27 | 28 |
| 29 | 30 | | | | | |
July 2025

| S | M | T | W | T | F | S |
| --- | --- | --- | --- | --- | --- | --- |
| | | 01 | 02 | 03 | 04 | 05 |
| 06 | 07 | 08 | 09 | 10 | 11 | 12 |
| 13 | 14 | 15 | 16 | 17 | 18 | 19 |
| 20 | 21 | 22 | 23 | 24 | 25 | 26 |
| 27 | 28 | 29 | 30 | 31 | | |
August 2025

| S | M | T | W | T | F | S |
| --- | --- | --- | --- | --- | --- | --- |
| | | | | | 01 | 02 |
| 03 | 04 | 05 | 06 | 07 | 08 | 09 |
| 10 | 11 | 12 | 13 | 14 | 15 | 16 |
| 17 | 18 | 19 | 20 | 21 | 22 | 23 |
| 24 | 25 | 26 | 27 | 28 | 29 | 30 |
| 31 | | | | | | |
September 2025

| S | M | T | W | T | F | S |
| --- | --- | --- | --- | --- | --- | --- |
| | 01 | 02 | 03 | 04 | 05 | 06 |
| 07 | 08 | 09 | 10 | 11 | 12 | 13 |
| 14 | 15 | 16 | 17 | 18 | 19 | 20 |
| 21 | 22 | 23 | 24 | 25 | 26 | 27 |
| 28 | 29 | 30 | | | | |
October 2025

| S | M | T | W | T | F | S |
| --- | --- | --- | --- | --- | --- | --- |
| | | | 01 | 02 | 03 | 04 |
| 05 | 06 | 07 | 08 | 09 | 10 | 11 |
| 12 | 13 | 14 | 15 | 16 | 17 | 18 |
| 19 | 20 | 21 | 22 | 23 | 24 | 25 |
| 26 | 27 | 28 | 29 | 30 | 31 | |
November 2025

| S | M | T | W | T | F | S |
| --- | --- | --- | --- | --- | --- | --- |
| | | | | | | 01 |
| 02 | 03 | 04 | 05 | 06 | 07 | 08 |
| 09 | 10 | 11 | 12 | 13 | 14 | 15 |
| 16 | 17 | 18 | 19 | 20 | 21 | 22 |
| 23 | 24 | 25 | 26 | 27 | 28 | 29 |
| 30 | | | | | | |
December 2025

| S | M | T | W | T | F | S |
| --- | --- | --- | --- | --- | --- | --- |
| | 01 | 02 | 03 | 04 | 05 | 06 |
| 07 | 08 | 09 | 10 | 11 | 12 | 13 |
| 14 | 15 | 16 | 17 | 18 | 19 | 20 |
| 21 | 22 | 23 | 24 | 25 | 26 | 27 |
| 28 | 29 | 30 | 31 | | | |
January 2026

| S | M | T | W | T | F | S |
| --- | --- | --- | --- | --- | --- | --- |
| | | | | 01 | 02 | 03 |
| 04 | 05 | 06 | 07 | 08 | 09 | 10 |
| 11 | 12 | 13 | 14 | 15 | 16 | 17 |
| 18 | 19 | 20 | 21 | 22 | 23 | 24 |
| 25 | 26 | 27 | 28 | 29 | 30 | 31 |
February 2026

| S | M | T | W | T | F | S |
| --- | --- | --- | --- | --- | --- | --- |
| 01 | 02 | 03 | 04 | 05 | 06 | 07 |
| 08 | 09 | 10 | 11 | 12 | 13 | 14 |
| 15 | 16 | 17 | 18 | 19 | 20 | 21 |
| 22 | 23 | 24 | 25 | 26 | 27 | 28 |
March 2026

| S | M | T | W | T | F | S |
| --- | --- | --- | --- | --- | --- | --- |
| 01 | 02 | 03 | 04 | 05 | 06 | 07 |
| 08 | 09 | 10 | 11 | 12 | 13 | 14 |
| 15 | 16 | 17 | 18 | 19 | 20 | 21 |
| 22 | 23 | 24 | 25 | 26 | 27 | 28 |
| 29 | 30 | 31 | | | | |
April 2026

| S | M | T | W | T | F | S |
| --- | --- | --- | --- | --- | --- | --- |
| | | | 01 | 02 | 03 | 04 |
| 05 | 06 | 07 | 08 | 09 | 10 | 11 |
| 12 | 13 | 14 | 15 | 16 | 17 | 18 |
| 19 | 20 | 21 | 22 | 23 | 24 | 25 |
| 26 | 27 | 28 | 29 | 30 | | |
May 2026

| S | M | T | W | T | F | S |
| --- | --- | --- | --- | --- | --- | --- |
| | | | | | 01 | 02 |
| 03 | 04 | 05 | 06 | 07 | 08 | 09 |
| 10 | 11 | 12 | 13 | 14 | 15 | 16 |
| 17 | 18 | 19 | 20 | 21 | 22 | 23 |
| 24 | 25 | 26 | 27 | 28 | 29 | 30 |
| 31 | | | | | | |
June 2026

| S | M | T | W | T | F | S |
| --- | --- | --- | --- | --- | --- | --- |
| | 01 | 02 | 03 | 04 | 05 | 06 |
| 07 | 08 | 09 | 10 | 11 | 12 | 13 |
| 14 | 15 | 16 | 17 | 18 | 19 | 20 |
| 21 | 22 | 23 | 24 | 25 | 26 | 27 |
| 28 | 29 | 30 | | | | |
July 2026

| S | M | T | W | T | F | S |
| --- | --- | --- | --- | --- | --- | --- |
| | | | 01 | 02 | 03 | 04 |
| 05 | 06 | 07 | 08 | 09 | 10 | 11 |
| 12 | 13 | 14 | 15 | 16 | 17 | 18 |
| 19 | 20 | 21 | 22 | 23 | 24 | 25 |
| 26 | 27 | 28 | 29 | 30 | 31 | |
August 2026

| S | M | T | W | T | F | S |
| --- | --- | --- | --- | --- | --- | --- |
| | | | | | | 01 |
| 02 | 03 | 04 | 05 | 06 | 07 | 08 |
| 09 | 10 | 11 | 12 | 13 | 14 | 15 |
| 16 | 17 | 18 | 19 | 20 | 21 | 22 |
| 23 | 24 | 25 | 26 | 27 | 28 | 29 |
| 30 | 31 | | | | | |
September 2026

| S | M | T | W | T | F | S |
| --- | --- | --- | --- | --- | --- | --- |
| | | 01 | 02 | 03 | 04 | 05 |
| 06 | 07 | 08 | 09 | 10 | 11 | 12 |
| 13 | 14 | 15 | 16 | 17 | 18 | 19 |
| 20 | 21 | 22 | 23 | 24 | 25 | 26 |
| 27 | 28 | 29 | 30 | | | |
October 2026

| S | M | T | W | T | F | S |
| --- | --- | --- | --- | --- | --- | --- |
| | | | | 01 | 02 | 03 |
| 04 | 05 | 06 | 07 | 08 | 09 | 10 |
| 11 | 12 | 13 | 14 | 15 | 16 | 17 |
| 18 | 19 | 20 | 21 | 22 | 23 | 24 |
| 25 | 26 | 27 | 28 | 29 | 30 | 31 |
Available
Unavailable
Check-In Only
Check-Out Only
Previous
Next